If you own a blog or portfolio where images play a big role in the content, then you might be interested in how to easily create fantastic image effects. Here I have collected 10 image effect WordPress plugins that would help you increase page views and encourage users for more engagement.
In this showcase you'll see hover plugins to specify some details or stimulate social media sharing, plugins to add a creative zoom to your images, to add photo effects to your uploaded pictures, and plugins for loading images in some unusual interesting way. Scroll down and enjoy the round-up!
Anyhover Image Effects plugin lets the user to add various hover effects to images. It works awesome for photographers, designers, and other creatives who have a lot of photos on their sites. The plugin includes 16 hover effects and 4 starting effects which delivers 64 combined cool image effects!
This plugin helps you to extend the image with a magnifier to your post or portfolio page. It would be extremely useful for UI/UX designers which work with a lot of details and want to show them off to the public. The radius, color, size, and default position of magnifier are fully customizable.
Responsive WordPress Image Effects plugin allows you to add beautiful animation to any image you post in WordPress. You can use this plugin without knowing the code, but with visual default WordPress editor. It contains 300 ready-to-use animations.
With Hover Effects Pack you can create multiple combinations of animations when the image is hovered. You can change the color of hover and the text on it. There are 10 image animations and 10 text animations in the pack.
Shiner is a great plugin that adds glamorous shine to your images, buttons, or other website elements. Moreover, it has 21 color gradient presets.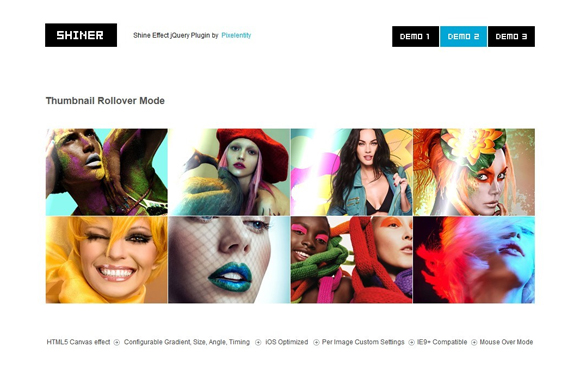 This stunning plugin allows you to add various cool photo effects to your images.
You can boost social sharing on your website with this great plugin. It lets the users to share the image through various social networks. Just hover an image and different social media icons appear. You can also add a custom button or tile to the image hover.
This is one more photo filter plugin in this collection. It counts over 40 various popular photo effects in its collection. The plugin is extremely easy to use and it works with any image you upload to WordPress.
This multipurpose before and after image slider would be useful for any kind of website from photography to medicine. Don't hesitate to download it if you need to demonstrate the difference "original vs. new" at the same image.
PrettyLoader is a flat preloader for WordPress. You can choose between over 20 creative spinners and 5 full-screen transitions.