A while back we showcased here a list with 30 Inspiring Design Agency Websites and another one showing 45 Inspiring Design Agency Websites. Today we decided to gather a new list to show how some design agencies and studios are presenting themselves to the audience. The layout adopted by a design related website is important not only to get the users attention but also to showcase the identity of the place, the style of it. Here you will see different examples, from clean and minimal sites to colorful and illustrated ones, there are a lot of ways to go to present your agency/studio.
The guys from OwlConcept are using HTML5, a big background image and interesting shapes and typo to represent their studio.
Sajak&Farki are using a super clean design where you use the menu to navigate the website.
Twofold Creative is also using HTML5, using big background sliding images to present their work.
Tapp3 Media website is strongly based in shapes and typography, also uses HTML5 and have a nice textured background.
These guys decided to take a more fun and personal style and are using hand drawn elements in a single page website to present their studio.
Image Mechanics is a studio devoted to iPhone and iPad apps development. The layout they are using to present their studio is pretty clean and minimal, also uses HTML5 and has a beautiful usage of colors and typography.
Nice layout. Subtle textured background, beautiful icons and red elements to get user's atenttion.
Paramore
Interesting contrast and typography. Horizontal navigation will take you around some of their articles.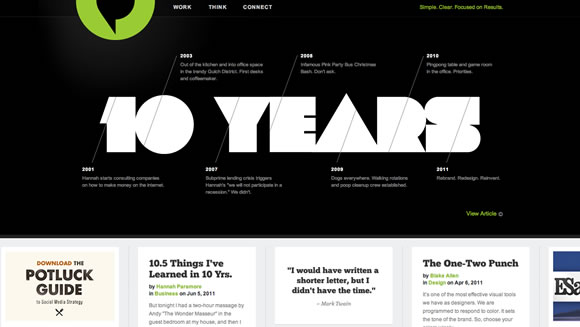 Nice use of texture, shapes and colors. The layout is clean and beautiful.
Beautiful clean and minimal single page layout. Really nice use of white space, typography and colors.
Images to represent content, typography and a yellow sidebar to get user's attention.
Simple and effective layout focusing on showing their services and ideas.
Another site using a big background image and typography based layout.
Simple layout focusing on showing some of their work/colaborations.
Beautiful dark layout using a nice color scheme/contrast and simple/effective typography.
Nice combination of typography and illustration elements to show main services/believes.
Beautiful, simple, elegant. A good example that less is more. A lot of white spaces that you can navigate using the menu or scrolling horizontally.
Simple idea of showing images of works in a magazine style.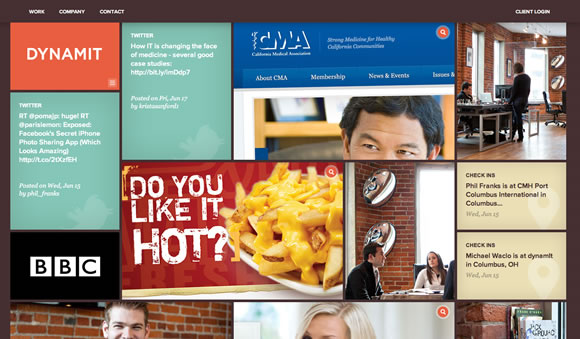 HTML5, good color combination, typography and shape. Good way to present a creative agency.
Interesting use of typography, texture and illustrative elements.
Clean textured layout based on beautiful images, icons and typography.
Nice colorful header to add some contrast to the white and typographic based layout.
Simple, effective and pretty straight forward.
Clean and effective layout based on typography, images and typography.
Another example of a simple and clean layout focusing on presenting the studios works/ideas.
Source: