Like most professional web designers, you're looking for ways to work faster and better. Learning how improve your designs takes study, experience, and using the best tools. The same is true for boosting your productivity.
Apps have been created to address a vast number of needs and uses. Most of these apps will help you to perform a certain activity more easily or better. What it boils down to, is greater productivity.
One of the productivity apps described below helps you speed up your design work by building a special tool.
The project management apps on the other hand, take care of mundane or repetitive tasks for you. Tasks that are important, but can take valuable time away from your design activities.
Other apps encourage team collaboration or help small businesses manage their affairs or grow sales.
These apps along with several useful tips and techniques will increase your productivity even more.
Active Collab is a project management software that will appeal to web designers and design teams. It's easy to use and understand and doesn't need to be hand-fed with data to keep project status up-to-date. It allows team leaders to spend less time managing projects and more time delivering results to clients.
Active Collab is loved for its flexible project overview. There are multiple options for displaying team workload and assignments – you can lay your projects out on a Gantt-like timeline, and then organize your tasks like cards on a Kanban board. Active Collab also lets everyone see what is being worked on and track project progress. Even your clients can be added to projects ( with the appropriate permissions).
Active Collab is a valuable asset to more than 200.000 of its users, many of which are design teams and creative agencies. With Active Collab, you have a complete control over your work: you can easily keep track of time spent on tasks, generate custom reports, and invoice your work in just a couple of seconds.
Try it free for 30 days!
If sharing your work becomes a source of anxiety and disruption, Wake has the answer. This design collaboration platform allows you to easily share screenshots, sketches, or other important work without having to leave Sketch, Photoshop, or Illustrator.
You can also instantly share notebook content or whiteboard drawings with your colleagues using Wake's iOS app. Just snap a picture and send it off. The iOS app also allows you to keep informed of feedback and communicate with others while on the go.
The ability to share your work and thoughts without having to worry about workflow interruptions makes the entire design process more transparent; which allows your team to work more closely.
Sign up for a 30-day free trial, and find out how you can simplify sharing and create better design work as a team.
An interactive and working prototype is crucial when designing apps and websites. That is the type of prototyping Proto.io does best.
Proto.io's professionally-crafted iOS and Android components will give your productivity a boost by speeding up your design process. Or, you can import design files from Sketch or Photoshop. Either way, it takes little time to create a prototype that is hard to distinguish from the real thing. Proto.io allows you to test your prototypes on real devices, get user feedback, and share your ideas with collaborators.
This web app also gives you the tools needed to record how users experience and respond to your prototype. And thanks to its integration with Dropbox, collaboration with your team and clients is faster than ever. Proto.io has also added an excellent interactive Material Design library to its many features.
Two things that MeisterTask's users like best are the way its flexible project boards can be adjusted to fit their workflows, and its customizable dashboard. These two features give you a project management tool that is easy to set up, and allows you to see at a glance what is happening, and/or what has happened during your absence.
The dashboard is also a great help for focusing on the upcoming day's activities.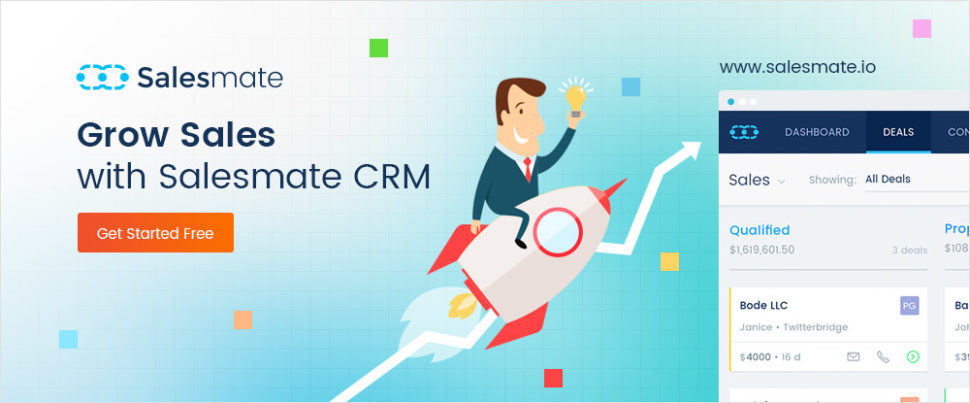 This productivity app is a great tool for small businesses looking to streamline and improve their sales activities. Salesmate is all-in-one process automation, business acceleration, and sales management software solution, that assists a business's sales team in many ways.
It provides a real-time view of the business's sales funnel, including tracking sales progress and performance, tracking deals, and evaluating team performance.
Minterapp is an online productivity app that provides time tracking and invoicing functionality for small businesses. Time tracked can automatically be converted to custom invoices for online delivery to clients. Minterapp can also be used to create detailed estimates for clients. This productivity solution easily ties into Mailchimp, PayPal, and basecamp, and can also be used as a Chrome extension. It can be set up to accommodate an unlimited number of uses.
Productivity Tips and Tricks
Plan Your Day
If you work without a plan, you can't always expect to receive high marks for efficiency or productivity. And, if you work without a plan, the busier you get, the more difficult it becomes to avoid being snowed under. When this happens, you'll suddenly find yourself grasping for solutions without taking the time to understand the problems.
The message is simple: If you fail to plan, you plan to fail.
The best time to plan a day's activities is at the end of the preceding day. If, the next morning, your plan still makes sense – stick to it.
Take Time to Learn Keyboard Shortcuts
The operative word here is "shortcuts". The time you set aside to learn these shortcuts will be time well spent. Some keyboard shortcuts take the place of a series of "find and click" maneuvers and tend to be relatively error-free operations. Adding up a few seconds saved here and there during a day's work, will make you a more productive designer.
Standardize Naming Conventions, and Assign Tags
Standardizing your file names is another way of planning ahead. By doing so, you'll find it much easier to organize your assets and make things easier for those you collaborate with or submit your design files to. Tagging your files will also reduce your search time on the computer.
Use Time Tracking
Time tracking gives you an excellent opportunity to learn more about your own work habits. It will help you zero in on wasted or redundant efforts, and highlight time lost due to procrastination.
There are plenty of time tracking apps on the market, including an excellent one listed here. Once you're into the habit of tracking your time, you should notice a definite uptick in your productivity; something your clients are sure to take note of.
Customize Your Workspace for Speed
Instead of using applications just as they come out of the box, take some time to study them, find any potential workflow shortcuts, and then customize your workspace for speed and efficiency. When every tool you need is at your fingertips, or just a click away, you'll be amazed at how dramatically you can boost your productivity.
Good examples of this are the preset workspaces common in Adobe applications. These presets are designed to make an application easier to use, but they can often be customized to make your work even easier and more productive.