Overeating and standing in line in the rain aren't necessarily good for your health. But they've become traditions when Black Friday rolls around. We can't do much about you eating too much the day before, nor would we want to. But we can at least help you avoid long lines and keep you out of the rain.
As usual, this Black Friday brings with it a host of amazing deals for designers and developers. Check them out so you won't risk having to wait a year before deals like this show up again.
We love having the opportunity to present freebies and deep discounts to you. This is especially when they involve top-of-the-line website-building themes, tools, and design aids. No doubt you'll find one or more offers that will brighten your day. They will allow you to finish your 2018 design or development activities with a flourish.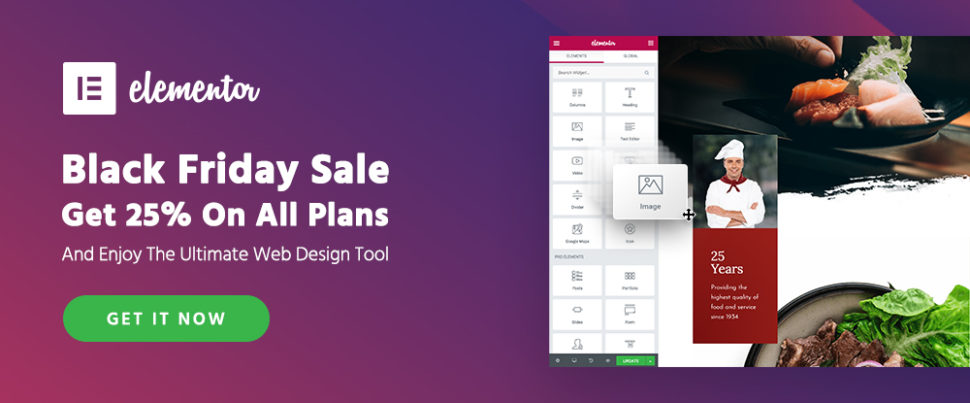 First on the list is Elementor's ultimate web design tool, a tool designed to keep you from being constrained by or becoming "stuck in" a theme. It's a liberating experience to be able to design what you want, when you want, without having to rely on code and without being told there are certain things you just can't do.
This website builder gives you crazy-fast performance, which will speed up your workflow and be reflected in your designs as well. You don't have to resort to using header and footer templates, that while customizable to some extent, never give you quite what you're really looking for. With Elementor, you can get your designs exactly right.
Elementor works with any template, it gives you live, frontend editing and advanced mobile editing. It works with any theme and is developer-friendly as well.
Don't let Black Friday slip away without taking advantage of Elementor's 25% discount on each of its plans.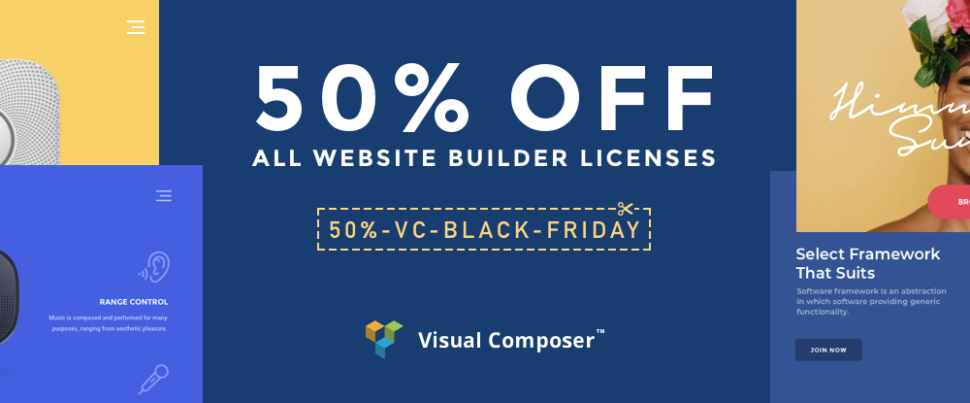 The Visual Composer editor plugin is a standby in the website design world. This popular plugin is the editor of choice for many if not most of the best-selling website-building themes on the market, including the premium themes. Black Friday gives you an opportunity to step up to the next level with the purchase of Visual Composer's Website Builder at a 50% discount on all licenses.
This website builder gives you the power of drag and drop and the ability to create a website without any need for coding skills. It comes complete with header, footer, content, and sidebar editors, advanced design options, and parallax effects.
To make your Black Friday purchase even sweeter, you'll get unlimited access to the Visual Composer Hub. This cloud-based marketplace is chock-full of first-class design features, multipurpose templates, and ready-to-use content elements.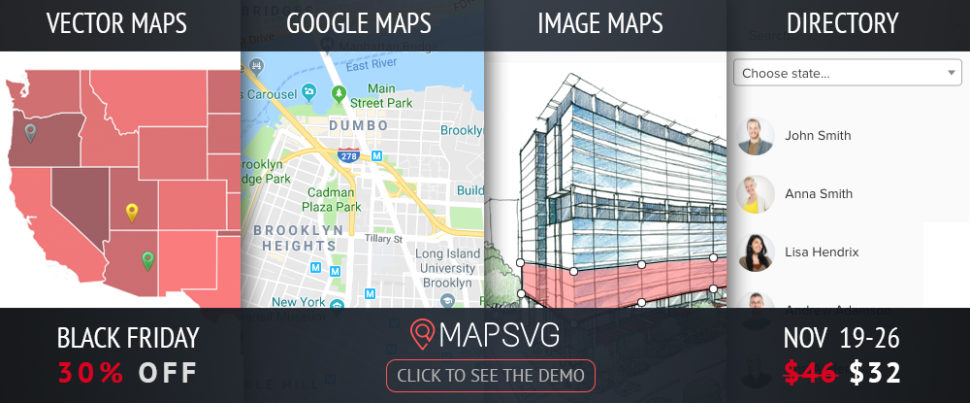 Incorporating a map has become practically mandatory for most types of business websites, and for many other types of websites as well, especially those that use maps as interactive tools. For those instances when something more than a Google map is needed to get your message across, we highly recommend the MAPSVG WordPress plugin as your tool of choice.
This is the last WordPress mapping plugin you'll ever need, and it's being offered at a 30% Black Friday discount,
With MAPSVG you can create your own custom interactive vector maps, image maps, and Google maps. MAPSVG includes all countries and all North American states and provinces. You can create custom maps from your PNG or JPEG files, add markers and directory listings, use regions of a map as links, and add custom artwork to give a map an extra touch.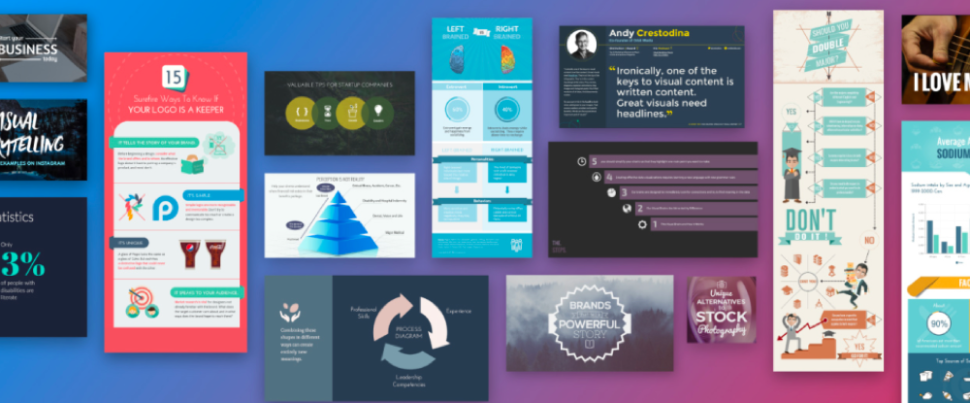 Here's a Black Friday offering designed to make your life easier. Visme could best be described as an ultimate visual communication and storytelling tool. Check out Blockbuster Visme deal – save 30% off of any Individual or Business Plan using the discount code THANKS19 when upgrading to Premium.
Even if you're among the many who are somewhat challenged when it comes to presentation design skills, Visme will make it easy for you to prepare stunning interactive presentations, infographics, tables, charts, and summaries – in minutes.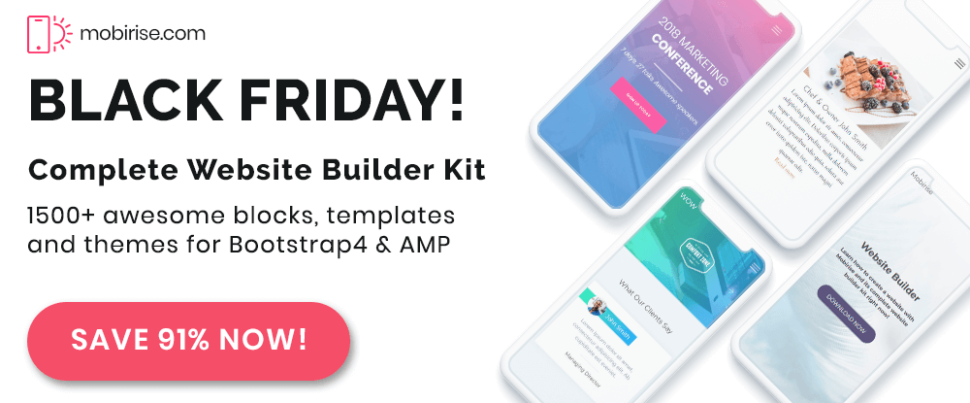 This may be the Black Friday special of specials. A 91% savings should be hard to ignore if you're in the market for a premier website builder kit. The Mobirise Complete Website Builder package includes more than 1500 website blocks in a variety of themes and extensions and a huge library of icons, Google fonts, and free images.
Mobirise is an offline builder, so you're not tied to a particular platform or host and it's lightning fast and 100% mobile friendly.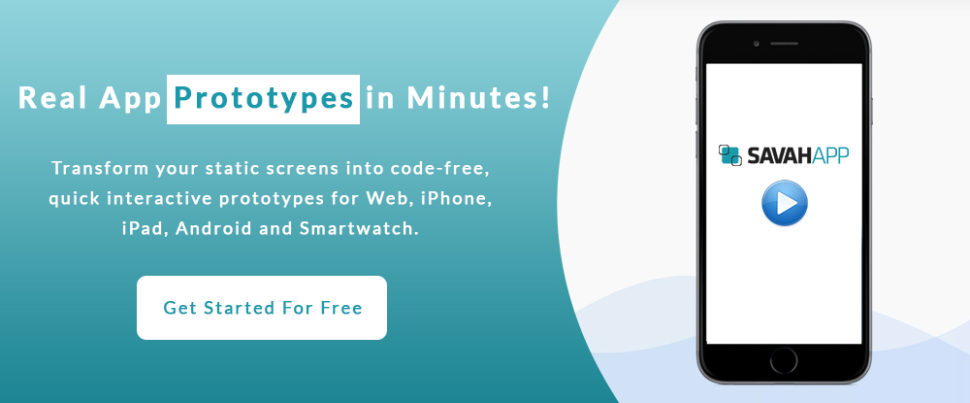 No list of Black Friday specials would be complete without a set of app prototyping tools that anyone can use, including small teams and freelancers. Get feedback on your design with a single click and keep track of all the feedback with a built-in to-do list. Sync your design with you Sketch and play offline prototypes on the Savah mobile app.
On this Black Friday, any Savah's 3 paid plans can be yours at a 50% discount.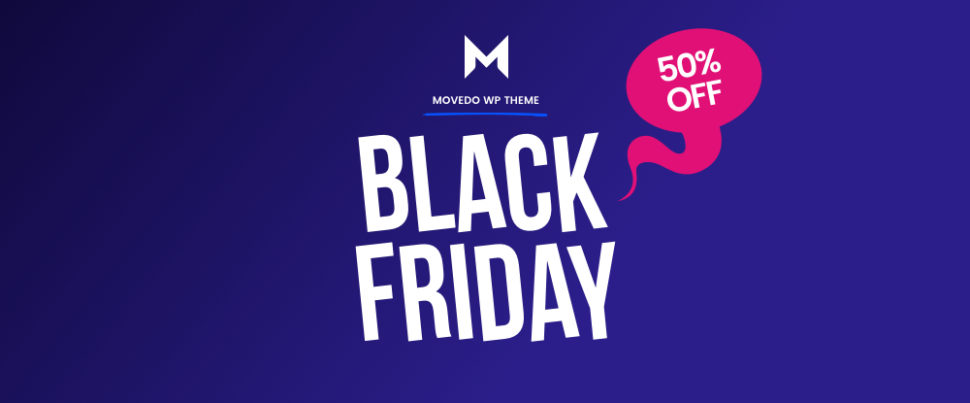 While awesomeness is an all-to-frequently used adjective, it nicely describes what MOVEDO is all about. This multi-purpose WordPress theme boasts an impressive set of new features designed to help you break away from the feeling of sameness that can be so difficult to shake off.
Ultra-dynamics parallax, moldable typography, and other futuristic styles and options make this top-rated theme a great Black Friday pick at a 50% discount.
Conclusion  
How to make this a better than usual Black Friday? Try our selection of powerful multi-purpose website building tools. You have a prototyping toolkit and a killer of a mapping tool.
It's a nice bonus to be able to peruse this list in the comfort of your home or local coffee shop. These offerings won't be obsolete when the next Black Friday rolls around either.
Enjoy!