Most premium Responsive Multipurpose WordPress themes are improved upon over time, as new features are added and existing features are upgraded. When a theme such as X Theme achieves the status of being top best-seller of all the multipurpose WordPress themes on the market, you would expect it to be continually upgraded, but in a more or less incrementally fashion.
The release of Version 4.0 involved more than a few incremental improvements. It is in fact a game changer. When the theme's authors incorporated a new page builder into the theme, they knew they had done something good, and they anticipated receiving favorable reviews. What they received instead were rave reviews. Users were not just pleased, they were ecstatic. Version 4.0 features a number of useful and important changes, but one of them is indeed a game changer.
Cornerstone – Built with You in Mind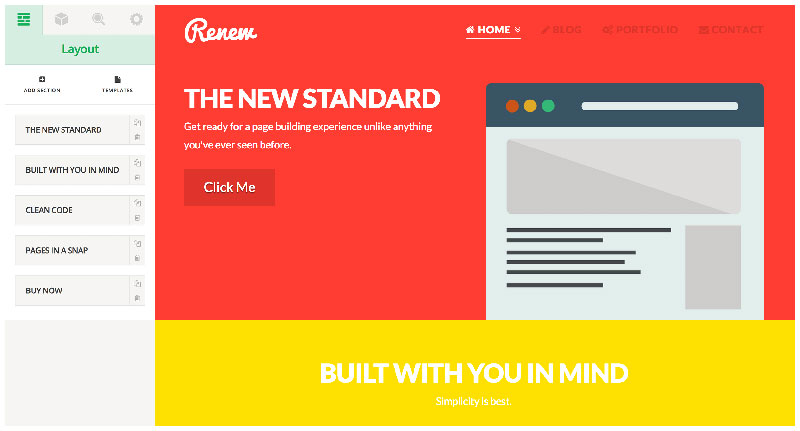 Cornerstone is a page builder consisting of a collection of elements. These elements are capable of creating complex and extremely customizable page layouts. Administering such a task can involve a great deal of work, and a significant amount of rework as well. As you build a page, you check to see what you have done, and rework it – over and over again.
What Cornerstone brings to the table is a 100% front-end editing feature that provides instant feedback to the designer, and it does so in an simple, streamlined, "why didn't someone think of this before?" approach. This page builder's interface represents simplicity at its best.
The "edit and check" approach has been done away with, and there is no longer a need to hit a "view" button, and wait for your latest editing changes to appear. The Cornerstone Interface consists of two basic elements, an Editor, together with a Preview Area. The Editor is a sidebar where all of your editing is done, while the Preview area shows you a live view of your site as it presently exists.
Another development characteristic that has been done away with is the "messy-desk" issue. The preview of your site is clean and clutter free.
One of the key features in the Editor is the Inspector. This feature enables you to hover over items in the Preview area. As you do so, those items will be highlighted by Cornerstone's Observer. Click on an observed element activates in in the Editor, so you can alter or change it as needed.
Elements can be moved around and repositioned in the Preview area by dragging and dropping.
Editing, including text-editing can be done on the fly, a productivity feature that can be a huge time saver.
Another feedback feature worth mentioning is the Responsive Preview area. When you invoke this feature by clicking on the appropriate icon, you gain rapid access to previews of your site's design at pre-selected breakpoints, enabling you to view how your site will appear on various device platforms while it is still in development.
This page builder comes with its own element library, and it is indeed a huge one (the authors have named it the Ultimate Element Library). Free updates will constantly add new elements, templates and other useful tools to the library
Finally, the Live Code Editing feature is there for the web developers who prefer coding as a means to achieve precisely the design flexibility and level of detail they are looking for.
If you have been giving some thought to purchasing X Theme, Cornerstone's Editor and Layout Preview page-building concept should give you more than a gentle nudge in that direction. This ultra-streamlined, intuitive tool comes free with this premium theme, so you will be getting a tremendous return on your investment.
Once you make a decision to join the happy throng of users, you will more than likely join the happy throng of testimonial contributors as well.
A Small Sample of a Huge User Response
You can call them excited or ecstatic, but these users definitely like what they are experiencing. Referring to this latest version as a game changer may not be an exaggeration after all.
Don't Let a Golden Opportunity Pass You By
You can always wait for something better to come around, and who knows what X Theme's version 5.0 might look like? Bypassing this premium theme with its game-changing page builder would be a mistake however. Upgrades that as much to the table as this latest one has are few and far between, and this bestselling premium theme is destined to become more popular than ever.
Themeco didn't just stumble on a new idea. The Cornerstone page builder was a long time in planning and development, and the underlying concept, as simple as it may appear, was well thought out.  Cornerstone also has a bright future as Themeco has announced. X Theme 4.0 will be difficult to top, and it is highly recommended.