Hand-lettering is an artistic craft so beautiful that the bewilderment only makes it more alluring. Whether you're a calligraphist or just an appreciator of the arts, these 10 examples of hand-lettering will surely arouse some internal curiosity.
Philip Eggleston is one of my favourite artists, even more so because he churns out epic illustrated lettering on a regular basis. He's simply a delight and this grunge-style shot is no different.
Joachim Vu is a hand-letterer from Paris, France. He crafts anything from elegant scripts to monograms. His raw ink work is astounding from his technical prowess & attention to detail.
I'd encourage you to really get a good look look at the closeups!
Mary Kate McDevitt hand-crafts stunning illustrations to accompany her explosive hand-lettered typography. These vector curves are quite unique and intoxicating.
Designed to appear on stickers, labels, and other merchandise, Jeff Finley incorporates his lovely hand-lettering into this illustration that combines both grunge and minimal styles.
This is one of those shots you just have to check out in fullview; the tiny Dribbble shot does not show off its entire beauty.
Hand-lettering works well when combined with vintage styles and unsaturated colours. After all we've gotta remember there was a time when 100% of design work was done by hand.
Historically barber shops have had some of the most stunning vintage signs. These vintage examples serve as inspiration in modern work;
For this piece Jeff Rogers illustrated his own contemporary take on the style.
Hand-lettering doesn't limit you to pen and paper; according to Danielle Evans you can even use malt. Actually, using food to create beautiful typography is more common than you might think.
Inspired by Bjork, Mary Kate McDevitt designed this epic desktop wallpaper which you can download for free. The sharp hand-lettered typography was created for the Fox Is Black Project.
Another one of Philip Eggleston's best work is The Haunted, creepily hand-scratched on a black background where the texture looks a little like a woodblock print. Splendidly eerie!
It's quite amazing how this hand-lettering emphasizes a sarcastic tone with its overly flamboyant swirls and bold colours.
There really isn't anything better than modernized, digitized hand-crafted typography – especially when the message is conveyed with such a personal touch. Great job Philip!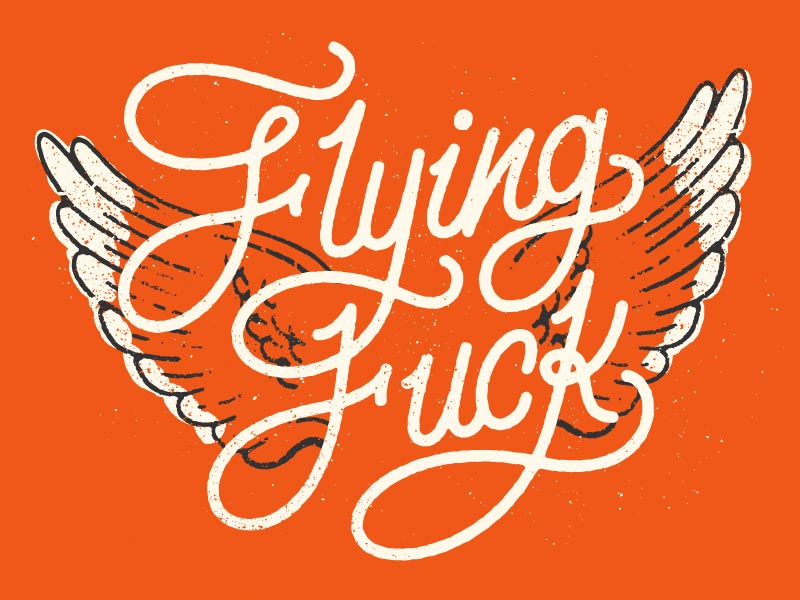 Any thoughts on these examples? What do you think about hand lettering for the web?