A dedicated landing page is a quintessential part of your overall marketing campaign and can be your strongest weapon when it comes to generating successful leads too.
Nowadays, everyone gives the preference to online purchases, making it imperatively essential to have a specific page that users can land on, and gain relevant and ample information. But the cacophony is that 44% of inbound marketers instead of linking their campaigns to the landing pages redirect it to the homepage.
At the same time with an estimated 50%-55% of mobile users making their purchases through their smartphones; the importance of on-the-go users is evident. However, statistics reveal that 40% of mobile users hit the close button if a landing page takes more than 3 seconds to load.
For example, if you are pulling out the roaring ROI of $100,000 per day, and your landing page fails to load – that can cost the loss in ROI by up to $2.5 million annually.
So, how to overcome this Herculean task of increasing the speed? The key to unlock this speed is AMP.
AMP can be Your Landing Page's Perfect Fit
AMP or Accelerated Mobile Pages is an excellent way to build light-weighted landing pages that render at a lightning-fast pace.Though, it's a stripped down version of HTML; certain HTML tags can't be used in this. Due to this, the urge of using the streamlined version of CSS occurs.
Another limitation AMP comes with is CTA as it doesn't allow the web designers to input a form or JavaScript. Thus the CTAs will be limited to buttons. In a nutshell, AMP-optimized landing pages rank both faster and better and help in converting visitors into successful leads.
AMP includes 3 basic parts:
AMP HTML: Google's light-weighted version of HTML that terminates the elements which cause slow page loading.
AMP JavaScript: AMP JavaScript on the hand is a diet or stripped version of JavaScript, which includes faster loading time with excellent dynamic experience. Another thing that should be noticed is that third-party JavaScript is not allowed within the AMP framework.
AMP CDN: AMP CDN (Content Delivery Network) helps in storing a cached copy of the AMP-optimized landing pages for quicker response when clicked.
Few Elements that should be considered before AMP-optimizing your Landing Page
AMP landing pages must be properly validated.
No forms can be constructed with AMP due to its limitations.
The requirement of loading custom fonts can occur in order to provide a better experience.
If you are trying to go on a higher level by implementing the videos, then it's indispensable to use AMP-approved extensions.
Odd looking images can be eliminated by declaring both height and width.
The Benefits of implementing AMP in your landing page campaign
Even though AMP comes with ample limitations that also bounds the CTA, but it also includes various benefits that not only make the AMP framework easily useful, but also help in various segments where the HTML takes a foot backwards.
Fast loading landing pages
As mentioned above AMP optimized landing page doesn't allow HTML tags to load and because of this, a landing page loads exceedingly fast. At the same time, poorly optimized landing pages obtain higher bounce rates with lower conversion rates.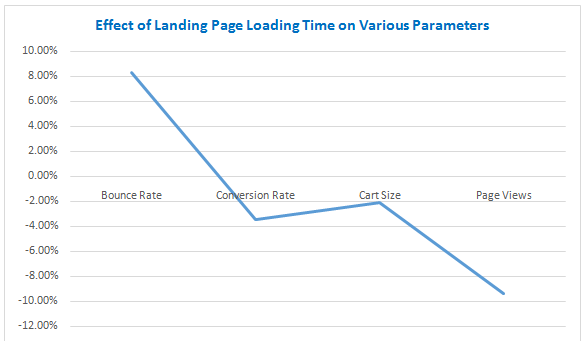 Fig: Effect in various parameters when a landing page consumes more than 1 second of loading time
As the chart displays, it is extremely vital that your landing pages load swiftly. AMP proves to be the catalyst that helps you in achieving this with lower bounce rates and higher conversion rates.
Better Visibility
Fig: Illustration of how your landing page with look in mobile with and without AMP.
Marketers have now started to prefer AMP-optimized landing pages considering its great readability. Besides AMP helps you in achieving attention grabbing landing pages that comes with ample clicks. As the above image shows, AMP-optimized landing pages allow users to have a better view with great readability. In fact, a great UX with improved CTRs makes a marketer's dream come true.
Ease of Coding
When HTML tags are eliminated from a landing page, it becomes hassle free to code AMP-optimized landing pages. Apparently, an AMP-optimized HTML landing page is 6 times lighter to code and includes only 5 times less trackers. Blimey, isn't it?
Hassle Free User Tracking
Harness the power of AMP to place the analytics tools & keep track in a better way.
Obtaining successful leads is great, but just attaining that is not enough. You need to know where the traffic is coming from. Tracking comes as a helping hand as it determines from where the potential leads are arriving and how they land on your landing page. AMP makes it easier, as you can place the analytics tool in landing page to keep track in a better way.
Easy to Find on Google
AMP is a high boost for SEO as Google makes it easy to find AMP-optimized landing pages that are relevant for on the go users. It helps user in providing a rapid reading experience. Nevertheless, AMP-optimized landing pages appear in a carousel format which makes it even more appealing–resulting in attaining maximum clicks.
Wrap Up
AMP is a great and a powerful way to boost your landing page campaign. It not only helps in loading the page at an extremely lightning fast pace, but also increases the readability that results in great UX. Apart from certain limitations, it comes up with the satisfactory results, that makes it worth to AMP-optimize your landing pages.
Speaking on its gigantic future, influencer Marketer Neil Patel says, "In the future, Accelerated Mobile Pages is going to influence a lot of social media mobile interactions". This sums up the potential AMP can have on your landing page campaigns in particular, and your business in general.
With various benefits, AMP is certainly a great element that should be implemented as soon as possible not just for the sake of attaining potential leads, but also to save your consumers from the landing pages that load on a snail speed. All-in-all, AMP framework is all set to take your landing page experience on the next level.
Are you ready?