As of August 4th Microsoft has had readied for consumers a new, beefed up version of Outlook for Office 365's web version. According to the Office blog, this revamp of Outlook for the web is part of Microsoft's effort to "deliver the richest email and calendar experience".
The company has modified Outlook Web with an improved user interface and a number of new features that are designed for greater efficiency, inbox management, and calendar tracking.
The new Outlook app was formerly known as Outlook Web App(OWA) but will now simply be referred to as Outlook on the web.
While Outlook on the web has been revamped with quite a few new features, one of its main new attributes is actually a reductive one. Namely the app now sports a simplified UI for what Microsoft hopes is a more efficient work platform.
A new action toolbar across the Mail, Calendar, People and Task pages is on hand for users who want quick access to commands that are most commonly used. These include inbox cleaning, email replies and adding or removing events in the Calendar segment.
Furthermore the UI as a whole now enjoys several other simplifying tweaks such as a larger email subject line, indented messages in the reading pane for easier scanning, and a more prominent button design in Calendar for creating new meetings and overall calendar navigation.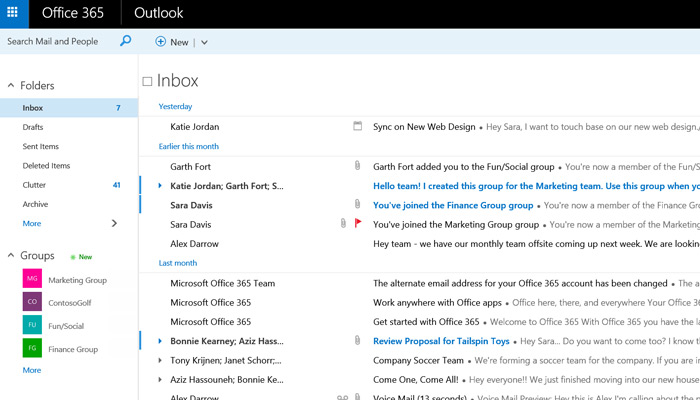 However the above are just some of the additions to Outlook for the web. The full list of modifications is a bit too large to add in detail here.
For that list you can head over to the Office Blog's post on the new Outlook features. But here's a quick rundown of the larger changes:
Sorting through email and marking particularly important messages is now easier thanks to a "Pin" feature that lets you highlight any message in your inbox so that it stays fixed at the top of the pane.
New "Sweep", "Archive" and "Undo" controls for handling messages from a single sender in batches (such as newsletters and coupons that cause unwanted clutter), archiving with a single click to clean up your inbox and undoing unintended actions with a single click.
An improved single line view and immersive reading pane for easier viewing of messages in condensed form, and for opening them in the same Outlook window.
There are quite a few other features detailed in the original blog post which explain features for crafting more visually appealing emails, finding email contacts, managing your calendar and using the Outlook app via your mobile device.
The whole thing is definitely worth checking out if you're a regular user of Outlook's web app for email management.