When it seems like photography just isn't the right medium for what you're working on, don't forget about the creative power of illustrations. There's an army of digital artists out there, creating new, completely original graphics every single day, and it's about time you considered incorporating them into your work. In the hands of a talented and capable artist, the right combination of lines, curves, and color can evoke any feeling or emotion you wish. Take a look at what makes vector drawings such an effective element in visual content creation:
Powerful Simplicity
Never underestimate the power of a single, black line. Masterfully rendered contour drawings can say as much or more as the most detailed, colorful composition. What area of your brand or business might benefit from fewer words and an extra image or two? If visuals seem superfluous (hint: they're not), don't be afraid to start small and simple.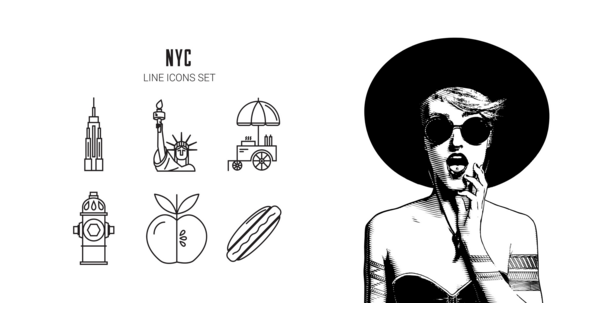 Attractive Accents
Accents make for another nice introduction to vectors and illustration. The right image can work wonders in helping a brand stand out, whether it's applied to a logo, favicon, menu bar, or perhaps as an indicator of serialized content. With so many different options to choose from, there's bound to be the perfect fit for any field or audience.
Abstract Concepts
Vectors also offer a great way to express abstract ideas that might escape traditional photography. Certain concepts in modern technology – like cloud computing, for instance – are especially limiting in image choice. Photos of cirrus formations or fluffy white puffs against blue skies might make the connection for most, but a skillful illustration is bound to convey much more.
Creative Alternatives
Finally, vectors and illustrations simply provide a fresh, different approach to visuals – one that is inherently attention-grabbing. Take aerial view still-lives. They've been everywhere lately, accompanying blog posts, appearing on landing pages, and littering social media feeds. It's a great look, but when we start to see it everywhere, things tend to blend together – or worse, get ignored completely. A vector counterpart makes way for something new, yet familiar. Give it a try.
CTA: Explore our collection of creative vector illustrations at
These tips we brought to you by iStock.com, the web's original resource for crowdsourced royalty-free stock images, media, and design elements, offering millions of hand-picked photos, illustrations, videos and audio tracks. View their collection at istockphoto.com