ECommerce is not as difficult as you might think it is, but there are a few things you should know before you launch your store and publish your first product.
Paperwork is still required
Even if your store is intangible, you have to pay taxes anyway. Take care of the paperwork first, and make sure you are ready to do it regularly. Otherwise, hire a trained person for this task, or ask your spouse do the job (remember that 'in sorrow as in joy' oath?).
Your store should look professional
Most customers are not very picky, so having a stellar-looking design is not a 'must'. What *is* a 'must' is to deliver great user experience. Many world-renowned eCommerce giants haven't updated their store designs for years, but their UX is optimized for conversion, and that's what makes them successful.
We can't help you with the first point, but we can give you a couple of tips on the second one. In this article we will present you with 20 handpicked free eCommerce templates for such popular eCommerce platforms as Magento, PrestaShop, OpenCart, WooCommerce, Shopify, VirtueMart and ZenCart. They will allow you to try out various up-to-date designs and layouts at no charge.
Ok, it's time to see free Magento themes, free PrestaShop themes, free OpenCart templates, free Shopify themes, free WooCommerce themes and other free eCommerce templates.
Free Magento Themes
Fit Body
If you are looking for a clean design with which to improve your Magento store, consider Fit Body – a free responsive theme for sports stores. Its background images are enhanced with a distinct parallax scrolling effect that will add a feel of a third dimension to your website. Its navigation is represented by a customizable sticky menu bar with mega menu functionality. Here you can place banners, links to the categories, and the most important pages of your website. The large footer contains five columns of links, and custom text blocks. Thanks to the turquoise color scheme this free Magento theme looks fresh and modern.
***
Ves Yume
Ves Yume is a responsive Magento theme with a joyful design composed of colorful tiles in metro style. It has been crafted with a product-first approach, and features a clean white background and large, clearly visible, category banners. To lighten the layout, transparent ghost buttons have been used. Ves Yume is a free multipurpose theme that can be used for any store, regardless of its merchandise.
***
Crafts 2.0
Crafts is a free responsive Magento 2 theme that can be used for stores of multiple topics. Following the latest web design trends, this theme includes elements of metro, flat, and material design styles, successfully combining them with a multicolored pastel palette whilst slight vintage hints add a feeling of exclusiveness. This theme is robust and feature-rich, offering you a dynamic Ajax shopping cart, a powerful product page, and a convenient grid layout of category pages.
***
Watch Store
Watch Store is a rich-looking free Magento theme designed specifically for stores selling accessories, gifts, and similar products. The well designed layout of its homepage incorporates room for various banners, logos and trust seals that will increase your store's conversion and credibility. This theme supports multiple currencies, so you will more easily be able to bring your store to the global market.
***
Free PrestaShop Themes
Book Hangover
This free PrestaShop template for book and magazine online stores has adopted all the best practices of eCommerce website design. Firstly, it offers four color schemes, so you can modify it without having to write a single line of code; it has a predesigned popup newsletter window, so you don't have to implement one yourself; its product previews are able to display a gallery of images right on the homepage. Additionally, you can apply more product labels than in most of the premium themes. The product page is great too. It provides you not only with basic eCommerce functionality, but also with an advanced system of related posts, custom social icons, and slots for payment gateway logos and trust seals.
***
Black Hawk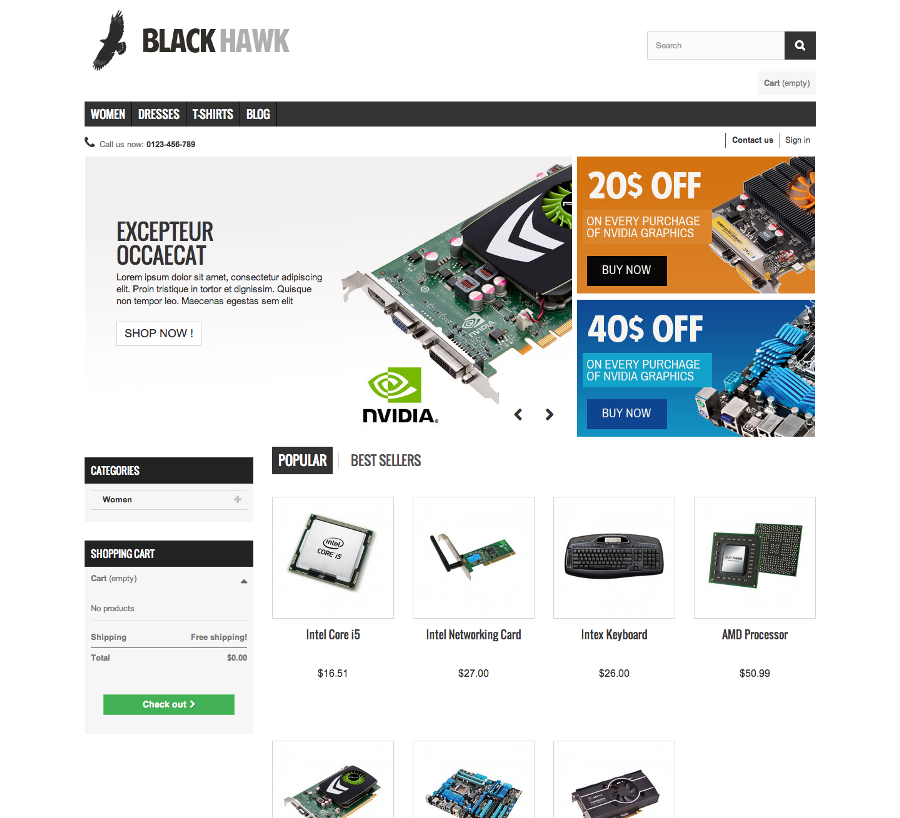 Black Hawk will provide a solid foundation for your future online store. This free PrestaShop theme has a classic boxed layout, sharp lines, and strict monochromatic design. Its category pages offer a lot of sorting options, so this theme can be applied even for stores with a large choice of merchandise. Another feature worth mentioning is a color picker that is displayed on every product preview. This addition makes Black Hawk especially suitable for fashion stores.
***
Prestige
Prestige is a sleek, free PrestaShop theme for fashion stores. It features 4 preset color schemes, and a font picker that allows you to make a customized text-only logo without using images. Tabs on the homepage will let you display more products (and categories) using less space, and therefore make your store's homepage more compact and easier to navigate. You can apply up to two labels to each product (e.g. 'new' and 'sale'). This theme utilizes various CSS-based visual effects such as the combination of parallax and hover zoom, animations, and color swapping. Among other features it includes a sticky mega menu, and an integrated chat module.
***
AP Culinary
AP Culinary is a free responsive PrestaShop theme for medium-size and large eCommerce stores. Its rich, highly customizable mega menu can take an infinite number of shapes. Elements that can be displayed include featured products with labels and price tags, embedded videos, banners, links, and custom HTML blocks. Quick previews provide plenty of information, and allow you to add products to the cart without leaving the homepage, or the category page.
***
Free OpenCart Templates
HotSpot
HotSpot is a free clone of One Day – a premium OpenCart template for wedding stores. HotSpot has been redesigned to cover a wider range of topics, primarily for computer and electronic stores. Just like its premium version, this template is made in flat design, with tiles of various shapes and sizes in the upper part of the layout. Product previews are simple, displaying only the name and the price. Upon mouse hover they reveal additional information: 'add to cart', 'add to wish list', and 'add to compare' buttons, quick view, and rating. The layout of the product page provides various pickers and filters, as well as cloud zoom, related products, and social media options.
***
MaxCart
MaxCart is a free futuristic template compatible with OpenCart up to version 2.0.2. It is a thoroughly reshaped default OpenCart template with vibrant design and a nice choice of colors. Product previews of this template include, out of the box, such functions, as 'add to cart', 'add to wish list', and 'compare'. MaxCart is quite simple, but it will be suitable for small stores selling electronics, computers, or car parts.
***
Vetiver
Vetiver carries many features of premium OpenCart templates, but still remaining absolutely free. Its homepage is a very long scrolling page with all possible elements of user interface included. Here you will notice images with parallax effect, background videos, social and navigational widgets, and more. The product page is extremely clean and functional too. With cloud zoom, built in reviews and social buttons it is one step ahead of other free OpenCart templates, and even some premium ones. Vetiver is one of the best ways to adorn your store with a new quality-looking design at no cost.
***
Zorka
If you look at Zorka, you would never guess that this beautiful OpenCart template is absolutely free. It comes in 4 different layouts, and each of them is crafted with pixel precision. Its authors tried to make this template as light as possible, using soft pastel colors, ghost buttons, and slight transparency effects. Zorka can be successfully used as a skin for fashion, accessory, or beauty stores.
Live Demo | Download
***
Free WooCommerce Themes
Muscle Pharm
Muscle Pharm is a free WooCommerce WordPress theme designed with strong focus on parallax scrolling, lazy load, and other visual effects. Its design is basically flat, but spiced up with semi-transparent overlay blocks that change their opacity during scrolling. As with any other WordPress theme built with Cherry Framework, this one includes a set of readymade pages that are intended to enrich your website, and add variety to your marketing strategy. Use portfolios, testimonials, and blog to attract new visitors, and tell them more about your brand.
***
Shopper
Shopper is a minimalist WooCommerce theme optimized for small stores selling exclusive items. Why so? The products load via infinite scrolling, and are arranged in 3 columns without a sidebar. Such approach to navigation makes it almost impossible to apply this theme to large stores with subcategories, cross-selling options, banners, filters, etc. But it is just perfect for stores with a narrow range of selected products. What your visitors see first after they enter your website is your store's logo, and large expressive photos of your top products.
***
AccessPress Store
AccessPress Store is an all-in-one free eCommerce theme for online stores based on the WooCommerce plugin. Its homepage comprises a host of functional elements: menus, product previews, category banners, custom content blocks with parallax background, social media widgets, payment system icons, and many more. Each element of its layout loads with the help of Lazy Load effect accompanied by an attention-grabbing wavy animation.
***
ShopIsle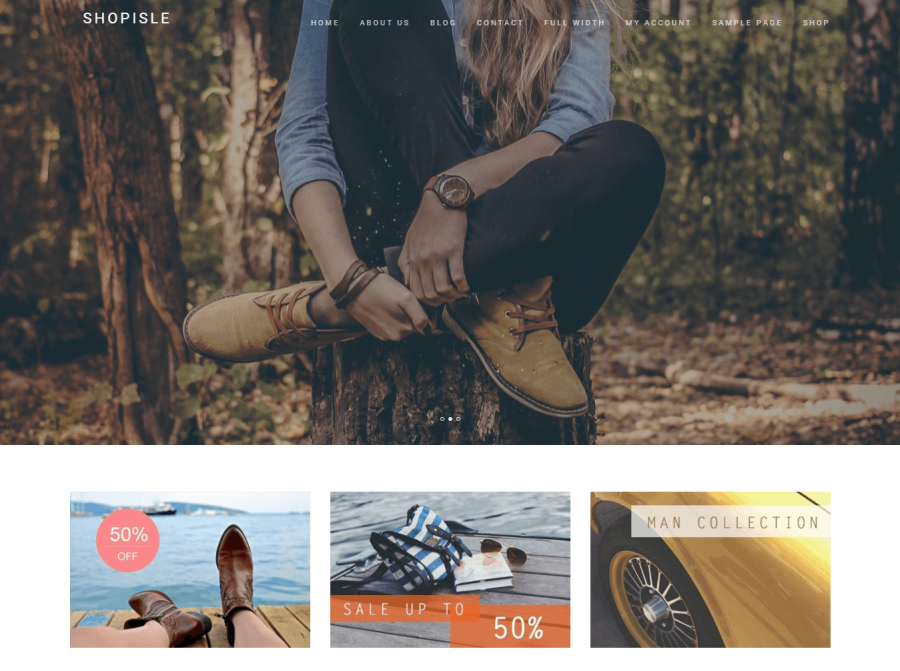 Use this free and responsive WooCommerce theme to set up a store that will attract new customers with its clean minimalist design, and focus on rich media such as large screen-sized images, and background videos. With Shop Isle your content defines your website and not vice versa. Use high-quality imagery to highlight your top products, categories, or collections. Since the basic layout of this theme is very simple, it will be easy as a pie for you to shape it the way you want.
***
Free Shopify Themes
Fleur De Lis
This beautiful floral Shopify theme will certainly win the hearts of your visitors with its elegant airy look. Its highly customizable mega menu with round-shaped images is one of the best of its kind. New elements of the page dynamically appear upon scrolling, thanks to the trendy Lazy Load effect adding some action to the process of browsing. And even more action will be added with the help of looped background videos that can be placed on the homepage, and combined with overlaid text and images.
***
Solo
Aptly named, Solo is a free Shopify theme designed specifically to focus on one single product. The featured product will appear on the homepage in its entire splendor, whereas other wares will be displayed in a slider in the bottom of the template. The design of this theme is artfully maintained in a minimalist, somewhat 'shopifyish' style. It is extremely clean, and completely devoid of any elements that can be considered unnecessary.
***
Free VirtueMart Template
Computer Shopper
Computer Shopper is a free multipurpose VirtueMart template that will become an effective selling platform for your eCommerce store. It is pretty simple in appearance, but robust and powerful in functionality. Its smart layout allows you to organize your products and marketing tools so as to achieve the highest conversion rates. Thanks to the Lazy Load effect, stores based on this template load with amazing smoothness. The cherry on top is the live chat module by Olark integrated to help you provide support to your customers.
***
Free ZenCart Theme
Happy Kids
ZenCart is not among the most popular eCommerce platforms, so looking for a free template of a fair quality may be quite a challenge. Happy Kids will help you build a professional looking store with intuitive navigation. It exhibits clever, easily readable, typography, and a powerful accordion-type menu in the sidebar. It may look too narrowly focused, but in fact, repurposing it for another topic is a matter of minutes if you know the basics of coding. This theme supports 3 currencies, most modern browsers and devices.
Wrapping Up
We hope you enjoyed free Magento themes, free PrestaShop themes, free OpenCart templates, free Shopify themes, free WooCommerce themes and other freebies you've just seen. The aim of this roundup was to give you suggestions of some of the best website designs for the most popular eCommerce platforms, and to help you decide which platform to use for your future online store. Have we missed any great free eCommerce theme? Please, share your thoughts in the comments.
If you have questions about how to launch and maintain a successful online store, visit the respective section of StartupHub – a new online resource for those who have decided to start their online business.