iPhone App websites are always a good source of inspiration. They are, most of the time, beautifully designed and showcase some really interesting apps. It's nice to pay attention to the 'design aesthetics' of Apple related things, it seems that all designers get inspired and create clean and beautiful stuff. So today, to give you a good dose of inspiration, we gathered some great sites that vary from weather apps to photo apps, video apps and much more. Take a look on all the good examples of how designers use texture, images, colors and type to create the unique Apple look most of us love.
A Simpler, More Beautiful Weather App.
Gabi is a beautiful new way to visualize and interact with Facebook. It filters your content according to what's popular, controversial, and relevant to you. Instead of displaying everything in your news feed, it only shows you what's best: the best pictures, videos, statuses, groups, links, interests, etc.
The easiest way to pick a date with friends and family. Invy is a stylish date picker for the iPhone. The app is integrated with the address book and calendar on the iPhone. Those who do not have an iPhone can use the service through the Invy website.
Do you miss the feel of old-school notebooks? If so, you'll love Meernotes! Fabulously retro and fabulously designed, Meernotes will be your ideal companion, perfect for expressing your noteworthy notes, mystical musings, academic amusements, romantic reveries, or nifty novels that will change the world.
Telly is a simple and fun way to create and discover amazing videos. Create and share beautiful videos with custom lenses and background music. Discover and watch videos from your friends, well-known creative people from around the world, as well as today's most popular videos from across the web.
The iPhone makes it easier than ever to capture videos, but in most cases these videos just sit on your phone until you run out of space.. Your videos deserve better. Cloudee gives you unlimited storage for all of those memories where you'll never have to worry about running out of space or losing them.
Instafocus is a universal app for iPhone and iPad that showcases Instagram's finest photographers.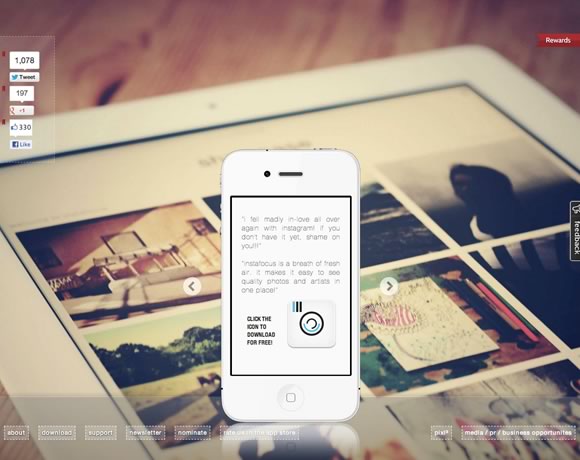 Digital photography never looked so analog. Make and share beautiful photography with Hipstamatic. Swap lenses, flashes, and films for hundreds of different effects.
Aren't you bored of using weather apps that contained glossy images and too much of data? We present you a minimalistic weather app which just shows the right information that you want.
Analytiks is your Google Analytics on steroids. Beautiful, simple, fast, always with you. Understand your people beyond raw analytics numbers by checking stats that matter, including graphs and infographic.
Just Landed, making airport pickup easy. We monitor the flight and traffic conditions and notify you when it's time to leave for the airport.
Transit is your personal bus stop. (works in 21 cities including NYC, SF, Washington DC, Boston, Chicago, Miami, Austin, Houston, Dallas, Philadelphia, Montreal, Toronto, Vancouver) Wherever you are, just pull Transit out of your pocket and quickly see the next departure for all the public transit routes near you, in order of proximity.
Bring together everyone you know and all their latest details. Quickly access contact information, employment, mutual connections across services and more.
In 4 easy steps, turn your Instagram photos into fun, captivating video slideshows to share with friends, family, and your social network!
Pilot Pro is available on the web, iPhone, iPad, and iPod Touch. It stays in sync via the cloud so you can use it anywhere.
Find all your friends and connections that are nearby wherever you are! Find my friends and future friends with Circle- Who's Around You. Circle tells you when your friends, or people from your networks (college, work, hometown, professional group etc.), are near you. You'll be magically notified whenever they're around.
Avocado is the best way to stay connected with the most important person in your life. We understand couples. We understand the need for a super private, fast, reliable and fun way to stay connected to your partner, when you're out and about. It's like whispering sweet nothings in your partner's ear, from miles away. It's a private space just for the two of you, to collect and share a life.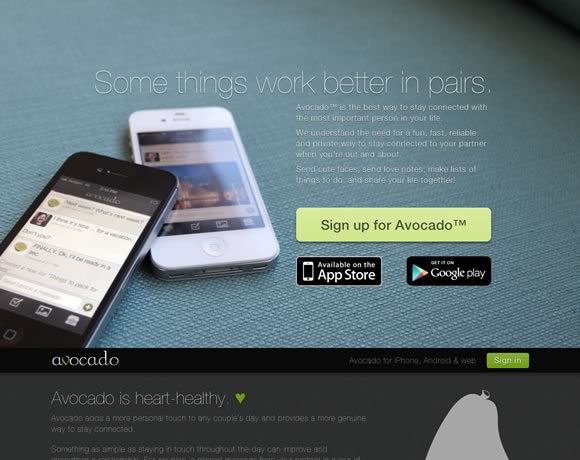 Discover the fastest, easiest way to manage sales opportunities. Hive is the first-ever contextual mobile sales app, designed to help sales professionals update deals at every touchpoint from wherever they are. Sync updates seamlessly to Salesforce or use Hive as a stand-alone CRM.
Hipvite
Organising meetups has never been this easy. Hipvite helps you to quickly create micro meetups and share them with your friends, family & co-workers.
Cue
Cue helps you get the most out of your day. Featured in Time.com, USATODAY, Bloomberg Businessweek, and MIT Tech Review. With Cue, you can spend more time enjoying your life and less time shuffling through your accounts and apps for the things you need.
iA Writer makes sure that your thought goes into the text — and not into the program.