We always keep you updated on new free and premium eCommerce templates that hit the market every now and again. Recently, we posted about the top 20 free responsive eCommerce templates, a compilation which consisted of products developed for the top eCommerce platforms (PrestaShop, Shopify, OpenCart, Magento, etc). Today, we would like to focus your attention on 30 of the top premium Shopify themes, which are really worth investing in to make your web store more prominent and powerful.
Shopify is a powerful eCommerce solution that is being used more and more by pro and beginner online merchants alike. Below we offer for your consideration 30 premium Shopify themes that hit the market just recently, but have already managed to generate high demand among users.
1. Brilliance
This clean Shopify theme by TemplateMonster will become a rock-solid starting point for fashion and beauty related web stores. Its non-standard layout structure immediately captivates the attention of online shoppers. Thanks to white space, the theme looks spacious and easy to scan. Clear content hierarchy provides for more intuitive page browsing. Quick View and Elevate Product Zoom features have been integrated as well.
2. Time Craft
Web stores selling accessories, gadgets and tools can use this Shopify theme to their benefit. Optimized to run flawlessly across a variety of devices, it is intended to provide the users with a seamless shopping experience across all browsers as well. In addition to the effective product presentation and stunning animation effects, the theme is also pre-loaded with a fully featured blog, which will help you keep your customers updated on the latest industry news. On top of that, the theme includes a newsletter pop-up form, which appears when a user reaches your site for the first time.
3. Ambiance
The Shopify theme is intended for online stores selling furniture and design items. Built with valid, semantic code, it features a minimalist design, which brings the users' focus of attention to the products. The users can access any page of your site with a click, thanks to a sticky MegaMenu. Fully customizable, it can be enhanced with images, banners, videos, links, and other content. The theme is rich in quality photos, which provide a breathtaking presentation of the store's items. Online shoppers will feel the ease of scanning your pages thanks to the grid-based content positioning.
4. JaneStyle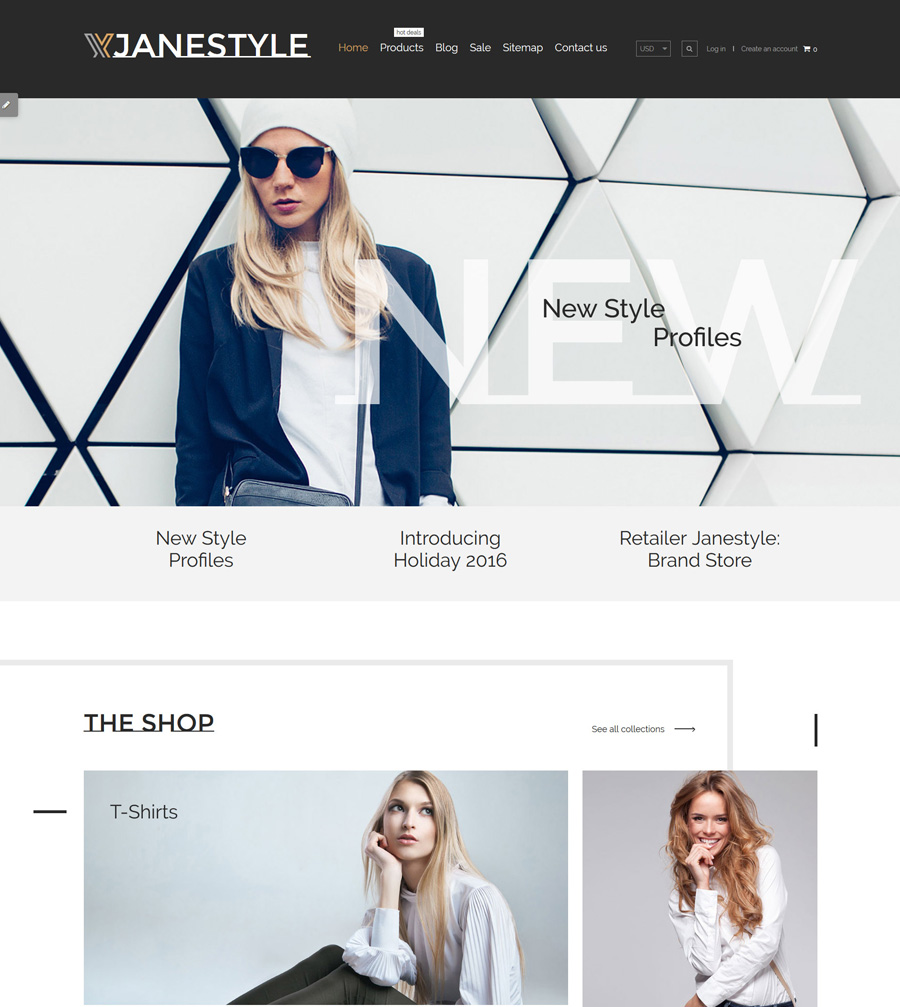 Here is one of the most stylish Shopify themes on the list. Fashion and beauty sites will look smart and trendy when built with the help of this theme. Responsive and crossbrowser compatible, it is also fully customizable. A theme color switcher tool is added to make the process of picking the best color palette for your site quick and effortless. Navigation on the page has been made easy and intuitive. Product badges, live search and fixed-to-top MegaMenu have been added to make the process of reaching the desired items quicker and effortless.
5. Handbag Boutique
The clean style of this Shopify theme for fashion shops looks no less appealing. Built with the primary purpose of helping you to generate more sales online, it brings the products to the forefront. Cool hover animation and parallax scrolling effect make it even more captivating.  Different content blocks are visually separated from one another, providing for better readability. The store's items have been organized into a grid-based list. On top of that, many of them have been supplied with product badges, which are intended to help the users with the decision-making.
6. Gifts Online Store
This photo-rich theme is specifically created for gifts, toys, flowers and family web stores. The home page is spacious enough to share product banners and featured items. A sticky MegaMenu is intended to help the users with navigating the site. A live search functionality has also been added for that purpose. A theme color switcher will make it child's play to manage the site's color palette, while a feature rich dashboard will help you adjust the theme to meet your brand identity perfectly.
7. JS – Apparel
Those looking for a ready-made Shopify themes that can make their web stores different from their competitor's, might consider this professionally crafted apparel store website theme. Its layout looks different from the rest of the themes on the list. The main navigation panel remains fixed to the left sidebar, providing the users with quick access to all pages of your site. Clean and minimalist design lets the users focus their attention on your products. Well-documented, the theme also includes a variety of custom page themes and modules, which are intended to help you with a quick start to your online project.
8. Electronics Retailer
Looking for Shopify themes with left sidebars? And what about Electronics Retailer? Web stores selling electronic devices and gadgets  can benefit greatly from this theme. Its well-structured layout is enhanced with intuitive navigation options, which allow the users to reach the desired products effortlessly. Clear content categorization, product badges, Quick View option, impressive sliders and galleries – all these and a host of other smart features are integrated to help you create an impressive presentation of your store's offerings on the web.
9. Woodwork
This fully responsive Shopify theme will become a rock-solid starting point for a variety of business websites, especially industrial and agriculture. It comes with multi-currency support, providing your web audience with a plethora of payment methods. A newsletter pop-up, that appears when a user lands on your page, welcomes users to keep track of your updates while simply leaving their email address in the corresponding field. In terms of navigation, the theme is simple and intuitive thanks to the customizable sticky MegaMenu.
10. True T-shirts
Apparel stores will look elegant and stylish when built with the help of this theme. Its minimalist design is spiced up with parallax scrolling images. Product banners and featured items are enhanced with the functional hover effect.  Thanks to the carousel product gallery, you will be able to organize loads of content in a quick-to-scan manner on the front page. In addition, the featured products and MegaMenu are supplied with product badges, which are intended to help with faster decision-making.
11. Shoe Store
Do you like clean Shopify theme? Then take a look at Shoe Store. The theme will be a perfect fit for those users who are planning to focus their eCommerce sites on promoting several products in the best way possible. The front page of the theme is structured in an eye-catching manner. The shoes images are put front and centre. A video tour in the header serves as a great attention-grabber. Letting the users see your offers in action, it also entertains and fascinates them when browsing your site.
12. Literature Lovers
The spacious design of this clean theme will work well for presenting your products in a grid-based list as well as highlighting the most recent blog updates in an easy-to-follow manner. The theme's MegaMenu is sticky. Fully customizable, it provides you with the freedom to add images, banners and other kinds of content that will captivate the users' attention and guide them through your site's data.
13. Computer Store
Looking so powerful and masculine, the theme will suit electronics stores the best. The design was built with attention to detail. Users won't be distracted by any heavy theme elements. Instead,  a carousel slider, category banners and featured products have all been organized in an easy to digest manner. By the way, featured products have been added to a carousel slider as well. In that way, you have the freedom to add as many items as you wish on the main page, without compromising the readability of your website.
14. Zhigan
Do you prefer dark Shopify themes? Here is a nice option for you. The flat design of this theme features elements of vintage style, which make it look so luxurious and refined. When used out of the box, the theme could be a perfect fit for web stores selling men's clothing, costly accessories and jewelry. Pre-loaded with niche-specific icons, the theme is very user-friendly. The top of the page, as well as right and left sidebars, has been enhanced with sticky navigation panels, providing shoppers with seamless access to all categories of your shop, shopping cart, live search, sitemap, etc. In addition to the well-designed structure of the main page, the theme also features a newsletter subscription form, which has been placed right above the footer.
15. Apparel
Apparel is a highly flexible and dynamic Shopify theme intended for fashion related web stores. Its clean layout is easy to navigate. The design was built with the focus on visuals. They are literally everywhere here – in the large hero area, banners, carousel slider of featured products, backgrounds, etc. For the users' convenience, MegaMenu remains fixed to the top of the page, whilst the shopping cart, a user's profile, live search and currencies are added to a sticky sidebar. The theme has been designed to adjust seamlessly to any device. SEO-friendly, it is intended to perform well in search engines.
16. Tools Store
The theme puts a lot of focus on the products that are being promoted on the page. Bold, quality visuals are used for the purpose of a more effective presentation of each item. The users will be captivated with your hot offers on the home page. Cool hover effect and Quick View features allow online shoppers to take a closer look at your products without navigating to a separate page.
17. Stitcher
The theme is best suited for sewing, hobby and craft shops. Optimized for all the major web browsers, the theme is also intended to run smoothly across desktop and handheld devices. With the purpose of providing the users with a better online experience, the theme has been integrated with such great elements as a sticky MegaMenu, an optional hamburger menu with currencies and checkout options, product badges, built-in Google map, newsletter subscription form, etc. The theme's layout allows the users to find and navigate through the content from any device possible.
18. Sport Store
The Metro style of the theme is a perfect fit for sport, travel and active lifestyle eCommerce sites. Integrated with the major social media platforms, the theme automatically frees you from the necessity of installing third-party social media components manually. When reaching such a design, users will be able to find the desired items intuitively. The sticky MegaMenu features clear content categorization, which significantly facilitates navigation. Just in case a user cannot find the right product right away, the Live Search option can come in handy.
19. Lingerie
The Shopify theme looks seductive, which makes it a perfect fit for lingerie stores. The front page features a black-and-white full-width image only, which introduces the audience to the tenor of your website. At the top of the page, there is a bold banner integrated with a countdown option, drawing the users' eye to the offers that will expire soon. A newsletter pop-up is also added. You can adjust its look and feel, as well as the rest of the theme's settings via dashboard.
20. Simple Construction
Built with valid, semantic code, this Shopify theme for construction companies features customized modules that will help you greatly enhance your site's performance. Alternative module layouts,  custom page templates, Google web fonts, and multiple color options are also available, so you can manage the theme's design and its functionality on your own. A package of layered PSD files is also included.
21. Baby Store
The cheerful and optimistic design of this Shopify theme, with built in multiple colors, makes it the best choice for kids' stores. With the theme's main colored navigation panel and vivid CTAs, banners, bold photos and parallax backgrounds, every element of the theme is intended to create a positive atmosphere on the page. Ready to go live out of the box, the theme has been optimized for all types of devices and web browsers. SEO-friendly, it also includes a  detailed documentation folder, providing you with step-by-step instructions on its customization.
22. Caviar
The  theme was created to be managed effortlessly by users of all skill levels. The dashboard includes a host of customization options, which will help you tweak the template any way you wish. Both the design and functional filling can be adjusted to fit your brand perfectly. Pre-loaded with swiper slider, the theme also features a retina ready logo, which will look razor-sharp across all the latest-generation devices. A theme color switcher is also available, allowing you to manage the theme's color scheme without reloading the page.
23. Coffee House
Here is one of the most beautiful Shopify themes on today's list. The warm brownish layout of the theme is intended to bring a cozy, welcoming feel to cafe, bakery and other food and drink related web stores. Neat ghost elements perfectly complement the rest of the theme's components. Card- and grid-based content positioning provide for better readability of the page. Combining texts with visuals, you can achieve a perfect content balance on the site, and keep the audience concentrated on the things that are of the greatest importance.
24. Spices
This Shopify theme was designed with the latest eCommerce practices in mind. Easy-to-reach sticky menu, clear content hierarchy, lazy load effect, parallax scrolling images, featured products enhanced with functional hover effect, integrated newsletter subscription form and social media options – the template includes a host of options providing for a more enjoyable online experience.
25. Tea Shop
Built in natural colors, the theme perfectly fits online tea shops. Neat fonts and elegant icons make it look even more fresh and airy. The theme's layout is spacious enough to help you set the right accents on the page. Thus, the users will be able to differentiate visually between the various types of content, navigate to the blog or shop sections, and simply look though the highlights about your company story.
26. Uniform Store
This niche specific Shopify theme has a powerful dashboard and a fully customizable layout, which can also be used for fashion, design, beauty and healthcare stores. In the header, a special offer banner featuring a countdown lures the users' interest to your hottest deal. Online chat functionality invites the audience to contact you directly, and get professional assistance on any question. A Contact details section has also been provided for the purpose.
27. Wholesale Store
The clean and concise design of this Shopify theme is intended to keep the users focused on your products. Beautiful animation effects spice up the layout, and add some interactivity to the theme. To make it more convenient for the audience to reach all of your site's content in an instant, the categories menu has been organized in a left sidebar.
28. Auto Parts
Yellow is well-known as a great attention-getter. In this Shopify theme, it has been used to the fullest. Added to the logo, CTAs, headings and featured product images, it triggers the users' curiosity and makes them click to discover more about your offerings. Though the template looks rather masculine and energetic due to its dark color palette, the clever use of white space conributes to a well-balanced color scheme.
29. Aquanati
This responsive Shopify theme was tailored specifically for online shipping stores. Built with valid code and enhanced with advanced Bootstrap features, the theme ensures top-notch user experience across a variety of devices. Dynamic and highly flexible, the theme allows you to tweak literally any component of its design. A feature-rich dashboard and a set of custom-made templates should help you achieve that in no time.
30. Canyon
This is the last, but by no means the least, template on this list of Shopify themes. Best suited for extreme sportswear stores, it has a straightforward design. Compatible with all the major web browsers, the theme is also fully responsive. No matter how much and what kind of content you will share on the page, you may be certain that it will adjust to any device flawlessly. On top of that,  the theme is packed full with a host of customization options, which will make web development child's play.
Conclusion
This was our hand-picked compilation of 30 of the top Shopify themes for 2016. We did our best to pick themes that can be used for a variety of purposes and business niches. Do you think that we have missed any cool designs? Feel free to speak up below.