WordPress themes are in the great demand among the business owners planning to bring their projects to the web, ordinary users who want to let a wider audience learn about their skills and read their thoughts, as well as web design studios that need to bring a number of cool projects to the web as quickly and effectively as possible. There are loads of ready-made WordPress designs available on the web. Some of them are free, others are available for download at a fee. As you've already guessed, today we are going to pay more attention to WordPress business themes and the benefits that you can derive from using free designs.
Top Reasons to Choose Free WordPress Themes
Premium themes are considered to be helpful when you need to bring a small business project or a large corporate project online. Priced $45 or higher (on TemplateMonster) these are commonly enhanced with all pages, extensions, and theme customization options needed to launch a fully-fledged web store without the need to search for the third-party extensions somewhere else on the web.
However, theme providers have started to release free WordPress themes that do not leg behind the premium ready-made solutions. The functionality those store under the hood is pretty much similar to what paid templates include. For example, it's become a common practice to release website templates integrated with visual page builders.
TemplateMonster releases WordPress themes integrated with the Power drag-and-drop page builder.
Their ready-made designs also include live customizers, which reveal the results of the layout customization in real-time, without making you click the "update" button every time you bring changes to the design.
Additional layouts are also provided to make the web resources more informative, as well as bring them to the web in the shortest period of time.
Bootstrap-based layouts are provided to make the web resources mobile-friendly.
Endless customization options are also included in the admin panels.
All free WordPress themes released by TemplateMonster run on Cherry Framework. The latest version includes a number of the smart Cherry plugins, which are included to streamline the process of the design personalization.
Cross-browser compatibility and optimization for the search engines are set as default features.
Join TemplateMonster Marketplace!
It's a well-known fact that TemplateMonster offers a huge collection of premium templates for any possible niche. After being 15 years in the web-design industry, we've decided that the time for some global changes had come. From now on all talented web-designers all over the world who have a fancy for developing websites are welcome to become a vendor at TemplateMonster's Marketplace. Amateur-designers can show their talent and, in addition to this, earn their first thousands of dollars for their work. Professional designers can become even more recognizable and earn a great amount of money that they've never dreamed of.
If you are looking for a place where it's easy and profitable to sell your digital products and earn up to 70% commission from each sale, don't miss this chance and join our digital marketplace here and now!
Every template (even if it's free) is unique. So, it's always better to take a look at its technical details and live demo before you decide if it meets your requirements or not.
Monstroid 2 Lite Admirable Free WordPress Theme
Monstroid 2 Lite is a remarkable theme made for various niches. It has an elegant typography that comes with an exciting design and a wide variety of helpful options. Each of these elements will give you the opportunity to get control over your future website and derive benefit from it. In other words, you have the freedom to make something special from a theme. In order to help you make the most of your online-project, this theme is equipped with a marvelous set of widgets. Moreover, it doesn't matter if you are a novice who has never worked with coding. Give a try to Monstroid 2 Lite and we promise you that you won't be disappointed with your choice!
Kustrix Lite Exquisite Free WordPress Theme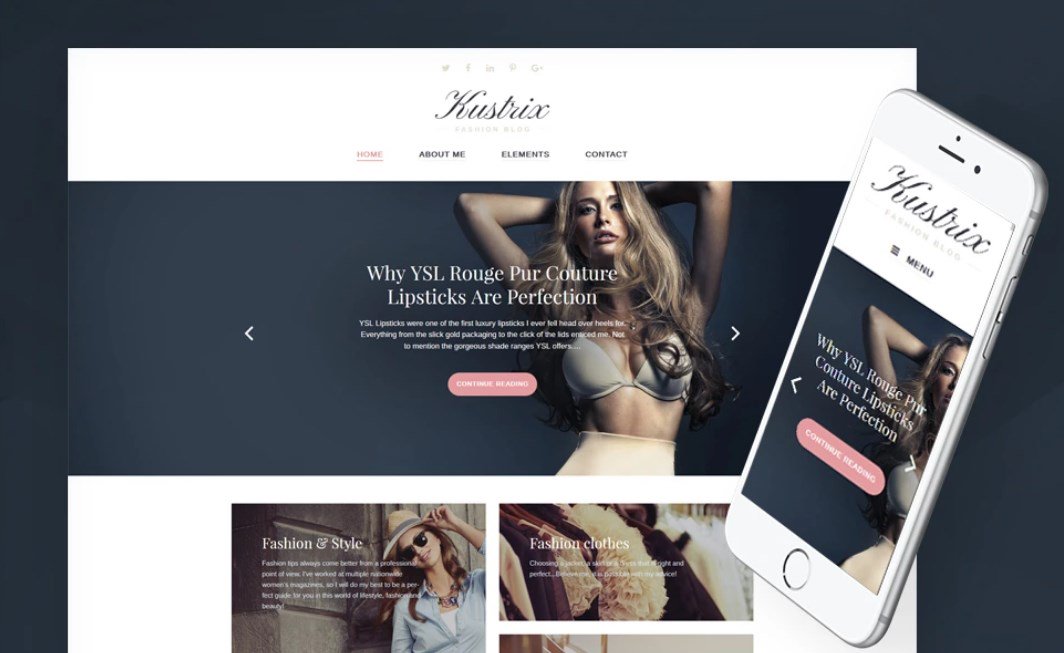 Kustrix Lite is a minimalistic and elegant theme that will suit to everyone who has fancy for fashion and beauty. What will you get together with a sophisticated and trendy design? A package with a multiplicity of amazing promotional tools and helpful features that will bring your website to the next level. When you are out of ideas, such an option can help you to look at the project with new eyes. Kustrix Lite has a fully-responsive layout that runs without mistakes across a wide variety of gadgets. It means that users won't face rambling images or texts if they use their mobile phones to visit the website. What is more, the template has a two-column content positioning, so people can easily get access to different navigation elements. Come into vogue together with this stylish theme!
Melissa Crafty Free WordPress Theme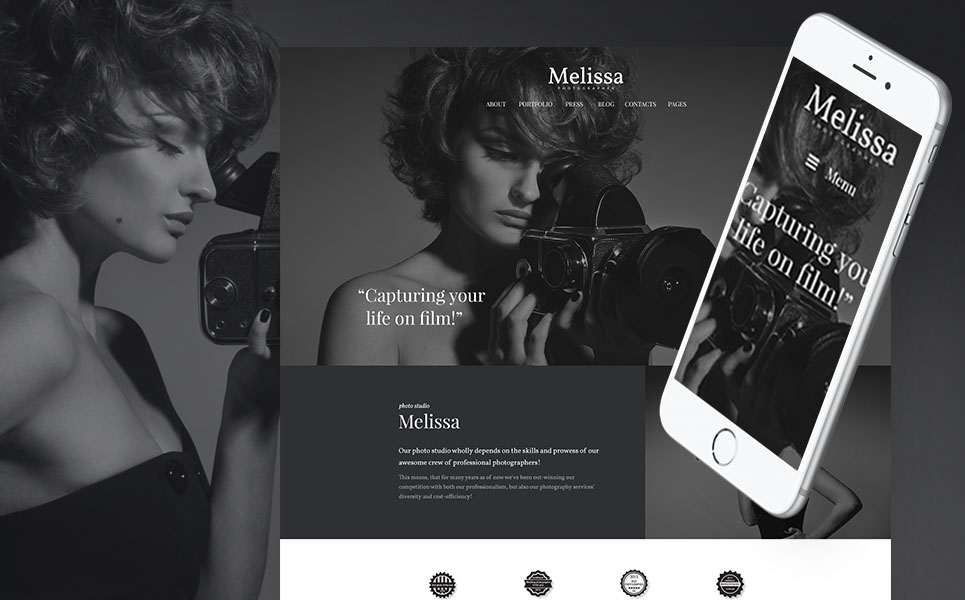 Melissa is a nifty and amiable theme created for those who cannot imagine themselves without a camera in their hands. This template provides you with a chance to bring your talent to light. It has a creative and powerful gallery that will help you to present your photos spiffed up. Furthermore, a full-width slider will definitely impress every person who will take a glance at your portfolio. If you want to find even more clients and convince them of a trustworthy reputation of your business, you can use Cherry Testimonials and Cherry Team. Finally, you get a WordPress Live Customizer that allows you to edit the template to your own liking. At the same time a great number of pre-made pages simplifies the general process of personalization. Capture not only moments but everyone's attention with this magnificent template!
Mia Ittalloni Well-Favoured Free WordPress Theme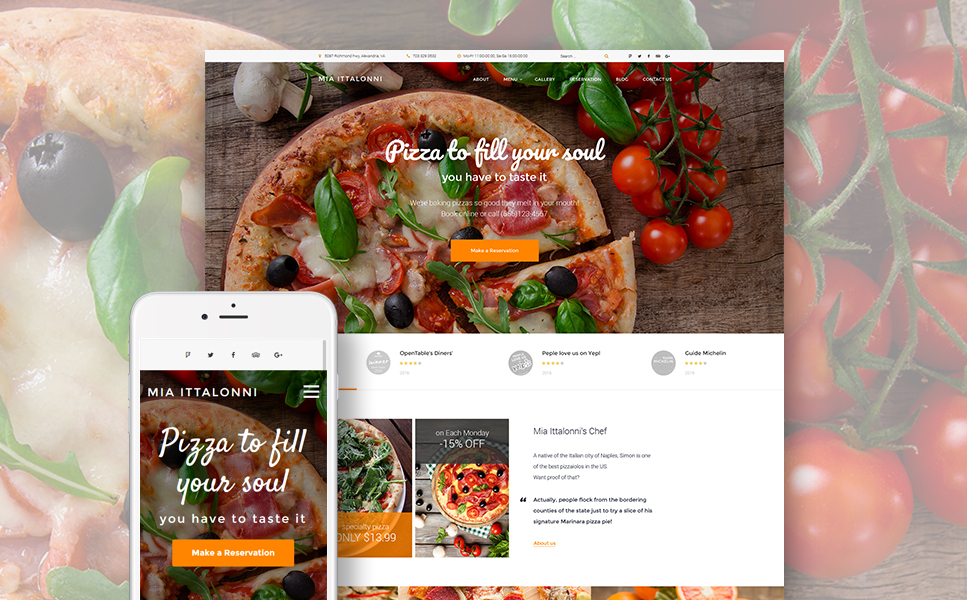 Mia Italloni is a savory and tasty-looking theme that will bedazzle everyone with its bright colors and delicious pictures. With the help of this template, you can present any possible food-related project on the Internet. One may be a fan of European cuisine who wants to share his or her cooking secrets online. One may be an owner of a cocktail bar or a theme cafe that needs some promotion. This theme will bring something special to the business in both cases. Its design looks homelike, so, without a doubt, people will desire to visit it over and over again.
In addition to this, Mia Italloni provides you with an effortless and intuitive process of customization. What is more, you get tons of additional features that will make your online-project better (for example, Google map and fonts, commenting system, background options and so on and so forth). Promote a love for cooking using this lovable theme!
Catwalk Glamorous Free WordPress Theme
Catwalk is a new-fashioned and dazzling theme made for a modeling website that will definitely stand out of the crowds of others. Beauty is something that needs a particular approach. This theme has everything to provide you with a special and gorgeous look of the website made for a model agency. Showcase the beauty of your models using a powerful website slider. Cherry Framework 5 gives a fantastic opportunity to tell your potential clients about provided services and put wise of the audience reviews. Furthermore, you can work with the design of pages without touching a single line of code with the help of a functional and intuitive WordPress Live Customizer. If people desire to receive information about the latest news and events, they can get all the updates on their emails thanks to Newsletter Subscription. Fashion constantly changes, but this theme won't go out of style!
Calio Ravishing Free WordPress Theme
Calio is a fully-responsive theme that will create a worthwhile and adorable presentation of your therapy service online. Every element of this template is in tune with one another. A Power page builder gives a marvelous change to craft pages as your soul wants and shake the website up with various widgets and modules. You can easily spice up the design of your online-project using multiple header and footer options. It's possible to give the full information about the team with the help of Cherry Services. This feature allows you to present a detailed biography of your professional staff. In general, Calio is an ultimate solution that will spread the word about your company on the web and fight off a competition. Bring harmony to people's lives with the help of this snazzy theme!
Jane Morris Amiable Free WordPress Theme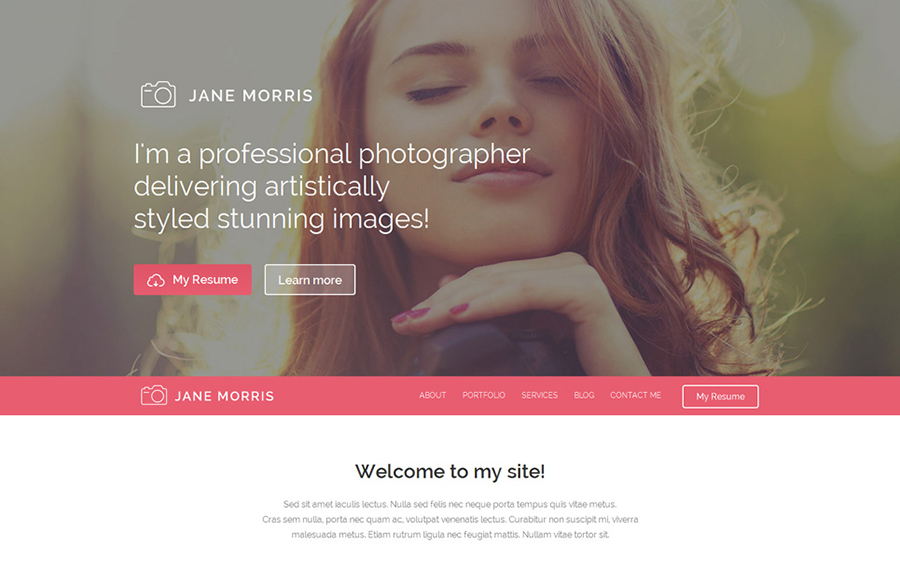 Jane Morris is a fabulous theme made for those who want to create a grand photographer's portfolio on the Internet. It features an incredibly enjoyable design that makes your photos make even better. The template is equipped with a wide variety of features that should be included in every worthwhile website of a professional photographer. If you are a master in taking pictures, but not templates personalization, there is no reason to be worried. All installation and setup instructions come along with the theme in a particular folder. In addition to this, you can ring the changes and stake on visualization with the help of such animation as parallax and lazy load effect. Let's take the shutter right now!
Petstore Loveable Free WooCommerce Theme
Petstore is a stylish theme that has a pleasurable design made in vivid and eye-catching colors. You have a great opportunity to showcases all possible details about your pet shop online. Moreover, it can be done in a really impressive way with the help of TM WooCommerce Package Widgets. If you want to grab the attention of your customers, you can use such a tool as Banner Grid to present hot offers and discounts. What is more, if you take into the consideration such options as Products Badges and Product Carousel, your products can look even more ravishing and amazing. Finally, it's possible to play with the design thanks to header and footer styles, multiple blog layouts and so on and so forth. Make people fall in love with your website at first sight using this admirable theme!
Energico Eye-Popping Free WordPress Theme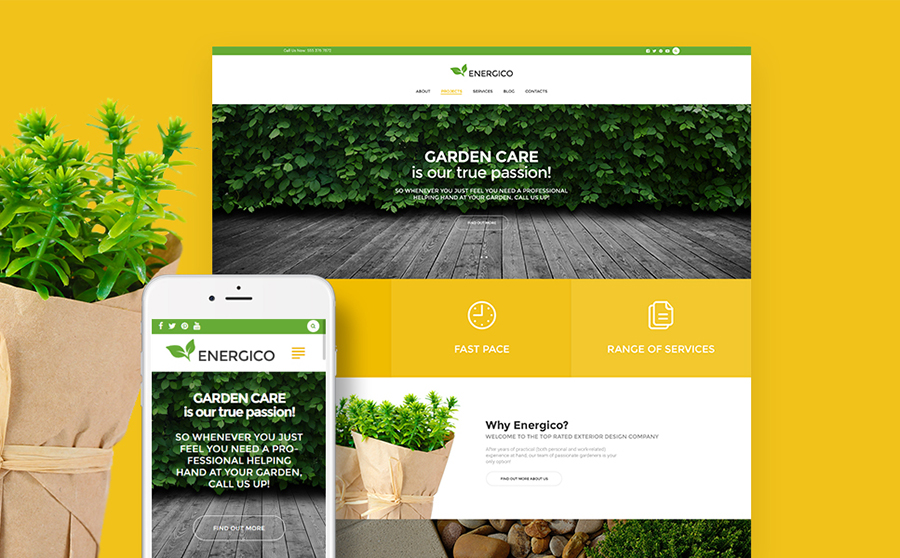 Energico is a stunning theme made exactly for gardening websites. If you have a desire to be distinct in the website design and distinguish yourself from competitors, take a glance at this template here and now. Cherry Services is a set of spectacular tools that provide you with a professional presentation of your offers. Cherry Team is a one more helpful option that allows people to get familiar with your amazing team. In addition to this, you get a great number of pre-made pages that you can easily customize with the help of Power page builder. You save a lot of time thanks to a WordPress Live Customizer. It shows you all the applied changes immediately. Download this theme and be a step ahead in your business!
Stone Amazing Free WordPress Theme
Stone is a top-quality theme that comes with a gorgeous design and a big number of helpful functions. You can use it for creating a blog or portfolio that will catch everyone's imagination. This theme has a fully-responsive design that won't turn into a chaotic array of texts and images on the mobile device. Moreover, a wide variety of additional functions will enhance your website's functionality. In addition, you will get the freedom to create something out-of-the-ordinary from this template. Lure the crowds of customers using this impressive template!
Summing it up, we'd like to assume that launching a good-looking and functional online resource is possible even if you use a free WordPress theme as its basis. As you can see from the examples described above, freebies can also feature captivating layouts and include smart customization options. They are so much needed to make your web resource stand out from the competition. Make use of these free WordPress themes to launch your online projects with no additional investments. Save time and money for the effective promotion of your site on the web.