There are so many web development projects on the market that we literary don't have enough time to read the info. To get more time and win as many projects as we can, we have to carefully select tools that work better than anything. We tested and compared many tools and services and we concluded that these 14 work awesome.
BeTheme is one of the greatest WordPress themes, that you can use to create different kinds of websites, for electric, veterinarian, loan agency, charity agency, sitter, moving company, barber, health magazine, book writer, plumber, art agency, interior design company and many others. You have many predefined demos that can be imported super easily with a 1-click installation and you can choose whether you want to make a business site, a blog, a portfolio, or just something creative and entertaining.
However, what is new about this theme? The "Wraps" section gives you a freedom to create more advanced and astonishing content, you spend less time on finding the items you need thanks to the search tool or tabs, you are given a fast and light interface, because it has improved performance and speed, by reducing transferred and saved data and, at last but not least, it has a fresh clean look thanks to the new layout, graphics and light colors. You have unlimited slides that you can set up (image/images, video/videos, flying objects, text, buttons, links, backgrounds and whatever you can imagine) and you can customize the website elements, all using a really powerful admin panel.
ShrinkTheWeb.com is certainly a website you'll wish you found earlier. It is a service for taking automated screenshots for your website, or any other website for that matter. You can test its speed just by going to their homepage and testing any URL: you'll get six default sizes screenshots (with the largest being about 320 by 240 pixels). But by making a paid account, you can get pro features for only $9.95/month a feature. You may choose code integration with all kinds of plugins, from WordPress to Drupal or with server-side programming languages: PHP or Ruby on Rails. Other characteristics provided are turning URL to PDF and insight pages analysis, to check the appearance of every page on your site. Or would you like to add your signature as a placeholder on the image? Now you can-on ShrinkTheWeb.
One of the features provided by Flyzoo is the group chat which allows you to use avatars, emoticons, moderation, image or video with preview, file sharing, friendships and much more. The main purpose of this feature is to engage the audience in group chats. The most important features of group chats are the sound notifications, the possibility of enabling or disabling file sharing, updating the users' profiles and uploading avatars, emojis, the possibility of starting private conversations with other users, moving/ resizing and minimizing windows, adding multiple Group Chats to your website (WOW & PRO Plans) and the last but not least, pop out windows which make you enjoy group chat conversations in external browser windows. The group chats can be private or public. They require guests to change the name before joining the room and not only allow access on specific roles, but also allow guests to read, but require login to post. All these features are made in order to give you the best experience in communicating with others, so you should check it out!
If you are looking for icons, you should have come across Iconfinder, the largest marketplace for icon designers. You can buy their work by picking from almost 900 000 icons. And now you can ask for your original icons with their custom design service. You are linked to one of the best designers on the platform, each one picked by hand, and you submit your project. You then receive about five quotes for your brief (that can contain specifics, like 'it should be Material') with prices varying from $70 to $130 per icon. You then choose the offer and wait for the job to get done. If you don't receive them on time, or they are not in an acceptable quality, Iconfinder guarantees your money back. Check it out now!
Simbla is a great website maker platform, which gives you the possibility to use an easy-to-navigate interface in order to build your site a lot more easier. It is affordable to everyone and there is no need for you to install it, as you can get instant access to your site only by signing in. After that, you can build beautiful websites, where you can customize your template according to your vision.
The Builder from Themify.me helps you design any layout you want, by using the drag & drop interface, which makes it possible to create beautiful pages for your websites in no time and with no coding experience needed! It has many features, one of the being the possibility to add extendable add-ons, such as image pro (beautify images with image filters, color/image overlay, and animation effects), slider pro (make stunning sliders with transition and animation effects) or infinite background (infinite scrolling background image horizontally or vertically).
OptinMonster is the most powerful customer acquisition that converts your visitors into subscribers! You can choose from multiple form types such as lightbox popups, floating bars, slide-ins or sidebar forms that you can customize with point-and-click simplicity. Moreover, you have the possibility of A/B testing, to help you eliminate the guess work and make data-driven decisions on what works best.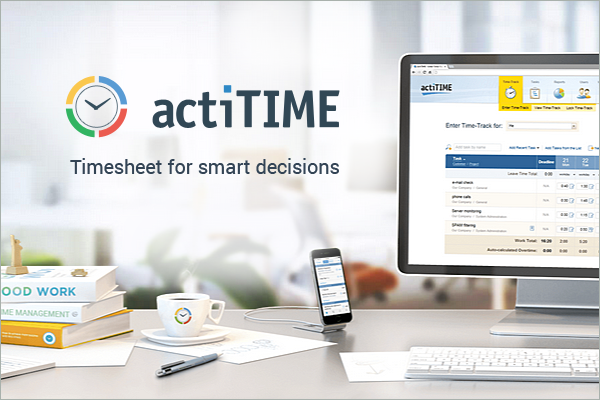 Anyone can benefit from using actiTIME!  Thanks to intuitive workflow, you can start using the software right away without special training. As a regular user, you will be able to log time in a simple, friendly looking timesheet and get insight into personal productivity. As a team manager, you will have a convenient tool for allocating staff resources and estimating project timeframes. Finally, the accounting managers will find it helpful for managing payrolls and invoices. Using actiTIME will make your life a lot easier to organize, so give it a try!
Pidoco is an online prototyping tool which supports a wide range of design activities. Designing prototypes is as simple as playing with building blocks, mostly because you can use the drag & drop function. There's no need for programming to get interactive prototypes. You can use it as soon as you sign up for an account. We recommend you to give it a try because you will not regret it!
If you are looking for a dedicated team of web developers and designers that can offer you an amazing experience with your next site, you might want to choose Xfive. Having pleased clients from eBay, Twitter and Microsoft to any regular guy with an idea, you can be sure they will offer anything possible. If you are not sure what you search for, just send them your project and they will answer you with a quote and some amazing ideas.
Fast, simple, totally secure websites are a dream, but with the help of Bowtie.io, that is now achievable. An agency-focused platform, BowTie integrates user management, admin controls and Stripe payments into static sites without a database, lowering your website's load time compared to a traditional CMS. That is time saved for your visitors and clients, and maintenance saved for you.
12. H-Code Responsive & Multipurpose WordPress Theme
ThemeZaa is another tool you can use to design and develop quality themes and plugins for your awesome website, especially by using their great H-Code Theme. It is a creative, clean, fully responsive and multipurpose multi page and onepage WordPress and WooCommerce theme, that provides you with a powerful admin panel, quality of the design, shortcodes, various header options and many others.
After making a strong research, we found that 48hourslogo is one of the top logo contest websites on the Internet. What is awesome is that you can easily create a logo design contest online and you can have your new business logo created by dozens of logo designers from around the world. It works awesome ! You should try it too !
Some of the ingredients of creating beautiful designs are the icons, which add a lot of magic to the appearance of your website. On Squik Ink, you can find 2000 handcrafted, consistent and pixel-perfect icons ready to use for your project, whether it is related to music, holidays, clothes, entertainment and many other domains. The best thing is that all icons are vectorial, so you can easily make them any size you want!
Try once any of these tools and you will see how easily you can work with them. Stop researching because these work better than anything. It's tested.