Business ideas and inventions occur to people all of the time, but turning an invention into a tangible product usually requires one thing – money. Funding for business inventions typically comes from out-of-pocket, through business loans or from investors, but a burgeoning source of financing has emerged through the use of crowdfunding.
No two crowdfunding websites were created equal, but Kickstarter and Indiegogo have certainly risen to the top of the pile. These three are streets ahead of the thousands of other active crowdfunding platforms currently littering the web.
Here are some of the coolest must haves from Indigogo and Kickstarter that any designer needs. 
This is a line of travel jackets, which comes in four styles – blazer, bomber, sweatshirt, and windbreaker. Each style has the same 15 features and a place for everything. Originally designed for globetrotters, they can be used by anyone, including students and adventurers. It will revolutionize the way you travel and helps you stay organized while on the go.

HyperDrive is the world's most compact and fastest 50Gb/s Thunderbolt 3 USB-C Hub specifically designed for the 2016 MacBook Pro. It utilizes two Thunderbolt 3 USB-C ports on the MacBook Pro to deliver the fastest 50Gb/s bandwidth across 7 ports (HDMI, USB 3.1 x 2, micro SD, SD, USB-C, Thunderbolt 3 with 100W Power Delivery), virtually restoring all the ports found on the previous 2015 MacBook Pro model.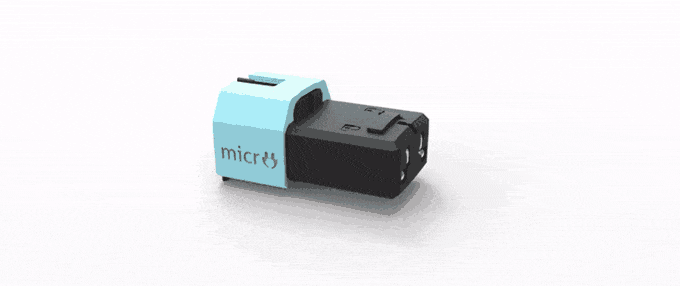 With Micro, you get the functionality of a universal travel adapter built into a cool design that matches the awesomeness of the gadgets you travel with. An adapter that's simple, yet versatile and that feels extremely familiar, as if you've already used it and loved it all your life.
Floatti is the ultimate travel companion that offers stress-free traveling with 7 features. Designed by the Italian designer Andrea Ponti, Floatti has innovation built into every feature. Fresh ideas are integrated within a design framework that draws inspiration from the classic suitcase. Floatti offers a truly great design that brings convenience to the traveler and adds safety and enjoyment to their journey ahead.
5. PRIVAT – The world's most secure smartphone
PRIVAT is a reliable security smartphone that keeps the photos and videos files 100% secure, besides protecting the smartphone from spyware attacks. These security features are based on a patented hardware system that is impossible to break.
The bFan® 's innovative design removes the heat that is generated by your body and gets trapped inside your bed (your sheets, comforter, and mattress). This unique system enables you to sleep much cooler and deeper at night and save you money on air conditioning costs.
7. X Suit – The Suit of the Future

X Suit is the world's first full stretch fabric suit, lining, and even thread, infused with nano molecules rendering the X-Suit. It is liquid, wrinkle and odor resistant. It comes in 2 versatile styles: corporate (ensuring comfort for businessmen) and sport (having a detachable hood, it is classy for the active men).
Aryzon released the cardboard for augmented reality. By making clever use of a set of lenses, cardboard, and a smartphone camera, the headset is able to place virtual content projected from the user's smartphone screen within their own environment, creating a realistic augmented reality.

Cashew is world's first wallet with a fingerprint reader to ensure only you have access to your wallet and is always connected to your smartphone using Bluetooth to ensure your wallet is always by your side. No more misplaced cards, cash or IDs again. This product with cutting-edge technology and unparalleled design is a Smart Wallet you've been searching for. 

Wopilo will revolutionize your nights by offering the comfort of a traditional pillow, the neck support of an ergonomic one while letting you choose your desired comfort level, firm or fluffy! With a unique design, that combines the best of a comfortable pillow and memory foam, Wopilo was developed with the help of an osteopathic expert, specialized in pain.

SILA is the 1st mini-watch with colorful interchangeable straps. It was created with women in mind: feminine, creative, colorful and chic. Inspired by vintage women's watches, SILA was designed for perfectly fit a woman's wrist and her jewelry. Fall in love with its mini precious size. A true jewel-watch, a new addiction.

ABLE is the most dynamic, portable total-body fitness & training platform ever created. It is durable, and delivers a total-body workout anywhere, whether you're a beginner, a trainer looking to challenge your clients, or a professional athlete. It allows you to load your muscles and perform compound moves that mimic free weights.

Wearhaus is a Premium Bluetooth earbuds with fully customizable light rings, wireless audio sharing, and more! The Wearhaus app features a super fun color picker. You can choose any one color or a multi-color gradient, just by sliding the finger around. The customizable light rings shine so bright, they also serve practical uses in your everyday life. Highly visible at nighttime, turn on the light ring when it's dark to alert people of your presence.

Pebby is a ball on mission to keep you and your pet together even when you're not physically there.  Using Wi-Fi and Bluetooth technology, the Pebby system's remote controlled ball allows owners to watch, interact, and capture their pet's cutest moments in real time. The Pebby pack comes complete with the Pebby™ Ball (with your choice of EASYfix™ magnetic caps so you can customize the look of your Pebby) , PebbyKennel™ charging dock, PebbyCollar™ motion sensor collar, and, of course, the Pebby app, free to download off iTunes or GooglePlay store.

The Adjustable Bag – is the world's most versatile convertible bag. With three sizes and multiple configurations, it's the only bag and the last bag you need. The Adjustable Bag can instantly expand or contract to fit what you need, has multiple configurations, and is completely collapsible. It is equipped with features such as water-resistant rip-stop nylon, waterproof zippers, and Duraflex™ brand hardware.

Futo Mattress is a comfortable Twin XL size mattress with the headrest that will be needed for any occasion when you would like to take a rest or even a nap. A Monoflow Technology allows blowing Futo Mattress up with few simple movements. It is ecologically friendly, water and heat resistant provides comfort against a rocky or uneven ground, and maintains its strength and durability at even the lowest temperatures! In addition, Futo Pillow is the universal air pillow, being ultra-portable (size of the sunglasses case), comfortable, inflating with one simple movement, and looking great!
Have we missed your favorite crowdfunded product? Let us know in the comments bellow.