With the advancement of technology, sometimes it is good to move forward quickly, but sometimes it is good to connect with the past and use trusted precedents for print. With Letterpress Business Cards you get an old style printing method that has evolved from functionality into an art form. At Jukebox Print we understand that human creativity, just like the human body is constantly surpassing itself and raising the bar to new heights. By surpassing ourselves in Letterpress, we tested our skills and perfected the art and the result is the ability create unique things never seen before.
While we understand that looking at a picture of a Letterpress Business Card might not warm your soul quite like looking at a painting by Matisse does. Even still, we hope our work inspires you. Maybe after this, you will think Letterpress Business Cards are as cool as we do.
Circular Business Card
These 2″ Circular Business Cards were produced in fine detail with 15 colors of Letterpress. The final touch is exquisite pastel pink Painted Edges.
Jean Jullien Business Card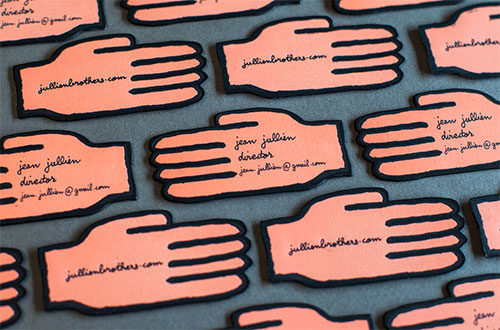 These unique die cut cards were produced for the Parisian designer Jean Jullien. Finished off with painted edges.
Lion Business Card
We took the challenge from designer Ksyu Deniska to create this intricate card with eleven colors of Letterpress and strokes as thin as .02 mm!
Don't Try Studio Business Card
3ply Layered Business Cards with 5 colors of Letterpress made for Parisian designer Monge Quentin.
ABSOLUT Business Card
Letterpress is the perfect complement to other specialty print processes such as foil, as shown here with the beautiful black ABSOLUT card.
Ribbon Business Card
This cute ribbon-shaped card is the perfect design for an event planner.
Pillow Texture Business Card
This luxurious business card features a 3D embossed pillow texture with letterpress, making this one of the most expensive business cards around.
Deer Embossed Business Card
Wonderful 3D embossed card with a subtle touch of letterpress.
Bloom Creative Business Card
Combining creativity with functionality these cards feature 9 colors of letterpress with a deep impression, white foil stamping, and 3-ply layering. Each card has a unique color backing.
Vintage Business Card
This vintage Letterpress project was produced on paper from the late 1800's! These cards were produced for Setback and Jukebox will soon provide the ability for people to order cards on real, vintage 100-year-old paper. These will truly be the most unique and original cards. The old style of printing combined with the antique paper makes this piece uniquely special. You can feel and smell the history of these cards and they are the perfect cards for any vintage selling company.
Ice Cream Business Card
This cute ice cream business card was generated with seven colors of letterpress. The color in the design is the result of immense details and pulls of a great retro look.
Pineapple Business Card
The cutest business card, a custom die cut in a pineapple shape with letterpress and gold foil.
Leather Business Card
Letterpress and real leather, a perfect combination. A multi-use as a hang tag that can double as a business card as well.
Seashell Business Card
3D embossed to the shape of a seashell with simple letterpress type. This card may look cute but is very difficult to execute!
Paint Swatches Business Card
T
his simple, colorful business card doesn't seem so simple once you realize it was created with 19 different colors of letterpress!
Foxyards Business Card
Another stunning combination of Letterpress and 3D embossing.
Typewriter Business Card
This custom die cut typewriter is the perfect card for an old school writing enthusiast.
---