Since more than 15% of the web is powered by WordPress, itís not surprising that many churches are utilizing it. Here's a collection of great resources for churches using WordPress:
WordPress Themes for Churches
WP for Church began to offer responsive church themes this summer. The site started last year to provide WordPress training and church specific plugins.
After launching in February of last year, Church Themer has released four themes. All of them have built in support for audio sermons and simple events management.
As the oldest church theme provider, Theme Loom has 8 themes available. What makes Theme Loom unique is that all of their recent themes are fully responsive and offer full support for BuddyPress.
Churchthemes.net has four different church themes available for free. They sell premium versions that include built in support for sermons & podcasting.
Theme Forest
There are quite a few church themes now available on Theme Forest. Here's a few favorites: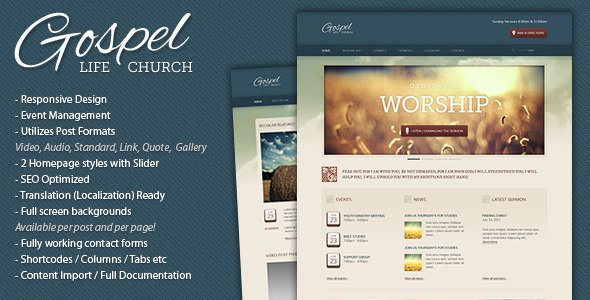 WordPress Plugins for Churches
Sermon Manager lets you organize audio or video sermons by speaker, series, and topic. Notes can be attached to each sermon. Images can be added to any sermon, speaker, or series. It utilizes custom post types and taxonomies to organize the messages. An add-on is available to add sermons directly by uploading an mp3 file.
Sermon Browser is the first plugin to manage sermons for churches. It is used widely, but development seems to have ceased at this time.
Developed to meet the common needs of churches using WordPress: nicely display staff, ministries or groups, photo galleries, events & more!
The Spiritual Gifts Survey gives a 128 question test and ranks the gifts based on the test score.
This plugin seems to have a focus on churches in the UK, but includes several useful features: calendar, address book, small group categories, Sunday rota and bulk sms and mailshot facilities.
PrayBox is a prayer request application that allows users to submit requests, or pray for existing requests, as well as allowing site administrators to manage prayer requests. A pro version is available with advanced moderation features.
Other Resources
Tim Hyde has compiled a huge gallery of churches using WordPress for your inspiration here.
I've only discovered one host offering special hosting packages and support for churches using WordPress: Baptisthost.net
What other resources have you discovered for churches using WordPress?