Food related websites are getting better and better. There are a lot of new apps and services being launched to help those that love food. From organizing recipes to suggesting new restaurants, there's always something new popping up. So today we decided to gather some good examples to inspire you. You'll see that food websites are usually great inspiration for things like using big and colorful photography, elegant typography, and occasionally subtle textures. Enjoy!
Share what you eat with your friends, see what's good everywhere.
forkly
Forkly shows you where to go and what's tasty there. Browse photos, see ratings and want items so you can easily find them later when you're hungry.
spoondate
Never Eat Alone Again! Tell me what you eat and I'll tell you who you are. Spoondate is a delicious way to meet people who love the food you love.
Gojee gather recipes from several websites and display them in a beautiful and clean way.
Culture Kitchen uses food as a means for cultural exchange, bringing together experts at ethnic home cooking with food lovers interested in the people and the stories behind the food.
Minne's Diner is a family-owned restaurant. Minne and Company specialize in dishes loaded with the freshest ingredients and plates heaped high for real appetites.
Since opening in 1976, Poogan's Porch has been a favorite of well-known celebrities, politicians, tourists and locals alike who rave about this Southern institution.
Find and recommend dishes, not just restaurants.
Food Sense is a unique resource for thoughtful, food-loving eaters and home cooks who have a palate for plant-based eating – for themselves or their loved ones; three days a week, or every day of the year.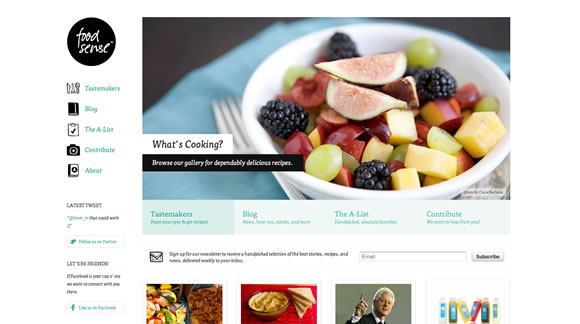 An special event to cheesemongers! Socialize, do a taste test and other challenges to prove you are good with cheese.
Luxury tailor made wedding and celebration cakes, cupcakes and yummy biscuits. Everything is a eye candy website.
My French is not that good so I recommend you use a translator to know more about the restaurant. As far as the website layout, the page is elegant and counts with a beautiful background image to get our attention, nice way to go, specially with food.
The site is all about good wine and some food-pairing, giving some tips about the best wine/food combo. THe layout is pretty elegant and also uses nice images.
I guess we don't need to say much about the restaurant here. The design is actually pretty interesting, a nice approach for a dinner.
Welcome to the tastiest food outlet in Latchford. Traditional fish and chips of the highest quality.
Whether it's for our bustling London tapas restaurants, our shops in Borough Market and Online, or our famous Chorizo Grill, our objective is simple: to provide unbeatable Spanish food.
The first personal search engine based on your unique tastes, preferences and personality. Check out Ness Restaurants!
Named for its original watercolors, Acquerello envelops guests in a warm and gracious atmosphere the moment they arrive.
Jamie Oliver on the go! The website is not that nice but the apps are pretty elegant, worth checking out.
Welcome to the Dilly Deli, located on the South East Corner of Elgin and 2nd in downtown Tulsa's Blue Dome District. We feature the finest breads, meats and vegetables on all of our classic and creative deli sandwiches.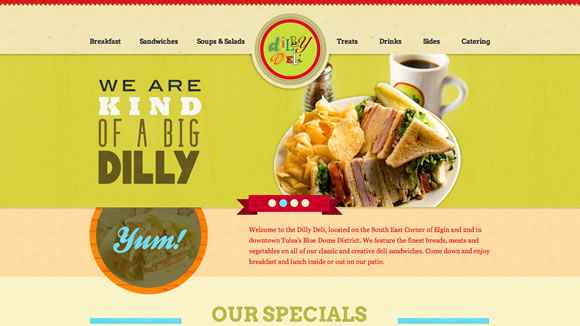 Source: