Navigation is certainly a very important part of web design and an important aspect to think about while designing a page. Today we gathered a few examples of navigation menus to show you. From clean and simple typography based menus to colorful and fixed positioned ones, there are a lot of examples to inspire you.
In Motion is using nice and colorful icons to navigate the page.
Fixed header with clean and elegant typography based menu.
Another good example of effective typography based menu.
Drop down menu that 'come and go' as you need it.
Clean website with a minimalist and beautiful menu.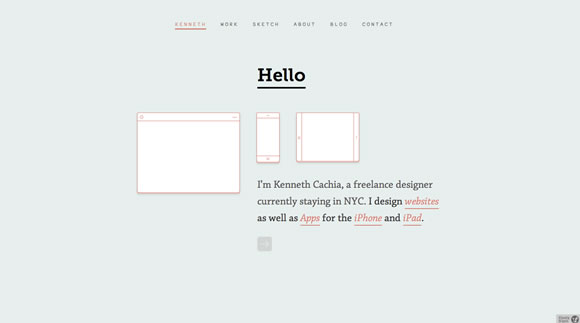 A nice HTML5 website with a menu that allow you to drag the marker to navigate or simply click the options.
Another good example of hidden menu that you use it just when you need it.
Nice and clean typography based menu. Hover it for some color effect.
Also a nice example of clean typographical menu with hover effects.
Beautiful HTML5 website with a typography based menu with hover effect. The website also have some pretty neat background transitions.
Another example of a clean menu that you can hide and use it only when needed.
MAD is also using a menu that you can hide to have a better view of the page.
A cool single page design with nice typographic based menu. Scroll down a little bit and the menu stays in a fixed position.
Clean and elegant typographical menu with hover effects.
divups offers different options to please different users. You can scroll down to check the parallax scrolling effect, you can also choose the fixed header menu or the side menu.
Another beautiful example of typography based menu.
Simple and colorful header menu.
Nice colors and typography. Menu also has hover effects.
Clean design with a minimalistic menu and a nice background animation.
Beautiful minimalist design with super clean typography based menus.
Source: