I believe we can agree that a lot of iPhone app websites are really beautiful and well designed. It seems that designers embrace the "Apple" style and create websites that are clean, minimal and elegant. Instead of simply creating a random page to show their apps, designers create inspiring layouts, using beautiful images, lots of white space and nice typography. Today we will show you a list of iPhone apps websites that are certainly inspiring, check it out.
Wedding Party is a simple & fun way to capture and share your wedding experience with your guests.
Seeing the weather on your iPhone has never been so easy and beautiful!
Static allows you to track how well you are doing in your favorite social channels. Just added an Instagram photo? Just published a blog post? How much traffic did you get as a result? How many new followers did you gain on Twitter? Instead of hopping back and forth between apps you can see your most important social stats from one screen.
Add beautiful text to your photos and share them on Instagram. Create inspirational, informational or even funny images to share quickly and easily.
Rise is a delightfully simple and unique alarm clock, for your iPhone/iPad/iPod Touch. With its refreshing and clever way to set time, Rise is one of the simplest alarm clocks you'll ever use.
Daypack is the most beautiful, functional and simple in use Basecamp iPhone app.
Tech vacancies of the most important tech companies. Would you like to know what the most cutting-edge technology companies in San Francisco, Seattle, New York, Toronto or London demand? Refocus your career looking for jobs in the most important technology companies with Jobs, an iPhone unofficial client of Authentic Jobs, one of the referenced websites in job search in the technological sector in the U.S., Canada and UK.
Start is a simple, gesture-driven alarm and stopwatch. Tap the plus icon to create your alarm, spin the dials to set the exact time and customize your alarm with default tones or your personal music. Tap the arrow and direct Start to launch into your favorite app after you wake up.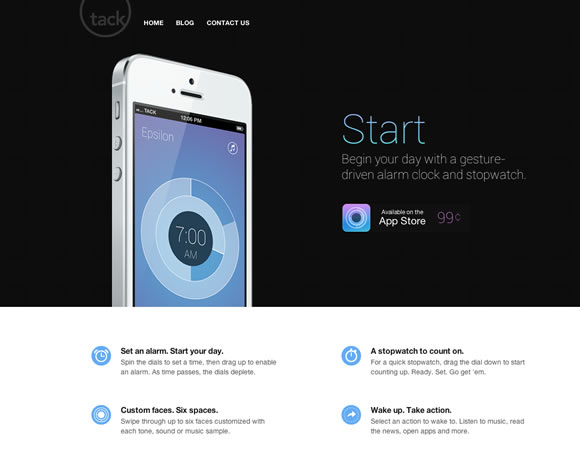 Pop helps you make interactive prototype with ease. If you can draw, you can design apps.
Dcovery is the best way to organize your travel research and discover more when you reach your destination.
Everest helps you live your dreams and achieve personal goals. From traveling the world to getting in shape to learning Italian – Everest is a place to capture all your dreams, big and small, and focus on a few.
A mobile app for sharing photos built for people who love photos.
Get your tasks done by trusted local people.
A new way to bookmark locations, with notes and beautiful photos. Free for 10 places. People use Rego to plan and journal their travels, keep track of their favorite restaurants, cafes and take-aways, and quickly remember that interesting place that was "around here somewhere".
Gogobot is the best way to travel in the know! Whether you're planning your next getaway or simply exploring your own city, Gogobot is the complete travel companion. Discover interesting places, explore destinations, plan and book your next trip, document your travels and share it all with your friends.
Bondsy is a new way to buy, give, or trade things with friends.
Kuvva for iPhone﹣the beautiful wallpaper gallery. Discover new images by exploring the Kuvva collection or by checking out our featured artists. If you like an image, preview it as your lock screen or homepage.
With one tap, Qwiki automatically creates beautiful movies from the events captured on your iPhone or iPod touch – providing a rich and elegant way to share your life.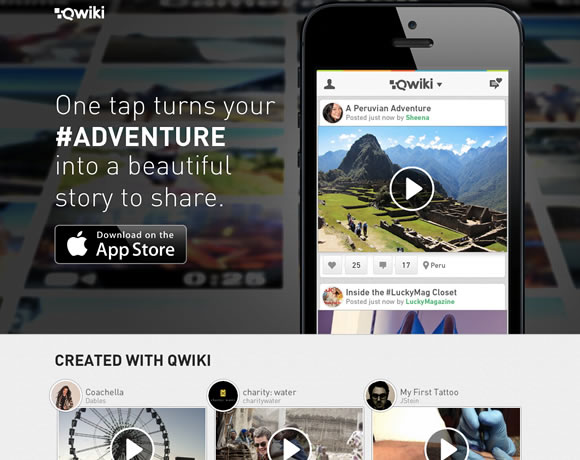 Put some color on your forecast with Haze, an amazing weather app with fluid animations and an audiovisual interface that is both beautifully simple, yet powerfully addictive.
The fast, fun mobile inbox that puts email in its place. Mailbox is a completely redesigned inbox that makes email light, fast, and mobile-friendly.
Vine is the best way to see and share life in motion. Create short, beautiful, looping videos in a simple and fun way for your friends and family to see.
Note: Android users, I'm trying to put together a list of Android app websites, get in touch if you want to suggest a website.