HTML5 templates are commonly used both by non tech-savvy developers and professionals, who are pressed for time. Not only can they give a swift kick-start to their sites, but also take good care of many critical issues. Performance in different browser versions, indexation of pages, load times, security, – it's just the beginning of the list with all the advantages that HTML5 designs offer to users.
Not long ago we published a roundup of 25 free HTML5 templates. Today, we'd like to supplement those freebies with 25 alternative solutions of premium quality. This selection offers templates intended for multiple business niches and matching preferences of even the choosiest aesthetes. If you can't find your specific niche here, feel free to check more ready-made HTML5 designs. Thanks to extensive customizability, you can bring unlimited changes to their visuals.
Although the HTML5 templates featured below are unique in their essence, all of them are united by some common qualities. They are essential to giving your company a competitive edge on the web at present. Content focus, readable typography, eye-friendly palette, responsive design, dynamic animations, sticky navigation, – all these tricks can let you build a site that would be easy to use to find prospects.
Look through 25 premium HTML5 website templates below and choose the one that can help your business strive and succeed in cyberspace.
1. Intense Multipurpose HTML5 Template
Intense is a multipurpose HTML5 website template with 150+ readymade pages. Among them are 7 homepage layouts, 20+ blog pages, 15+ portfolio pages and 10+ eCommerce pages. About Us, Services, Contact Us, Maintenance, and other pre-designed pages are also ready to go, out of the box. Btw, Intense comes with multiple child themes, moreover, new child themes will be regularly added to the template's package and you will be able to download them for free. But not only the content updates are lifetime and free of charge – the support is too. You can contact the support team anytime, 24/7, and get expert help in no time at all. What's more? You might also like multiple header and footer styles, an extended Bootstrap toolkit, 150+ layered PSD files, working contact form, etc. Actually, this flexible HTML5 template has almost anything you might need to build a responsive website, blog, portfolio site, eCommerce site or any other website you have in mind.

* * *
2. Modicate Multipurpose Website Template
Demo | More Info
Modicate can be used to build a site of any kind, be it a portfolio, blog or store. This multipurpose HTML5 template comes with 50+ pre-designed pages for virtually any purpose, from pricing and product catalog to coming soon and 404. There are also various UI elements, web forms, live search option, smooth CSS3 animations, transition effects, and much more.
* * *
3. Arche Website Template
Demo | More Info
Arche is a mobile-friendly HTML5 template by TemplateMonster meant for architectural bureaus and interior design firms. Thanks to its image-rich design, your projects can speak for themselves, while its unusual layout structure adds zest to the content presentation. A slider, carousel, online chat, live search, and contact form make up this template, turning it into a full-fledged solution for your site.
* * *
4. Photographer Portfolio HTML5 Template
Demo | More Info
Create a portfolio of unmatched professionalism with this premium HTML5 template. Its creative design boasts a page-wide slideshow with round thumbnails, mosaic gallery, pre-loaders, ghost elements, and many other visual tricks. Services are framed in boxes and presented with icons to improve the visual hierarchy of content.
* * *
5. Consulting Responsive Website Template
Demo | More Info
This content-packed HTML5 template sets an austere yet friendly tone thanks to warm, orange accents and parallax backgrounds. Its responsive layout is supplied with all the effective instruments of web design, from a large intro area and gallery to video integration and partners' block. To personalize this template, you can use a built-in switcher that will help you change colors with a single click.
* * *
6. Yacht Charter HTML5 Template
Demo | More Info
The skeleton of this grid-based template utilizes a mix of HTML5, CSS3, jQuery and SASS techniques of web development. To get in touch with visitors, you can add a contact form, live chat functionality, and Google map to your site. For better customer engagement, the content is supported with large, high-resolution images.
* * *
7. Industrial Responsive Website Template
Demo | More Info
This responsive HTML5 template can be used to build industrial sites of any topic, e.g. steel production, civil engineering, mining, and many others. Its layout features a sticky header and mega footer, where you can display contacts, services, news, testimonials, social links, and much more. By means of a built-in customizer, it's possible to switch between different color choices right at the frontend.
* * *
8. Bus and Coach Hire Website Template
Demo | More Info
Promote your transportation services online with this HTML5 website template. Its image-heavy design makes skilful use of tiled blocks spiced up with a parallax effect for greater dynamism. Using this responsive template, you can also equip your site with a sticky dropdown menu, online chat, Google fonts, back-to-top button, Google map, and much more.
* * *
9. Business Website Template
Demo | More Info
Build a modern business site with this mobile-ready and info-packed HTML5 template. Dynamic counters, pixel-perfect icons, image backgrounds, and parallax effect make it more interesting for visitors to explore the content. At the bottom of the page, they can also access follow icons to join you in social networks.
* * *
10. Hair Salon Responsive Website Template
Demo | More Info
This beauty salon template can make an effective business introduction with a parallax, full-screen header. Content blocks are pre-made to highlight prices, gift certificates, employees, weekly timetables of their working hours and testimonials. To sound persuasive, each testimonial comes with the photo depicting your client's hairstyle.
* * *
11. Construction Multipurpose Website Template
Demo | More Info
This premium HTML5 template is a multipurpose solution for any size of company, whether industrial or business. It comes packed with 6 blog layouts, 4 eCommerce pages, 6 header variants, 4 footer styles, 4 gallery kinds, and multiple UI elements. In its core, the template is built with Bootstrap 3 and SEO-friendly code that complies with W3C standards.
* * *
12. Motor HTML5 Template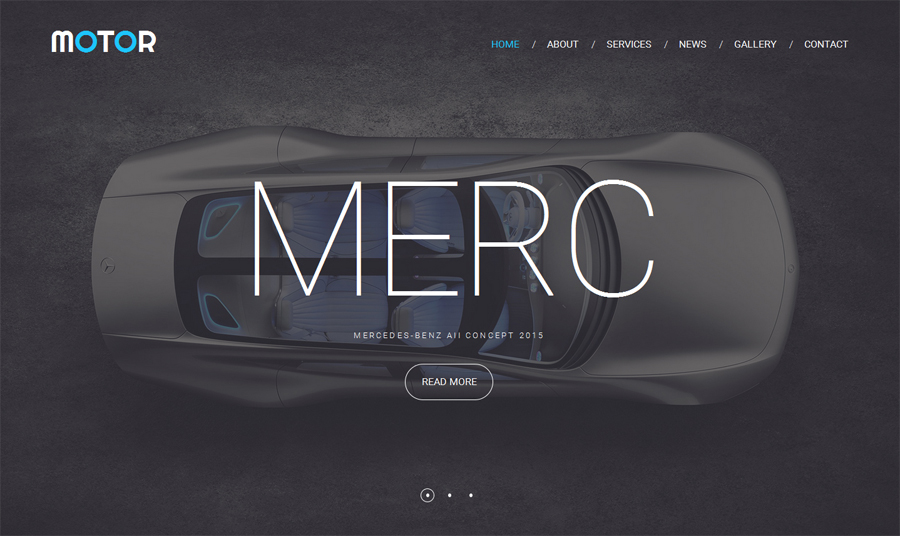 Demo | More Info
Here is an ultramodern HTML5 template with a visually impactful layout. You can showcase your offers in a full-width slider with striking transition effects and mosaic gallery with a filtering option. Counters are used to reveal how many members there are in your social communities.
* * *
13. Tea Company Website Template
Demo | More Info
Carefully thought-out pages of this template have readable typography and a soft color scheme to present the information in a clear manner. Utilization of a parallax scrolling technique allows you to impart some dynamism to the feel of your site. You can also change colors, fonts, and other UI elements of the template in its intuitive dashboard.
* * *
14. Fashion Responsive HTML5 Template
Demo | More Info
This fashion HTML5 template features a large intro area overlaid with menu items opening up into an elegant, semi-transparent dropdown. The rest of the design is based on a tiled layout flavored with parallax and hover effects. It adds flair to the page aesthetics, which is perfect for any fashion- or beauty-related site.
* * *
15. Medical Responsive Website Template
Demo | More Info
Spread the word about your medical center using this customizable HTML5 template. Its design combines a range of geometric shapes such as arcs, circles and rectangles with rounded edges. Yellow and blue accents are skillfully scattered across the template's white layout. Such a palette can make your website interface easy on the eye.
* * *
16. Investment Company Responsive Website Template
Demo | More Info
Users of this Bootstrap-powered template can benefit from fixed navigation, social media integration, online chat, page-wide slideshow, and many other things. Dark grey and green accents draw attention to important details shown on the eye-friendly, light canvas. There is also a parallax block with a blurred image background bringing the message into focus.
* * *
17. Hiking Responsive Website Template
Demo | More Info
Try this HTML5 website template to show breathtaking images of your activities in a slider and group them by categories in a carousel. The template also has pre-defined blocks to highlight your news, events and testimonials for greater reliability. Moreover, you can mark the location of your club on a map powered by Google API.
* * *
18. Transportation Responsive HTML5 Template
Demo | More Info
This template's layout starts with a parallax, page-wide header, where visitors can access ghost CTA buttons and menu items. In the blog section, post images alternate with short descriptions as on a chessboard. To improve your content presentation, the template is supplied with some effective details, particularly minimal icons, tabs, and counters.
* * *
19. Web Design Responsive Website Template
Demo | More Info
This tastefully devised HTML5 template is suitable for web designers, photographers, artists, and other creative souls. Its partially split layout can let you focus attention on two different content types simultaneously. An image gallery is supplied with a lightbox, which allows visitors to preview your projects on the same page.
* * *
20. Holiday Homes for Rent Website Template
Demo | More Info
Here is a functional template suitable for realtors and travel agents. Equipped with a color switcher, it allows for one-click customization of the default palette. Page-wide slides are overlaid with semi-transparent banners, where visitors can read some text and access a call-to-action button. A built-in gallery makes it possible to sort vacant rooms by location or any other criteria.
* * *
21. Bakery Responsive Website Template
Demo | More Info
This bakery HTML5 template utilizes a lazy load technique to make pages of your site load faster. It provides easy navigation thanks to a sticky bar accommodating both menu items and a live search option. In terms of visuals, this design is remarkable for soft colors, full-width slides, parallax blocks, and ample white space.
* * *
22. Car Rental HTML5 Template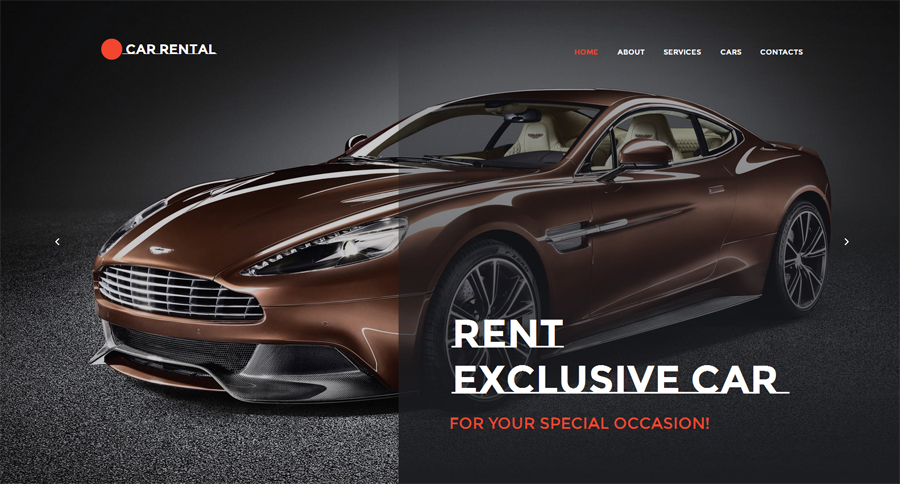 Demo | More Info
Look at a mobile-ready HTML5 template for people involved in the automotive industry. The major area of its layout is based on split blocks. Such a structure allows you to complement text with imagery and bring these two types of content into equal focus. To display your offerings, there's a square gallery, where images are overlaid with captions and prices.
* * *
23. Flooring Responsive Website Template
Demo | More Info
With the help of this template, you can build or redesign any site related to home decor. Page-wide slides, multiple banners, brands, interactive Google map, – these and other things will help you introduce your company to the fullest. By means of a color switcher, you can easily adapt the default design to your corporate identity.
* * *
24. Email Services Responsive Website Template
Demo | More Info
This grid-based template utilizes a mix of CSS3, LESS, jQuery, and HTML5. Pixel-perfect icons can make it easier to scan through your content, while counters enable you to unveil impressive stats. Thanks to pre-defined tables, your customers will find it a breeze to compare the prices for different packages.
* * *
25. TransxoCo. HTML5 Template
Demo | More Info
The last template on our list, TransxoCo, has a clean layout with flat UI elements. Its package contains pre-designed pages and sliced PSD files to facilitate the editing process. The template is executed in the best traditions of web design including page-wide imagery, focus on typography, use of parallax effect, and many others.
* * *
We've shown you cool premium HTML5 templates appropriate for unlimited business niches. Choose the right one for your project and build a powerful site with ease. Good luck from our team! Do you know any other good HTML5 templates that could complement this selection? Feel free to mention them in comments.