Several months ago we showed you 34 Inspiring iPad Application Websites and since there are new apps being released every day, there's a good chance that some of them will have attractive websites as well. So for this post, we set out to find the ones that are well designed and good enough for your weekly dose of Monday inspiration.
The classic dominoes game on your iPad, iPhone and iPod touch.
Tasks done in style. The world's most elegant and hands-on ToDo app was designed to work around your fingers.
This is your flipboard. It's your personalized, social magazine.
Watch all the dribbblr players from the first row. See what they have to show and tell and never miss a shot again.
Night Stand transforms your iPad, iPhone or iPod touch into a beautiful home away smart clock.
Rouse is a completely new way to experience images on the iPad. Browse image feeds from around the world and keep track of your favorite sources of inspiration.
Acrylic Times is a unique and innovative newsreader designed to make browsing through your daily news more efficient and enjoyable. By combining multiple news feeds onto a single page, Acrylic Times lets you quickly scan through headlines, previews, and photos to find the stories that interest you most.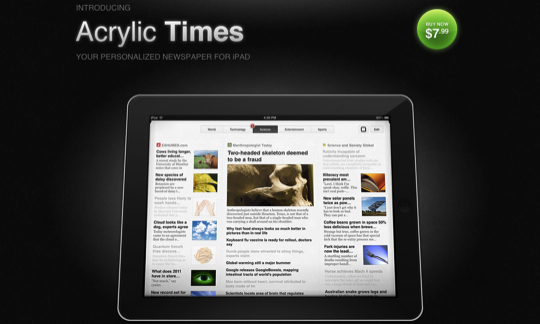 This is the ruler reinvented for a world where we all want to use less to do more, wherever, whenever.
Free cloud service for your NotifyMe, now also for iPad.
Howcast for iPad shows you fun, useful how-to's wherever you are. Need to check a recipe in the kitchen? Change your oil on the road? Tie a bow tie in a hotel room? Or maybe you just want to be entertained and learn something new? We will help you out.
Whether you are writing an entire novel, a short story, or even articles for submission to magazines, Manuscript for iPad takes care of the details and lets you focus on writing. This all-in-one writing app will take you from pitch to a publication ready document.
A Google Reader app for the iPad.
FLUD is a modern, beautiful and personalized mobile news ecosystem with a vision to empower it's users to interact with each other to access, engage and broadcast content that is relevant to them.
Meetings on your Apple mobile device.
If you make staff rosters then this app is for you. Shifty makes it easy to schedule staff by giving you an intuitive drag and drop interface that's quick to use.
Calcbot is a simple and beautifully designed calculator for your iPhone, iPod touch and iPad. You'll never open the built-in Calculator app again.
Explore places to go and things to do with your friends.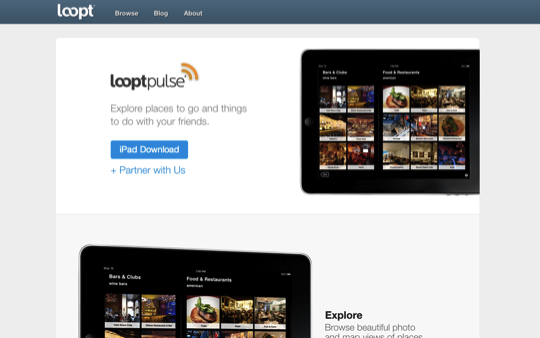 Photogene is the ultimate editing tool for your photos on Apple mobile devices. With Photogene, it's easier than ever to edit, improve and decorate your photos right on your iPhone, iPodTouch or iPad.
Sophisticated student's planner for your iPhone & iPad.
NewsRack is a full-featured RSS reader for your iPhone and iPad with an intuitive interface. The feeds and articles in NewsRack can be synchronized with Google Reader, including categories and even your custom sort order.
The Sonos Controller for iPad™ is a free application that takes music control to a whole new level. The Sonos Controller for iPad works over your home WiFi network. And you can download it for free on the App Store.
The only presentation tool that you need.
Slide – Tap – Read
SkyGrid is for people who are interested in the seeing what events, people and topics are spreading the fastest across the Web.
The ground-breaking game.
Travel around the world and back in this wonderful little app. It's an amazingly beautiful way to navigate, explore, and discover the 890 UNESCO World Heritage Sites.
Reeder, a great RSS reader.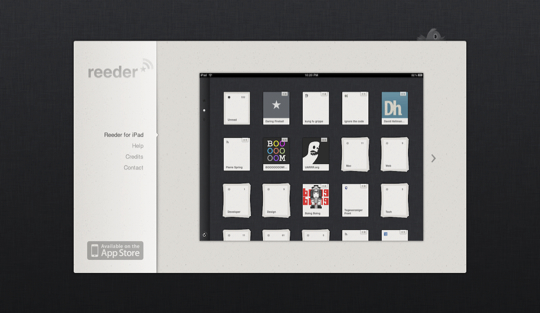 Freeform is a vector drawing tool for your iPad. Create quick sketches, mockups, or diagrams with this powerful tool.
Create notes your way… with style, colors, images, etc.
iMockups for iPad is the premiere mobile wireframing and mockup app for your web, iPhone and iPad projects.
Sources: