The purpose of this article is to help you find the best website builder for your particular situation. Given the number of web design tools on the market, finding just the right one can be a challenge. We've used the following criteria to greatly simplify your search effort and make your purchasing decisions less complicated.
These satisfy the following criteria:
Ease of Use – The learning curve of a tool used to create a website does not have to be a steep one. The opposite should be true, as is the case with those tools listed here.
Customization – More and more features do not always lead to easier customization. Fewer, but totally adequate features, is often better.
Portability – Why hire a developer to make changes to your site, or find you have to work from a new platform, when the tools you have will do the job?
Cost – Free is always nice; but these extremely affordable premium tools will give you a generous ROI.
Several of these drag and drop tools are especially useful for creating portfolios, although each one is up to the task.
Cornerstone set a newer, higher page-builder standard with its 100% front-end editing capability. It demonstrated that it was possible to create quality websites more quickly, and with greater ease, and that web designers could have fun while doing so.
When it was first introduced as a powerful new feature included a major update of X Theme, a best-selling WordPress theme, Cornerstone made such an impact that Themeco will soon sell it as a standalone tool. Many website designers, even those who were happy with the tools they had, were not yet aware of how much easier and more efficient page building could be.
Cornerstone's interactive preview and edit displays let you see the impact of your edits and changes in real time. Make changes on the fly, and you will immediately see the results, without having to resort to the edit, save, review, and change cycle – over and over again. There is much more to Cornerstone, but its front end page builder is enough to make this one of the best site-building tools you are apt to come across for a long time to come.
Simple and powerful. That's SnapPages in a nutshell. This drag and drop page builder does what needs to be done, while meeting our customization criterion –  an absence of extraneous bells and whistles.
The HTML5 page builder makes website building a snap. The HTML5 designation simply means that this modern page builder was developed using clean, crisp code. There is no need for coding on your part when using SnapPages. You are given professionally designed, responsive pre-built websites to work with, along with templates and layouts that have been designed to get any project of to a quick start.
Better yet, SnapPages touchscreen functionality means you can do page building and editing from your tablet or touchscreen laptop should the occasion dictate, and cloud hosting ensures this tool will load quickly and respond to your commands instantaneously.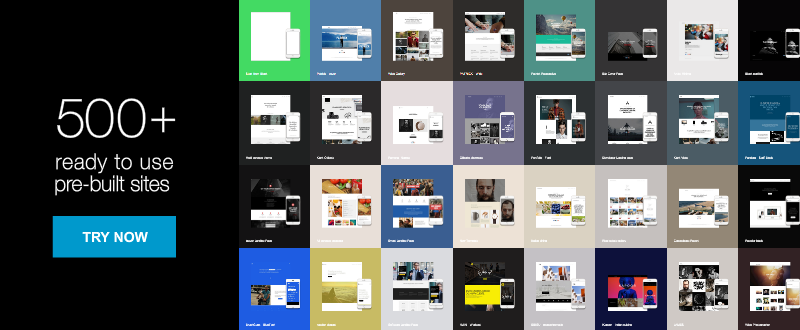 XPRS by IMCreator can certainly claim to be one of the most innovative page builders in this list. Like the others, it works with layouts or themes, but what it does differently is it divides the themes into stripes. You can mix, match, and customize these stripes to produce attention-getting websites that will tempt visitors to stay a while.
Working with XPRS is a little like working with Lego blocks. You build what you want to, and you have fun doing it. The site creation process is super-fast.
You can build an eCommerce site that is completely free, and always responsive. Free is nice, but XPRS also has a paid-for plan that has grown in popularity by leaps and bounds. It's their white label plan, and it's for real. For a $250 fee you can build unlimited websites. If you are serving many different clients, here is an excellent way to get a great ROI. The commercial plan costs $7.95/month.
Well-structured, professional-looking portfolios can take a great deal of time and effort to put together. AllYou.net offers the perfect solution for creatives who are good at design, but tend to struggle when having to deal with difficult interfaces. This portfolio builder takes care of the structure and mechanics, allowing you to focus on presentation – it can help you there as well.
This drag and drop tool features a nice selection of customizable templates. Best of all, you're invited to sign up for a free trial to find out how it will work for you.
Divi Builder was originally a highlighted feature of Divi, a highly popular WordPress theme. When this page builder was added as a new feature, Divi's popularity soared. Elegant Themes made the decision to market this tool as a portable, standalone page builder.
Divi Builder can be used with any WordPress theme. This highly innovative tool is not easy to describe in a few sentences. The best way to see what it offers is to visit the Elegant Themes Divi Builder website. The home page demo tells you everything you want to know. You will be impressed!
Themify Builder may be the most powerful and easy-to-use page builder for WordPress. There are no limits to the different layouts you can design with this time-saving tool. Building a magnificent website will involve little more than following its drag, drop, and select process. You can watch your creation evolve without the necessity of adding code.
Themify Builder provides 40 pre-designed layouts to work with. Features especially useful for creating portfolios include animations, video, and parallax scrolling.
Portfoliobox's creators must have been thinking outside the box. Unlike many other page building tools, this page builder does not have a preset theme. By using different layouts, templates, and your own imagination, you can create thousands of different websites. No coding is required.
You can build blogs, portfolios, and any type of website including eCommerce websites. Open a free account to get started. You can think about signing up for a paid plan later.
You may have discovered that selecting among seven different website and portfolio tools can still be a bit difficult, especially when each tool is in its own way superior to anything else on the market.
Hopefully however, you have found a website and portfolio-building tool that suits your needs, or you have elected to use more than one of these products. Note that the portfolio-oriented tools can be used to create any website, and the other, general-purpose tools, are just fine for creating professional looking portfolios.