Back in November we showcased here a list with 8 Books Every Designer Should Read, and to the present day, five months later we keep receiving emails from readers thanking us for the list and asking for a new round of recommendations. Based on that, I decided to gather a few more books for you to check out. Since I'm not a designer, I had to ask my friends who are designers and developers to help me out with some recommendations, and here is a new round of books we believe may interest you. Feel free to also give your recommendations in the comments.
Book description:
The web is an ever-changing medium whose scope, application, audience and platform continue to grow on a daily basis. If you've worked on the web for any amount of time, you've likely heard or even used the term "progressive enhancement." Since the term's inception, it has been considered a best practice for approaching web design. But what is it really? And how do we reconcile its meaning with the rapid evolution of the languages and browsers we rely on to do our jobs?
In this brief book, Aaron Gustafson chronicles the origins of progressive enhancement, its philosophy, and mechanisms, and reveals the countless practical ways that you can apply progressive enhancement principles using HTML, CSS, and JavaScript. By understanding progressive enhancement and how to apply it properly, web practitioners can craft experiences that serve users (rather than browsers), giving them access to content without technological restrictions.
Book description:
A visual treat for anyone who loves fonts and typographic design.
The Anatomy of Type explores one hundred traditional and modern typefaces in loving detail, with a full spread devoted to each entry. The full character set from each typeface is shown, and the best letters for identification are enlarged and annotated, revealing key features, anatomical details, and the finer, often-overlooked elements of type design. Containing in-depth information on everything from the designer and foundry, the year of release, and the different weights and styles available, The Anatomy of Type is more than a reference guide to the intricacies of typeface design. It is a visual send-up of some of the world's most beloved typefaces, beautifully displayed in vibrant color.
Book description:
Originally published in French in 1967, Semiology of Graphics holds a significant place in the theory of information design. Founded on Jacques Bertin's practical experience as a cartographer, Part One of this work is an unprecedented attempt to synthesize principles of graphic communication with the logic of standard rules applied to writing and topography. Part Two brings Bertin's theory to life, presenting a close study of graphic techniques including shape, orientation, color, texture, volume, and size in an array of more than 1,000 maps and diagrams.
Book description:
A Practical Guide to Designing for the Web aims to teach you techniques for designing your website using the principles of graphic design.
Featuring five sections, each covering a core aspect of graphic design: Getting Started, Research, Typography, Colour, and Layout. Learn solid graphic design theory that you can simply apply to your designs, making the difference from a good design to a great one.
Book description:
Learn how to use typography on the web.
Typography has long been an invaluable tool for communicating ideas and information. Words and characters once impressed in clay, written on papyrus, and printed with ink are now manifest in pixels of light. Today's web typographers can help their readers find, understand, and connect with the words, ideas, and information they seek.
Thus, legibility and readability are the foundations for the typographic theories and practice covered in Typographic Web Design. You'll learn how to choose fonts, organize information, create a system of hierarchy, work with tabular information, create a grid, apply a typographic system across multiple pages, and build a font library.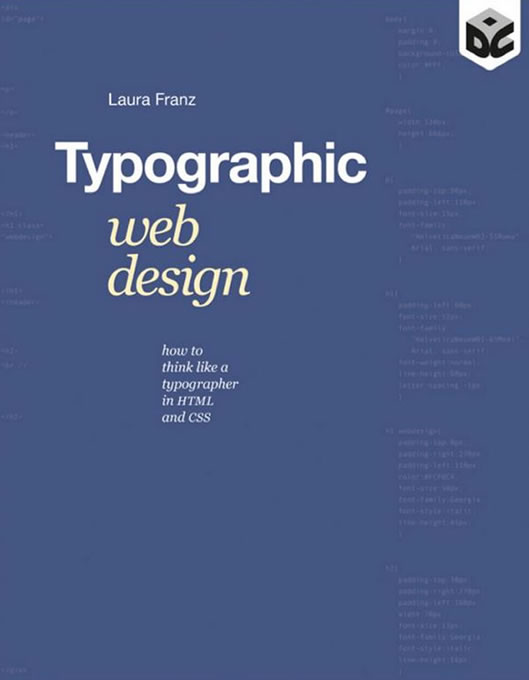 Book description:
BETTER CONTENT MEANS BETTER BUSINESS. Your content is a mess: the website redesigns didn't help, and the new CMS just made things worse. Or, maybe your content is full of potential: you know new revenue and cost-savings opportunities exist, but you're not sure where to start. How can you realize the value of content while planning for its long-term success?
For organizations all over the world, Content Strategy for the Web is the go-to content strategy handbook.
Read it to: Understand content strategy and its business value; Discover the processes and people behind a successful content strategy; Make smarter, achievable decisions about what content to create and how; Find out how to build a business case for content strategy.
Book description:
New in the "100 Ideas that Changed…" series, this book demonstrates how ideas influenced and defined graphic design, and how those ideas have manifested themselves in objects of design. The 100 entries, arranged broadly in chronological order, range from technical (overprinting, rub-on designs, split fountain); to stylistic (swashes on caps, loud typography, and white space); to objects (dust jackets, design handbooks); and methods (paper cut-outs, pixelation).