WordPress, for the most part, provides an intuitive and easy to use manner of website creation and development. It is simple, straightforward, and offers great scope for customization.
However, at the end of the day, you might need specialized tools for the job, and when it comes to website creation, there are several builder plugins and themes out there for WordPress users that you can rely on.
But unfortunately, vast majority of these website builders, be they independent or work in assonance with WordPress, are bulky and bloated. They offer a difficult to use interface, and focus too much on either being beginner friendly or developer friendly. You can either go for a WYSIWYG editor that feels like a toy if used by a seasoned coder, or a code-heavy builder that is rocket science for the less advanced users.
What should one do? Well, we have the perfect solution for you: meet BBE, the Bootstrap Building Engine for WordPress. At its core, BBE is not a power tool or a framework. It is a simple WordPress theme that behaves and works the way you want it to, thereby helping you do more with WordPress.
BBE For WordPress: The Bootstrap Building Engine You Should Use
What is BBE for WordPress?
Before we go any further, let us take a moment to familiarize ourselves with BBE for WP.
Basically, BBE is a totally free WordPress theme (yes, you read that right — free of cost for you to download and deploy). It comes with a powerful Bootstrap powered page builder, and numerous readymade components to help you get started with. Furthermore, it offers an HTML editing platform to help you incorporate and preview your changes for your website.
All of that — for free. Sounds awesome, doesn't it?
But how is BBE different from the various other page builders out there? Isn't it yet another Bootstrap based framework or monster theme?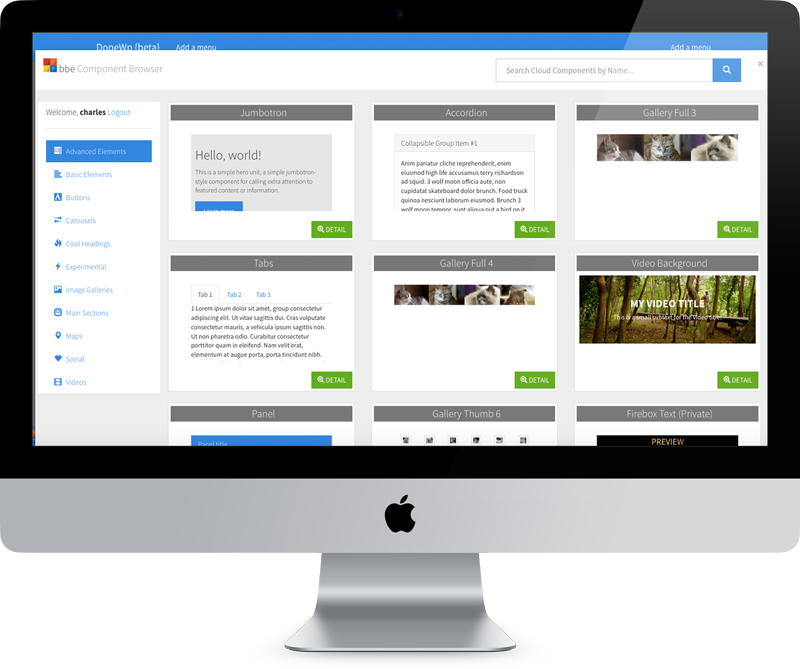 BBE is more than just a standard framework, and it is different from the millions of bloated frameworks that you might have come across. BBE is a simple and standard WordPress theme. It works well with the Theme Customizer, and gives you total control over the template elements. You can tweak and modify every single page element, and essentially learn how web development should work, or extend it by means of custom code.
Furthermore, since BBE is based on Bootstrap, it can be skinned by means of Bootswatch as well. BBE lets you include shortcodes and widgets, and edit content, labels and images right from the frontend itself. BBE offers SEO optimized code, and it lets you reuse HTML and CSS code samples as well. Plus, it saves your HTML editing history, so you can go back and undo the changes if something gets messed up.
Well, that's what we had with the features of BBE theme. What about its actual implementation?
BBE WordPress Theme in Action
So I decided to give BBE theme a spin on a test site. You can download the free WordPress theme yourself and try it out, though the premium components will require a subscription.
You can upload and activate the theme much like you would, with any other WordPress theme. After activation, BBE does not add any separate settings section in the WP admin panel. All of the action happens from right within the Customizer.
In the Theme Customizer, you can choose the Bootswatch skin that you wish to use, as well as enable or disable the Lightbox, and so on.
Of course, that is not all. The real beauty of BBE lies in the fact that you can create pages using different types of containers, columns and blocks. If you have had any level of experience with Bootstrap, you will feel at ease with BBE right away. Here is a video to help you get a better idea:
And here is a handy getting started guide for you.
Pricing
As already mentioned, BBE the theme in itself is totally free of cost. However, if you opt for a premium membership, you can gain access to a remote repository of HTML components that can help you accomplish a lot more with BBE in WP.
The premium membership costs $79 per annum, and also entitles you to premium level support.
Conclusion
In a world filled with page makers, page builders, website creators, frameworks and skeleton themes, where exactly does BBE for WP stand?
To be frank, BBE does not reinvent the wheel. It is not something that you will look at and be amazed simply by seeing a demo or a GIF. However, once you actually give BBE a try on your website or your web project, you will realize what BBE attempts to accomplish. This is where you might come to admire BBE in the long run.
BBE solves one major, often-talked about but rarely addressed problem that exists with modern page builder plugins and themes or frameworks — bloatware. BBE is not bloated and it does not promise to do everything under the sun for you. BBE is simple, and works in a clean manner, much like a good WordPress theme should.
Furthermore, BBE knows what comes under its territory and what does not. The code is SEO friendly, the theme is eCommerce ready, but if you wish to setup a theme shop or handle SEO features, get the plugins that you need. Your WordPress theme should not encroach upon plugin territory, and BBE for WP is aware of this rule.
Lastly, the BBE theme is free to download and extend, so there is nothing for you to lose in this. The premium membership does cost $79, and depending on whether or not you need to use the premium features, you can choose to opt for it.
Download the Bootstrap Building Engine for WordPress from this page.