Are you ready for an exciting new year in the ever-changing scene of web design? New trends and practices are looming on the horizon. Can you guess what they are? Your guess is as good as mine. In this article, I chose to look into the best WordPress themes.

Themes for WordPress are either free or premium. Those from the latter category have more to offer in terms of feature complexity, flexibility, and design quality. So, I'll be focusing on premium themes for now. Below, you can read about 15 of them and why they might interest web designers who intend to take on WordPress projects for many types of clients.
X Theme is first on the list. It was released about a year ago, and managed to draw a lot of attention all through 2014 – thanks to Stacks (Integrity, Renew, Icon, and Ethos are complete designs). This theme has 30+ demos (in the process of being updated, with several additions), lots of instructive videos, a spotless record for answering many customer requests in the forum, and a live customizer. At the start of 2015, it still is the fastest selling item on ThemeForest reaching over $1 Million in sales in its first 6 months. But the full-time developer staff over at Themeco didn't rest on their laurels.
X Theme is presently available in version 3.0, with lots of custom-made Extensions that give designers a lot of options for their website's functionality. For example, you can use the Video Lock to play a full-screen video to your website audience. Or, slide in a subtle Content Dock with offers and suggestions. All 15 plugins perform flawlessly with X Theme. Also, they're free for each single license, and include automatic lifetime updates.
Muffin Group takes great pride in BeTheme, and rightly so. I have rarely seen a more flexible theme. You can use it for any kind of website, from corporate, to events, product or app presentation, general e-commerce, and portfolios. With BeTheme, you can give a unique shape to every single page, and build your pages using shortcodes, Visual Composer, or the Muffin Builder.
BeTheme is one of those themes that never stop growing. Presently, it's open for integration with many external plugins. Examples of compatible plugins include Contact Form 7, Yoast, MailChimp, WP Mobile Detect, and bbPress. Plus, Muffin Group enact updates to their their theme on the clock, every week. If you wish to see examples of BeTheme in action, have a look at some of the 70+ demos and see what you think.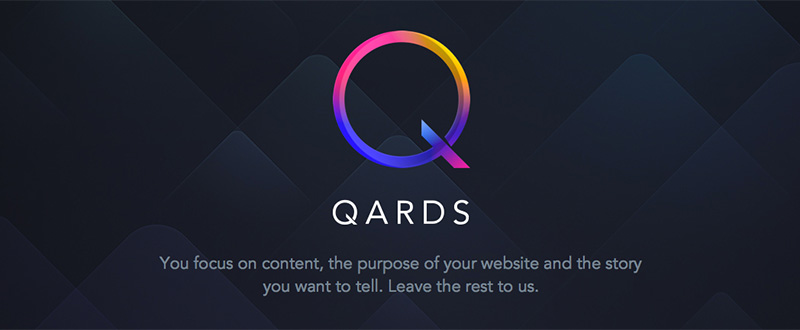 In 2015, we'll see a lot more of tile and cards design. Qards is a top three solution for WordPress websites, and an exception to the list of themes that you see here. That is because Qards is not a theme, but a plugin that goes with other themes you installed. This plugin is very powerful because it can help you change the appearance and functionality of your websites in a hassle-free way.
Did I mention that it doesn't involve coding unless you want it to? You can steer clear of the technical ordeal, and just upload your website content on the cards this plugin provides. An in-line editor allows you to perform any kind of change on your cards, before you arrange them and publish the final results.
The dominion of parallax continues. More and more websites employ this technique for animations and backgrounds, with various results. What you need is a theme that makes sure you don't overdo it and plunge your website users into confusion.
Rosa would do, especially for restaurants, but also for portfolio and photography websites. This theme makes it worthwhile to insert typography animations on your website, and to create full-screen image galleries. It's enough to make any user give you her/his undivided attention.
Everyone – individuals and agencies – needs to create a strong personal brand. And when you're working on their online portfolios, a big part of that job falls down to you. It's not enough to list previous experience and strike up a dry *About me* section.
You have to go above and beyond with intelligent use of parallax and bold content sliders. Brand.ed is a useful WordPress theme that opens a live customizer for designers. What with the unlimited color options, you can make sure that you stay faithful to your clients' brand identity.
Next on the list of premium themes that you might consider using throughout this year is Divi. It's engineered by Elegant Themes. If you like the idea of designing websites with modules, then you'll love it. Divi allows you to play around with modules until you get the layout you want, or choose one of the pre-made layouts as starting point. A built-in CSS box is attached to modules, so users are able to customize them at will.
The web shops that we make in 2015 will have to be designed with all-around mobile readiness in mind. Also, we need to make physical products as tangible as possible for online shoppers.
SnapShop has a WooMapper that lets you add informative pins to your high-quality product images. Also, users can preview items in a Pinterest-like manner, and filter them with ease. Feel free to use animated 'add to cart' notifications, as well as set up curtain page transitions that display the company logo.
It's time to stop the glorification of coding. If you want a theme that is rooted in the latest HTML5 and CSS3, and takes your mind off the pain of handwritten code, then you can't go wrong with Codilight. It has a light theme options panel.
This theme is most useful with blog and magazine websites. Namely, those posting articles on topics related to technology, and reviews of certain products. Codilight even comes with its own review system.
For WooCommerce and portfolio projects, there is another premium theme you might enjoy working with. That theme is Kallyas. Apart from the smooth page builder and limitless color or header options, Kallyas stands out because it has solid support services and a lengthy documentation.
If you're using it to create a portfolio, then know that Kallyas has prepared 3 layouts for that purpose, so you can at least get some inspiration from them before you get started.
The best WordPress themes out there are not one-track templates. They offer a sum of themes, like Royal does. No less than 60 themes are bundled in it. Besides, 8theme made sure that you have every integration right at your fingertips, by including tailored widgets and shortcodes.
Still unsure about Royal? You will be convinced of how useful this theme is, when you'll experience the Installer first-hand. It can help you create your websites in less than 10 minutes.
I don't think the enthusiasm surrounding flat design is going to diminish this year. Quite the contrary, we will explore this style even further. The theme Circle Flip is suffused with flat elements. In my opinion, it would be best suited for WooCommerce projects. But don't take my words at face value. Tap into the full demo access from Circle Flip, and judge it by yourself.
Logistics would make an ideal option for the websites of transportation businesses. It has a sleek design. You can use this theme to display a lot of animated content, and CSS3 animations. Even further, Logistics includes the Visual Composer plugin, and has 8 homepage variations that you can choose from.
Here's one theme that is expressly directed at photography websites. First off, it allows the user to search through the documentation whether she/he is online or not. Secondly, it sports an impressive content builder where you can strike up a unique layout. Finally, you can also set up private and password-locked galleries.
As the list of promising WordPress themes in 2015 draws to a close, I have to take this opportunity to mention WooPress from 8theme. As the name aptly suggests, it's a great theme for WooCommerce projects of any sort. WooPress is elegant, neat, and flat all the way.
The final addition to my list of favorites is Opus. It's thoroughly responsive on all types of display, and has a clean-cut design. No less than 100 shortcodes, and a WYSIWYG page builder are at your disposal. I would go as far as recommend it for company sites, as well as portfolios or blogs.
So, what are your hopes for 2015, and do you have any favorite WordPress themes? I may have compiled this selection from my own perspective, but I would be happy to compare notes with you. I wish you a productive and successful year. Have fun designing even more beautiful websites in 2015!