If you're feeling overwhelmed when attempting to select a theme for a WordPress site that will work for you, you're not alone. There are so many to choose from, that after a while, all the good candidates begin to look alike.
The real problem could be that you're unsure of what theme characteristics to look for. After all, you want to build more than just websites; you want to build web experiences.
Here's what to look for:
A theme featuring aesthetically pleasing designs. These are designs that are attractive, and have a good deal of lasting power; themes that won't quickly become outdated or passé.
A theme that produces SEO-friendly sites. SEO friendly is mandatory if you expect a site to draw good traffic.
A theme that is easy to customize. This characteristic gives you flexibility; plus, ease in customizability can be a genuine time saver.
Theme's authors who provide top quality support. When you choose a premium theme, you have a right to expect top-notch support.
To make things even easier, we've compiled this selection of 14 Best WP themes for 2017: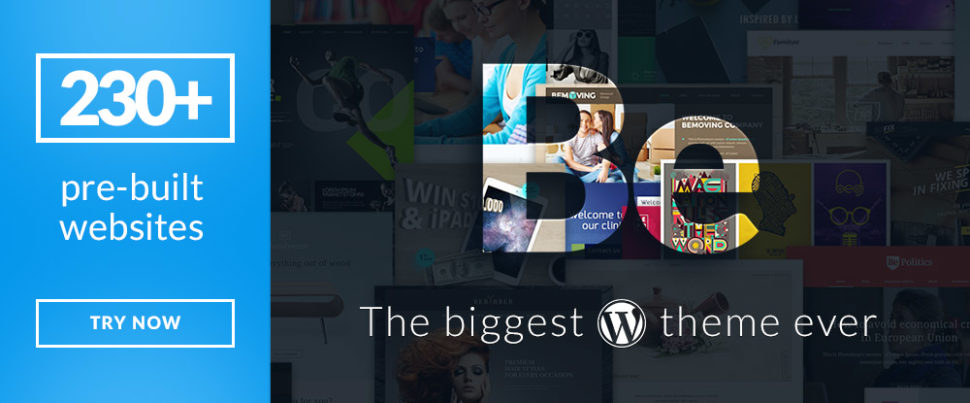 Be Theme is multipurpose. It's the biggest WP theme ever. It has the features you need. And, it's ridiculously easy to use.
Be gives web designers the capability to produce any type or style of website, and the ability to precisely meet the needs of their clients. Be's page-building tools, along with an outstanding selection of pre-built websites, also gives designers the ability to create pleasing and engaging experiences for end users.
Be's 230+ pre-built websites are definitely the highlight. They provide you with a niche or theme-based concept to work with, they help you get any project off to a fast start, and the elements they contain are what are needed to create a pleasing UX.
Other highlights include the two fast and efficient page builders: Muffin 3, and Virtual Composer. Shortcodes allow you to add detail and functionality, without having to resort to code; there are plenty of grid, header, and layout options, and Be's support is superb.
There's much that you'll like about this WordPress theme. The Core is fast, flexible, and user-friendly. No special skills are needed on your part, nor do you have to worry about coding.
It's hard to say what this WP theme's 154,000+ users like best, although they've really taken to the Visual Page Builder, and the way it speeds up the entire design process. The thematic demos are another plus. They are easy to install, and easy to customize.
Even though this WP theme has been designed with the professional web designer in mind, working with it is so intuitive that it doesn't require an experienced designer to provide a client with a truly sharp deliverable.
100+ informative articles are included in The Core's documentation, and there's a nice selection of video tutorials to help you one your way.
Enfold is super flexible, it's a top ThemeForest seller, and a time saver as well. Enfold is Designed for every skill level.
You can either start your design from scratch, or use the Content Importer to set up a preliminary site that closely matches the demo you've selected. With that approach, you can be on your way to completing a website in record time, or providing a client with a prototype of your proposed deliverable.
Enfold demos are customizable, and you can pick and choose elements from more than one demo while you design a page. There is also a selection of portfolio templates to work with. Once you've customized one of these templates, you can save it for future projects
There's much more of course, including a wide selection of header and menu options. ThemeForest also has a hosted version of Enfold.
Hestia PRO will be a good choice if you have one or more one-page website projects in mind, and/or you are trying help a startup client that is badly in need of a top-quality website based on a Material Design theme.
Hestia PRO is WooCommerce ready, it's responsive, and its authors are dedicated to giving its users quality support.
If your client or clients deal in real estate, you won't find a better and easier way to meet their website needs than with the Houzez WordPress theme.
This specialty theme has the functions and features needed to quickly build websites with all the functions and features real estate agents require. A specialty theme enables you to deliver a better product, and do so more quickly, than is generally the case with multipurpose themes.
Divi attracted a large following when it first came out of the gate. With the later release of its state-of-the art frontend Divi Builder, sales for Divi 3.0 have increased by leaps and bounds.
The Divi Builder is one of the fastest and most powerful page builders you'll find anywhere, and it is well worth a close look, as are the other features that make up this premium WordPress theme.
To build a stunning website, you must start with a well-defined concept. This is where Uncode shines. This pixel-perfect WordPress theme offers several concept categories, with each concept designed to get your project off to a quick start.
Once underway, you'll be able to make good use of Uncode's enhanced Visual Composer, its Adaptive Images system, the Advanced Grid System, and other powerful features.
A quick way to see what TheGem offers is to check out a few of the demos (don't forget the "Others" demo). Then, check out the features, to see what all can be done with any of the demos.
TheGem may well be your ultimate tool for building WordPress websites; especially if you'd rather not spend your valuable time attending to various technical details, or coding.
The Themify Builder is a feature that sets Ultra apart from most other WP themes. Ultra also offers a post type builder, a highly-useful selection of builder addons, including the clever typewriter animation and infinite scrolling background image, plus a host of plugins, including flappable Tiles, and the WooCommerce Shopdoc.
Ultra is a theme you can have a great deal of fun with as you go about creating pleasing user experiences.
Community-oriented features is an area where many, and possibly most, WordPress themes fall short. KLEO gives you precisely the kinds of tools you need to incorporate widely-used community activities.
They include profile search, Facebook Login, and forum functionality. The rtMedia feature lets you add audio/video and photos to a page. This fast, easy-to-use WP theme is just right for creating a community-oriented website.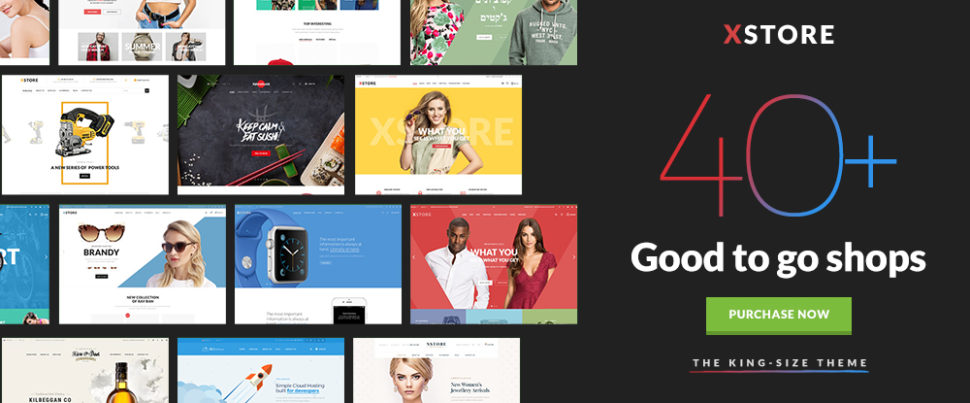 Its name says it all. XStore is a WooCoomerce theme devoted to building online shops known for their awesome user experiences.
XStore's creators wanted to provide web designers with a comfortable tool to work with; and they succeeded admirably. You'll have a great selection of demos to works with, plus the plugins you need to create an eye-popping online shop.
Kalium is clean, minimalist, and well-organized, and its demos are visually stunning. This WP theme was built for professionals, although it is also well suited for beginners.
The page builder is Visual Composer, and Kalium comes with the WooCommerce plugin and other commonly used plugins as well. Shortcodes obviate any need for coding, plus they give you great flexibility and more design possibilities. Valuable bonus elements are included in the package.
TheFox bills itself as being the smartest WordPress theme on the market. Once you've tried it, you may agree. This is a clean, good-looking multipurpose theme.
It's remarkably easy to customize, and the package includes a souped-up version of the popular Visual Composer page builder. Just as you should do with any theme before you make a purchase, try out one or two of the demos. You'll be impressed with what you see.
The easiest way to see what Impreza can do for you, is simply submit your email address. In return, you'll receive an invitation to test drive this multipurpose WP theme. Impreza is clean as a whistle, it's frequently updated, and it's perfect for building business websites, blogs, and portfolios.
As far as ThemeForest buyer ratings go, Impreza comes as about as close to 5 stars as a theme can get.
Conclusion
As you've no doubt noticed, there are 14 great selections listed. Hopefully at least one of them is the solution to your immediate needs. Whether you're in the hunt for a multipurpose theme to get you started in 2017, a specialized theme, or something in-between, you should find it here.
If you're looking for a one-page theme, a real-estate specialty theme, or an eCommerce theme, you've hit the jackpot. If you haven't found exactly what you need, please let us know.