Are you looking for the best and proven solution to build a professional web presence for your business or personal project? Ask any marketing specialist and he will tell you that a well-built landing page is exactly what you need to make people talk about you. But how to build a landing page that will convert accidental visitors into loyal customers? How to generate new leads for your business? How to design a powerful landing page? Let's cover all of these aspects in one blog post.
A landing page is a place where the online story of your business begins. A landing page is the first spot that the users come across when looking for some general information about your business. This is the simplest and the most effective way of engaging the audience and inviting them for a productive dialogue.
What are landing pages all about?
A landing page represents one message that you want to deliver to your audience. It promotes a specific product/service/action and demonstrates all benefits of using it.
The design of the landing page should be clear and simple. It should stick to one point and provide for a simple comprehension of the content. The main objective is to captivate the users' attention and arouse their desire to learn better about you and try your offers.
A landing page is intended to make viewers click.
A landing page is a single page made up of several clearly defined blocks that target to represent one message in a captivating, effective way.

Depending on the way a landing page is designed, we can judge the potential success that a business standing behind it will attain. The more user-friendly a landing page is designed, the higher chances of triggering the users' curiosity you have. It's not a rocket science to build a professional landing page. Let's consider the most effective tips on how to get started right and appeal to a wider audience.
Tip #1 Keep the Page Clean, Well Structured
The primary goal of a landing page is to make a clear presentation of a business it represents. In order to make it easier for your visitors to convert, it should have a simple and intuitive design. So that even first-time visitors will find it easy to come across the necessary piece of content effortlessly.
What makes the design of a landing page effective? These are the clever use of colors and bold, quality images that will look razor sharp on any screen. Call-to-action buttons and subscription forms (it depends on what specific goal your landing page pursues) should be put front and central. The key converting elements should look contrasting within the interface. CTAs should be painted in bright hues. Headlines and subheadings should look outstanding as a user scans your content.
A cool example of a landing page design built in clean style is Web Developer Landing Page Template. Suited for launching landing pages representing web design studios and freelancers, it features a well-structured, quick-to-scan design. CTAs and icons look contrasting to the background. The theme also makes clever use of whitespace, which adds a balanced touch to the layout.

Tip #2 Make a Powerful Headline
A landing page should clearly communicate its objective. A headline is probably the first thing that your visitors will come across when reaching the page. That's why a headline that makes a clear statement will help them better understand your objective. In addition to pushing the main value proposition in the headline, you can explain different aspects of certain software or offer in subheadings. When thinking about the main texts of the landing page, keep in mind that you are limited to 8 seconds only to convince the audience that your offer is truly worthy of their attention.
Let's take a look at the following example. Car Repair Responsive Landing Page Template represents services provided by an auto repair company. It makes use of a bold headline and a set of subheadings that represent different aspects of the business. In the header of the page, there is an integrated appointment manager. It welcomes the users to make a request in a simple and intuitive manner.

Tip #3 Make It Trustworthy
A landing page needs to have a set of trust signals, which will make your business look reliable in the eyes of your visitors. What elements are we talking about? These are blocks with user testimonials that are easy-to-locate on the landing page. The word of mouth is known as one of the most effective marketing "assistants". People tend to trust fellow-shoppers far better than a well-written marketing text by the top specialists of your company. Other trust signals that you can opt for are star ratings, "likes" and "shares" that people leave on your site or share with their social media followers, respectively.
Consulting Landing Page Template features a clearly visually defined block with user testimonials, which accompanies a block with team members and a list of company benefits. The testimonials are organized into a carousel slider, letting your clients look through the feedback left by several users at a time.

Tip #4 Keep Forms Short & Clear
As a person reaches your landing page, he/she can be asked to fill in a certain form, which will be of use to you for certain marketing purposes. It's clear that you need to collect as much data about your clients as possible. Still, it is of tremendous importance to keep those forms as short as possible. The more fields you ask them to fill in, the less likely they will get to the last question and complete the necessary conversion.
The following landing page includes a simple inquiry form made of three lines only, which increases the chances of attaining the desired action from your visitors.

Tip #5 Make It Mobile-friendly
These days any web page should adjust to a variety of screen resolutions on the fly. People have shifted from desktops to handheld devices, so the way your landing page looks and feels on a touchscreen plays a predefining role. A mobile-friendly landing page will double your conversions and keep the users more engaged.
Thanks to the availability of a huge variety of pre-designed landing pages, there is no need to create a separate version of your site for mobile phones and tablets. Travel Agency Landing Page Template is one of such pre-designed responsive solutions. The theme runs on Bootstrap framework, which will scale all data provided on the page up and down to any screen size possible.

Tip #6 Know Your Audience
What kind of users do you target? Is that male or female audience? Are those adults or youngsters? The design of your landing page is heavily dependent on the way you answer these questions. Different people react to the same design elements differently. One of the aspects that we want to highlight is the color scheme of your landing page. Women are known to enjoy designs built in warm colors far better than the ones built in cool hues. Men, in their turn, enjoy more neutral, clear and concise web design style. That is why a landing page built in cool hues will be a perfect match for them.
As the name implies, Maria's Bakery MotoCMS 3 Landing Builder targets the users who have a sweet tooth, i.e. women and kids. More often than not ladies make sweets and bake something tasty at home. So, building such a landing page in warm hues is a clever move.

Ready-made Landing Page Designs for a Quick Start
How lucky we are to have an abundance of pre-designed landing page templates to choose from! Intended to be used by people of different backgrounds and of all skill levels, they allow you to get started with a landing page of your business or personal project in the shortest period of time. As a rule, landing page templates are designed to suit a particular purpose. These are fully editable and can be adjusted to match your personal requirements to the fullest.
For this blog post, we have hand-picked 5 landing page templates, which are developed as per the latest web requirements and can go live out-of-the-box.
The theme is best suited for presenting online education projects to the web community. Featuring a sleek and stylish design, it looks very trendy. The header includes a large hero image with bold CTAs atop of it. Neat fonts enhance the content readability. Texts make a perfect balance with images, making the data easier to browse. The theme is integrated with a drag-and-drop content editor, making it possible even for non-tech savvy users build versatile pages effortlessly.
Here is one more pre-designed landing page template best suited for educational purposes. It features a clean and minimalist design. The layout makes clever use of whitespace, bringing the content to the foreground. The theme's header is pre-loaded with a simple booking form, which welcomes the users to get the first lesson for free. Counters provide for clearer content presentation.
This business landing page will appeal to the male audience the most. The dark-colored design looks professional and reliable. Clear and concise style brings emphasis to the highlighted data/benefits of a business that the page represents. With the purpose to bring the users' eye to several featured messages, the header is pre-loaded with a responsive carousel slider.
The theme is designed in flat style. Bold hues make the design an eye-catcher. Designed with attention to details, the theme provides online visitors with a seamless and intuitive browsing experience. A simple booking form is easy to reach in the header. A list of services is organized into a grid-based list and enhanced with neat, recognizable icons. A separate block with user testimonials is intended to grow the users' trust. Contact details are accompanied by a built-in Google map widget, letting the online audience reach you with ease.
The theme is intended to become a rock-solid starting point of online CVs. Job portals can also make use of it for an impressive and user-friendly presentation of their services to the web community. A couple of CTAs are put front and central in the theme's header. Success stories are intended to grow people's confidence in your business. A simple contact form and contact details make it possible to reach a person/company standing behind the landing page straight away.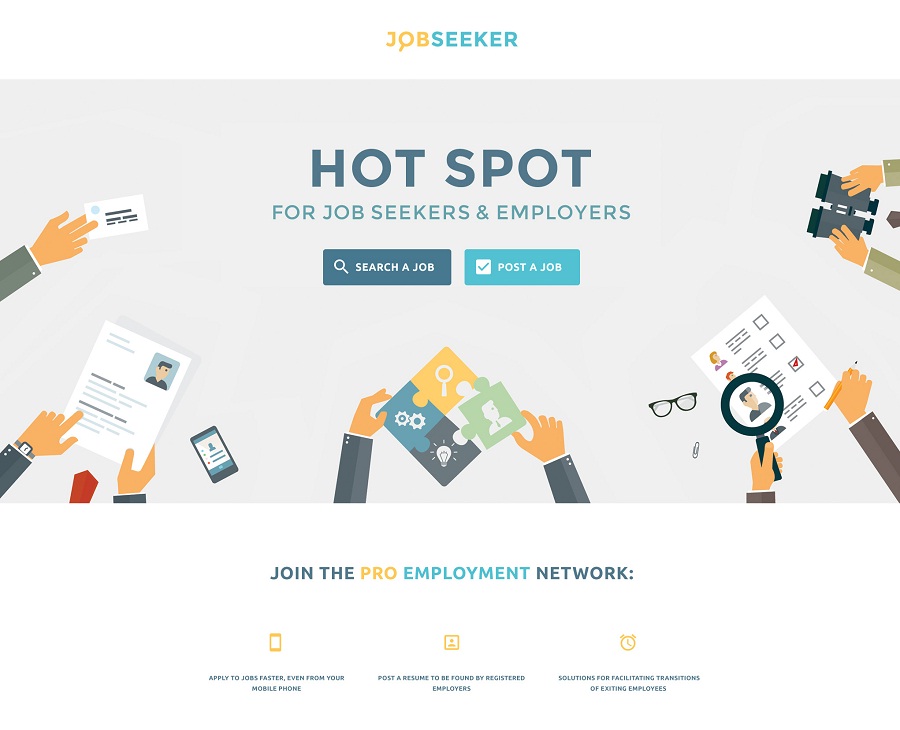 *** If you need a wider selection of professionally built, responsive landing page templates, please follow this link.
If you want to customize one of those templates, it's really easy to do, but if you don't have enough time, you're free to apply to TemplateMonster's Service Center.
Here we go. We hope that the aforementioned tips will come in handy to you when building or redesigning a landing page. The conversion-oriented theme that we have showcased today will grow your business popularity in the eyes of the web community and grow people's trust in what you are doing. Go check this out by yourself.