These are good times for freelancers, web developers and for coders especially.
There are numerous ways to earn money from doing what you like and of course, what you are good at. It seems like everywhere you look, you can find a freelancing platform that lists jobs for all kinds of skills and professions or a marketplace for coders and designers.
However, there is and will always be room for the better in terms of payments, commissioning policies and job offerings.
Every designer, coder or web developer is looking for the best marketplace on which to sell or buy products related to their line of work. When you want to buy something, you look for the best offers and prices.
When you want to sell, however, you think about commissions and of course, how big the marketplace is. For the vendor, bigger is not always better because on major marketplaces it's harder to get noticed by customers. Therefore, I tried to find the best place for coders and designers to sell their stuff.
Searching for this better, I came across Codester.com. A platform on which coders, webmasters, graphic artists and web developers can sell their creations and actually make money at the best commission we've come across until now: 70 percent. What is Codester?
Codester was founded in the Netherlands by Frederick Elgershuizen and it is still a young marketplace. It faced a stiff competition from all the other marketplaces yet it managed to get on top due to its better commissions and diverse supply of codes, templates, and graphics. Coders and designers will find this platform perfect for selling their stuff while their customers will find here everything they need or ever thought they'll need when launching a website or build an app.
What can you sell or buy on Codester?
Codester's marketplace is open for various kinds of scripts, codes, and graphics. It stands out however as a neat and very well organized website on which everything has its own place and everything can be found easily. Here are some of the types of products you'll find in this marketplace.
Scripts & Code
The first two categories of Codester feature various scripts, codes and app templates. The scripts &codes section is further categorized into PHP scripts, Javascript, CSS, Python, Java, Ruby, C, C++ and VB.NET codes. There are almost three hundred items available on the marketplace at this section, enough to attract customers but not too many for an aspiring developer who needs to be noticed fast and stand out from the crowd.

App Templates
The app templates section is even bigger, with over six hundred items grouped in various subsections such as iOS, Android, Unity, Corona, Ionic, Buildbox, Titanium etc. These templates can help you build mobile applications for the above-mentioned platforms or, if you are a coder, help you sell your best ideas to those in need. This category includes templates for app designers and complete source codes for apps and games. If you are building apps for the major mobile operating systems, such as iOS and Android, this is the place you should look at, study your competition, what customers are buying and so on.

Themes
The World Wide Web is constantly growing. New websites are launched on a daily basis, therefore, is only logical that this marketplace will feature also themes and plugins for those who are building their websites. WordPress is the leading content management system featured in the Themes category, followed closely by Joomla, Drupal, and Magento. There are also more than two hundred Html templates, perfect for those who do not need a CMS to build a web page or have the skills to create a specific theme from scratch and adapt it to their CMS of choice.
Plugins
WordPress is the main protagonist on the plugins section as well. There are more than eighty premium plugins for WordPress available on Codester and we expect much more to be added in the near future. Other platforms featured in this category are as follows: Joomla, WooCommerce (which is also a WordPress based mode designed for online shops), Drupal, Magento, Prestashop, and Opencart. I expect in the following months this category to grow exponentially, as plugins are the easiest way to enhance a website and therefore, they are now more popular than ever among developers and users.

Graphics
The last section of the marketplace is the graphics section. Here, you can find all types of graphics if you are a coder or a web designer who lacks designer skills. It should also be of interest if you are a designer and need a place to sell your stuff. Featured in this category are various creations such as user interfaces, game assets, icons, logos and product mockups.
Why Sell on Codester?
If you are a coder, a webmaster or a web developer, then Codester is the best place for you. Everything you do, you can sell on this platform and actually make good money as their commissioning policy is, as I've mentioned before, quite attractive. The marketplace is still growing, there are hundreds of scripts and plugins already available but still, it is young and there is room for more coders to join the platform. You can get easily noticed at this point and as a consequence, earn money quickly. Moreover, you can benefit from the items featured in the marketplace by other coders and advertise your own scripts to the community.
If you are a graphic designer, on the other hand, this is also the best place for you. There are many coders that are selling their stuff through Codester and many of them lack the skills of designing artwork. You can immediately benefit from this and sell your graphics to all those who are featured in the marketplace and of course, to the customers that are purchasing directly from here.
Advantages of Selling on Codester:
⦁ 70% commission
⦁ Access to a continuously growing marketplace
⦁ Access to thousands of customers
⦁ Easy to set-up your account
⦁ Good exposure
Why Buy on Codester?
If you want to buy on Codester, you should know that the set up of an account is absolutely free. Moreover, you have a good reason to get back to the site frequently because they offer four files for free every week (This is the available offer at the moment this article was published). There are hundreds of scripts, plugins, and themes to choose of, the marketplace is growing exponentially as more and more coders and graphic designers are listing their files on the platform. However, you should not come here only for the free stuff because the prices are also very low.
Advantages of Buying on Codester:
Instant access to WordPress premium themes and WordPress premium plugins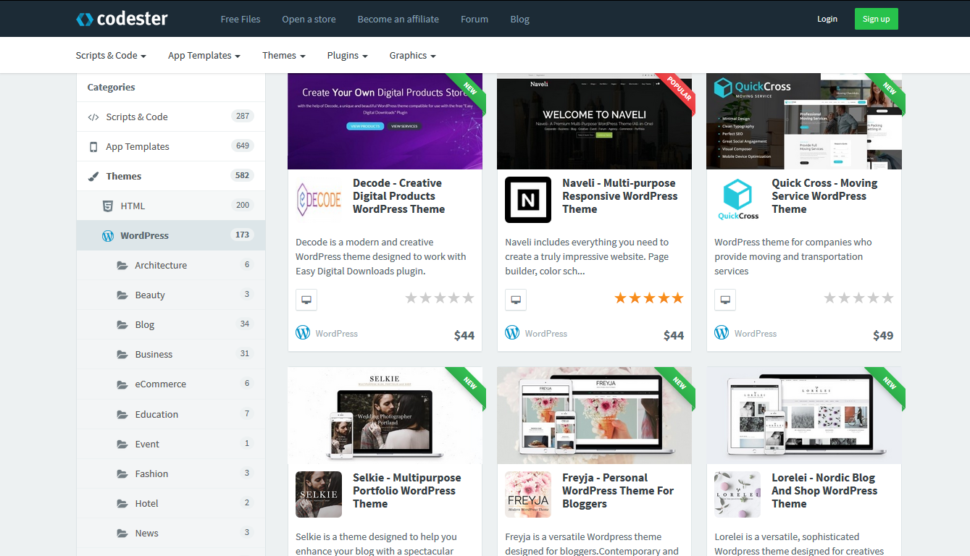 There is a moderate collection of WordPress themes and plugins available on Codesters but nevertheless, an important one. Sure, there are other marketplaces that feature more listings but this does not mean that Codester does not have anything you want in terms of a WordPress website.
Product licenses
There are two types of licenses for the products sold or bought on Codester: regular and extended license, both available for all products. A regular license will allow you to use the product for one project, personal or commercial but without the right to resell the item.
The extended license allows you to use the product for unlimited sites and projects, personal and commercial and redistribute or sublicense the source files when you include them on larger projects. This means you are not allowed to resell them as they are but if you are building a website interface for instance, and you need a script from Codester, you are allowed to sublicense the code as part of your project.
Conclusion
As I have mentioned before, Codester is at this moment a young marketplace but it is still growing at a rapid pace. They have more than enough codes, scripts, themes, plugins, and graphics for web developers and webmasters that are affordable and ready to use. Whether you are using another marketplace or not, you should get back from time to time to Codester, as new items are published every day. If you are a coder or a graphic artist, on the other hand, Codester might prove as the best source of alternative revenues because on a young and growing platform, you get to be noticed easier and as a consequence, sell more.
Codester is certainly a marketplace which I will be visiting again and again, as a customer and maybe, in the near future, as a vendor. It has a lot to offer and a long way to go too and I am quite excited to have found it at this point.