When I first sat down to write this post my idea was to compile a list of the best business books for designers.  However, as I found books claiming to fit this niche, I began to notice something that got me asking questions.  It was the publishing dates.  Some were 2009, others 2008, and others were dated as far back as 2003 or even older!  I immediately thought to myself, "How could these books possibly be valid today?"  I mean, Facebook and Twitter didn't even exist then!  When I'm searching for posts online, if I come across a blog post or news story from 2005 or 2006 I don't even read it.  It's old news, outdated, irrelevant.  But is that just the nature of internet content ?  Have I somehow been programmed to disregard possibly helpful material just because of a date?
Maybe.  In an attempt to get to the bottom of these questions I've gathered together the best of what books and blogs have to offer on the subject and while I still give my final thoughts, I leave the conclusion up to you.  And if nothing else, you can bookmark this post for later as a big book/link dump for design business advice.
Let me know what you think in the comments or on twitter!
Design Business Books vs Blogs
THE BOOKS
The Graphic Design Business Book makes the claim that general business advice isn't enough for designers.  Which, I would agree.  While there are definitely things we can all learn from basic business principles, it's always best to approach your area of business with the specifics of your trade in mind.  Here are the topics they cover in The Graphic Design Business Book: creating a business plan, managing a studio, presenting portfolios, marketing on the Web, keeping clients happy, expert advice from reputable designers, and more.
This book was published in 2005.
"Business and Legal Forms for Graphic Designers provides 40 essential forms and checklists—all ready to copy and put to immediate use in any graphic design studio!
Each form includes step-by-step instructions and can be used as is, or easily tailored to meet a specific business situation. This latest edition features brand-new forms for employment and lease agreements, as well as revised examples of letter of interest, estimate for client, preliminary budget and schedule report, purchase order, status report, contracts with illustrator/photographer/printer, nondisclosure agreements, copyright application, and much more.
Business and Legal Forms for Graphic Designers also includes standard contractual advice, surefire business systems, and hundreds of no-nonsense tips for managing the office, getting clients, and negotiating the best deals. Plus, an accompanying CD-ROM offers electronic copies of all these forms in both Mac and PC formats." – Amazon product description
This book was published in 2003.
"For years, the Graphic Artists Guild Handbook: Pricing and Ethical Guidelines has been the industry bible for graphic designers and illustrators. This, the 13th edition, continues the tradition with new information, listings and pricing information based on surveys of working designers. It addresses legal rights and issues such as how copyright laws affect the income and work of graphic artists. It also provides tips on how to negotiate the best deals and how and what to charge for work, and includes sample contracts. For design and illustration professionals, there is no more comprehensive and informative resource." – Amazon product description
This edition was published in 2010.
"The Designer's Guide to Marketing and Pricing answers all of the common questions asked by creatives every day. This nuts and bolts guide to running a creative services business teaches readers how to create a smart marketing plan–along with small actionable steps to take to reach their financial goals. From learning which marketing tools are most effective and how to use them to discovering how to establish contact with potential clients, this book is the must-have guide for navigating the murky waters of the design business. The book also touches on tricky subjects such as how to talk about money with clients and prospects, how to figure out a fair hourly rate, and how to give an accurate estimate for a project." – Amazon product description
This book was published in 2008.
The Creative Business Guide to Running a Graphic Design Business calls itself, "The go-to guide for graphic designers who want to run their own shop and improve their bottom line. First published in 2001, The Creative Business Guide to Running a Graphic Design Businessset long-needed standards as the first comprehensive management manual for the graphic design industry. Now brought up-to-date, it describes current, best-practice procedures for firms of all sizes operating in an industry that is both fast-evolving and increasingly competitive. [Including] 20 illustrations." – Amazon product description
This edition was published in 2009.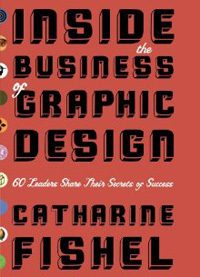 Inside the Business of Graphic Design invites us to "Share the insights of today's most legendary graphic designers as they reveal the best-kept secrets (and failures) of their business lives! Based on one-on-one interviews with over 60 graphic design business owners, Inside the Business of Graphic Design casts a precise and realistic light on the risks, requirements, and rewards of running a creative and successful design business. Six sections discuss the entire cycle of business ownership, including goal setting, finding the right management style, cooperating with employees, triggering growth, and even rethinking whether to stay with the business or move on. Whether you dream of setting up a small studio or have been on your own for years, this provocative guide is an important source of success strategies for every graphics professional." – Amazon product description
This book was published in 2002.
THE BLOGS
Web Design Ledger (yeah, you're here right now) is a blog written by web designers for web designers.  We concentrate on sharing knowledge, inspiration, and information about or related to web design.  At WDL you'll find awesome free downloads, resources, tools, tips, tutorials and a healthy dose of inspiration.  Below are some helpful business articles we've published within the last several months.
Smashing Magazine is devoted to delivering useful and innovative information to web designers and developers.
"Our aim is to inform our readers about the latest trends and techniques in Web development. We try to convince you not with the quantity but with the quality of the information we present. Smashing Magazine is, and always has been, independent."
And here are some business articles they've published recently…
Freelance Switch is a community of freelancers helping freelancers.  Their content is for photographers, designers, bloggers, developers, and just about any other type of freelancer.  Their blog is a treasure trove of answers to freelance questions.  Below are some especially helpful business oriented articles…
Graphic Design Blender is more business oriented than any of the other blogs above (except maybe freelance switch).  Their main goal is to provide helpful content about running a design business.  Here are some cool examples of them doing just that…
Web Designer Depot is a place for those passionate about web and graphic design techniques and who want to continue to learn and share with others in that community.  They publish anything from tips, resources, freebies, tutorials, and design inspiration.  Here are a few of their more recent business oriented articles…
Mashable is one of the world's leading sources for breaking news in web and tech.  They exploded with traffic barely two years ago when they emerged as the only people one earth who knew what the hell was going on with twitter (and social media in general).  Despite the fact that they don't particularly cater to designers, it's their specialty in existing, new and emerging marketing techniques (among other things), which has earned them a spot on this list.  The articles listed below are relevant because they talk about something that nearly none of the books could have, because they were published before  the use of social media as a means of marketing.
Ink.com is again, another example of a website/blog that offeres great business content that anyone, designer or not, can take to heart.  Even if the articles here are not specifically geared towards designers you should be able to get some really helpful perspective from their articles.  Especially if you're using design blogs and the conversations happening on them as a filter for this advice.
My Final Thoughts
I will say, after researching all these books and blogs I'm actually much more open to the idea of a design book (even a slightly outdated one) for those who feel like they're in need of a "design business education" than I thought I would be.  I've realized that the two serve different purposes while still covering a lot of the same information.  I personally use blogs more and rarely if ever buy business books.  But that's because I'm "up-to-date" on the design business that's relevant to me.  Beyond that the blogs I follow help me keep up with new stuff as it happens.  On the other hand though, if I was fresh out of school, or I was asked to take on a facet of the business I don't have experience in, I think I would find having a book very helpful.  The main reason being that in a book, everything is right there – clearly laid out and in an order that helps me tackle one thing at a time, building up to a complete knowledge on the subject.  Online, while maybe more up-to-date and FREE, there is still a whole lot of searching that goes on in order to get as informed as you might by reading a book on the subject.
What do you think?  Do you have a design business book that you highly recommend or are you all about the blog?