There is no shortage of page builder plugins and drag and drop editors for WordPress. You can choose from various free and premium WordPress plugins to create and edit your websites on the fly, live with the help of drag and drop mechanism. You do not need to touch even a single line of code!
However, amidst such a crowded market, one particular WordPress page builder plugin stands apart: Elementor.
Elementor is a unique and intuitive method of editing and publishing websites in WordPress. Of course, it is a page builder and drag and drop editor, but it offers you absolute control over each and every aspect of your site. You can modify the layout, design elements, appearance as well as make CSS tweaks — all without having to deal with code.
Elementor has a lot to offer and we will soon see the Elementor plugin in action, but first, let us spend a moment to enumerate its various features.
Elementor: Versatile Page Builder Plugin for WordPress
Elementor: Major Features
So, what does Elementor bring to the table?
First, Elementor is fully compatible with virtually every extension and post type that is related to WordPress. This means you can use any free or premium WordPress theme, and make it work with Elementor. But that isn't all — Elementor lets you work with custom post types, landing pages, portfolio and special pages, and so on.
Elementor comes with its own set of "elements", or specialized widgets. Using such widgets, you can add content to virtually any section or region of the given page. As such, all you need to do is drag the concerned widget and drop it at the required place in the live editor. Elementor also plays well with third party widgets that you might add using any other WordPress plugin.
Need more? Here is a list of some other features of Elementor:
Fully open source, licensed under GPL
Translation ready (and compatible with plugins such as Polylang and WPML)
Supports Google Fonts and custom icons
Optimized for search engines
Offers granular control over borders, colors, and other aspects
Comes with its own Template Library feature that lets you insert professionally designed templates with a single click (or save your own templates, or import/export them for use on other sites)
Elementor supports live Mobile Editing which means you can visually adapt the page design to be mobile responsive to all devices
Made a mistake? Elementor has detailed Revision History so that you can undo or redo steps even after saving changes
Well, now that we have seen what Elementor is capable, why don't we see it in action?
Mode of Operation
Upon activation, Elementor adds a new menu in the WordPress admin panel.
Before actually using the plugin, I decided to go through the Settings section. Basically, you get to pick the user roles which will have access to the plugin's functionality, as well as enable or disable color palettes, set default fonts, integrate reCaptcha, etc.
This is where Elementor scores its first goal. Most page builder plugins overload the settings section, making it almost impossible to actually customize the plugin. Elementor has simplified things here, and this is what adds to its UX score.
Working with templates is fairly easy. The live editor occupies the full page area once you activate it. The best way to describe it would be to divide the interface in two separate sections.
First, you have the global elements. You can specify global fonts and colors for your WordPress website. Furthermore, you can also save and reuse widgets as global entities, making them good for not just the current viewport but the entire site.
For instance, here is what your global font selection would look like:
Thereafter, you have specific "elements" that you can drag and drop on to the page. The list, as mentioned above, is rather large. You can add text, embed video, images, and a lot more in the free version itself. If you are using the Pro version, you can even add slides, custom templates, countdown timers, and a lot more.
It is worth noting that Elementor treats "elements" much like WordPress widgets. Thus, you also have the luxury of existing WP widgets that you can drag and drop in the live editor itself.
This is how the social icons element behaves when put into use:
Every element offers granular and well-detailed control over its appearance. You can set display rules to show or hide it on particular devices, alter the border, padding and other layout, and so on.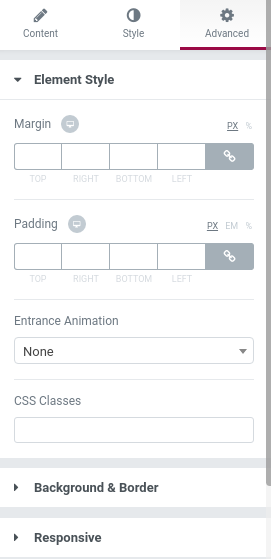 Once done, just hit Save and your template is ready. You can then reuse it across as many pages as you want.
Pricing
The free version of Elementor page builder plugin is free for life and is available in the WordPress repository. Also, Elementor is fully open source and GPL-friendly and has its own API. In fact, many developers have already created addons, extensions and integrations that work seamlessly with Elementor.
The Pro version of Elementor, in essence, is an extension of Elementor. It comes in three flavors:
Personal License costs $49 and lets you use Elementor Pro on one site.
Business License costs $99 and works across three sites.
Unlimited, as the name suggests, works on unlimited sites and costs $199.
All premium licenses come with a 30-day money back guarantee and one year of updates and support.
Conclusion
Elementor is a worthy page builder plugin for WordPress users. It is simple, easy to use, and does not cause much bloat on your site. In fact, Elementor can do your site wonders especially if you are short on time and wish to quickly setup websites.
The only drawback that I noticed was the lack of white-labelling ability in the premium versions. Ideally, if it were available as a white-labeled tool, Elementor's Unlimited license could have proved especially useful for design agencies and freelancers.
That said, Elementor is a time-saving, easy to use, non-bloated and valuable WordPress plugin that you should surely give a spin!