There's something incredibly sweet and almost romantic about using a handwritten font for design projects. Hand written fonts add an extra ounce of personality, and give me a feeling similar similar to a homemade apple pie from my mother that would be waiting for me when I came home to after school.
There are a variety of decorative fonts and script fonts that are commonly used for design projects like wedding invitations, greeting cards, paper projects, graphic design projects, and web design, but today I wanted to showcase handmade fonts because of their ability to elicit emotions with people. You feel an instant connection with a design that features handmade elements, simply because they are something we, as humans, can relate to. We like things that feel real to us, that we've experienced or seen in real life. With advances in technology and the world constantly changing around us, sometimes it's nice to be reminded of home even if its only in the form of something "handwritten".
For your inspiration and design use, here are some incredibly unique and versatile handwritten fonts by creative individuals from around the world.
Rouen Bold by Britt Douglas
Britt is a curator of beautiful things, a talented web designer, and creator of unique handwritten fonts. She is constantly working on a variety of creative projects, and has an incredibly cute cat named Winnie.
Rouen Bold is one of Britt's latest handwritten fonts available for use by designers and creative people everywhere. It's a true type font compatible with both mac and windows, includes upper and lower case letters, symbols, and numbers.
Densen by Matt Hull of Thrift and Thistle
Thrift and Thistle is one of the best places for designers to find resources like creative fonts and high resolution vector files. Matt Hull, the creator and mastermind behind Thrift and Thistle is a talented graphic designer and illustrator based in the UK who has a passion for handcrafted and vintage design resources.
Densen, a beautifully crafted handmade font is perfect for use in both print and web projects, and even comes with a web font kit. This font has a thin ink style to it, and can be used on a daily basis or just for those extra-special projects.
Nanu by Jagjagvi
Jagjagvi is a Swedish design studio that mainly focuses on handdrawn typefaces and illustrations. Founded in 2008, Jagjagvi transitioned from focusing on a multitude of design types to typefaces, resulting in creative handwritten fonts for designers and creatives to use.
Nanu is a handwritten font where the upper case and lower case letters are the same height, giving the appearance of being in "all caps." The font comes with a variety of extras and features like ornaments, and is even multilingual.
Lango by Kemie Guaida of Pixilate
Kemie Guaida is talented designer and illustrator who also specializes in front-end coding. Letters are her passion, and she designs typefaces whenever she can. She created Pixilate as one of her first projects where she offers icon sets and fonts she made for fun.
Lango, is a handwritten typeface created by Kemie that was recently updated (August 2013) to feature better kerning and outlines. This script font is long and lean, and comes in four weights: light, regular, bold, and black.
Clumsy by Gaslight
Gaslight is a type foundry founded in 2011 and based in Russia. The foundry is a collaboration between three designers: Valery Zaveryaev, Roman Shchyukin and Maria Luarvik.
Clumsy is a fun and awkward handwritten font that is perfect to use for small amounts of text. The font is inspired from an old soviet books features an all-caps style. It's the perfect font to add a little funky awkwardness to your projects.
Mabel by Morgana Lamson
Morgana Lamson is an incredibly talented designer and illustrator, and she's also half of the design team Satchel & Sage with her husband Gerren Lamson. Although based in Austin,TX you'll frequently find Morgana and her husband traveling the country and showcasing her awesome creations at places like the Renegade Craft Fair.
Mabel is a sweet and merry handwritten typeface created by Morgana for both web and print use. It's a bold typeface that's perfect for everything from wedding invitations to web design.
Lilly by Wander x Wonder
Christine Herrin is a designer born in California and raised in the Philippines, who is passionate about everything handmade and travel. She currently plays around with Illustrator and creates a variety of resources designers can use to enhance their products.
Lilly Marker is a fun and sweet handwritten font that is also incredibly romantic. This typeface has a lot of personality and is definitely girly!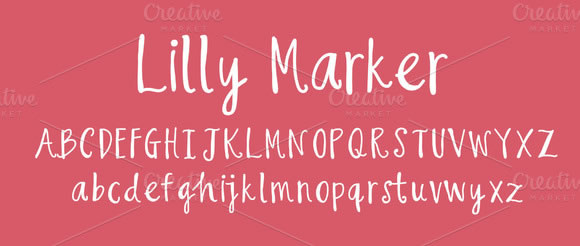 Mugget by Baseline Fonts
Baseline Fonts, founded by Nathan Williams is a type foundry with a focus on creating types based on disappearing methods of print and type reministic of those found in historical prints.
Mugget is a fun and whimsical handwritten font that is a little bit crazy. This font works well both in bold copy and as a display typeface.
Honeysuckle by On The Spot Studio
Tiffany Willet, a graphic and logo designer from Kentucky is the creative mind behind On The Spot Studio. An incredibly talented designer that's known for her intricate custom logo and branding designs, she also creates sweet and unique handwritten typefaces.
Honeysuckle is a fun and fancy hand-lettered font that is a great addition to a multitude of print projects.
Into the Vortex by Skyhaven Fonts
Skyhaven Fonts are a fun and quirky collection of typefaces by 17 year old Alex Tomlinson. Alex dabbles in creating unique typefaces as well as photography.
Into the Vortex is a thin all-caps typeface that definitely has a darkside. It's perfect for everything from a horror movie poster to a greeting card.
Sprout Serif by Lesley Yarbrough
Lesley is a talented community builder based in Denver, CO with a love for beer, bikes, books, design, and travel. During her spare time she dabbles in font creation that is fun and emulates her personal style.
Sprout Serif is a sweet little handwritten font, with a 'sprouty personality.' It's one of my favorite fonts out there and I can't stop using it.
Canoe by Angie Makes
Angie Baldelomar is the talented designer and illustrator behind Angie Makes & Co., a design studio specializes in graphic and web design. Angie specialized in creating WordPress themes, fonts, and graphics with a girly touch.
Canoe is an all-caps font that can be used for display and web projects as well as print. It's a fun and sweet font read to help you make a bold statement.