The number of technologies available today can blow one's mind! The iPad, as one of the biggest Apple creations, has been a game changer for Web Designer in more than one way. This small device is a valuable tool for designers, allowing them to get work done on the go.
With the help of drawing apps, the iPad can become a great tool for digital painting. Let's face the truth, finger painting is not just child's play anymore! These top 10 iPad apps for graphic designers and drawing I put together today will be useful for graphic designers, illustrators, artists and other creatives. They would give you an ability to sketch, paint, prototype, and annotate photos. You may use stylus or just your fingers to play around with all these iPad apps. So, let the fun begin!
Paper by FiftyThree
This app is the best solution for fast and easy sketching. Its simple interface with no menu bars and buttons make it even better. Turn your iPad into journals with pages to thumb through for easy viewing.
This app will replace your pen and paper with digital canvas and a number of customizable brushes. Express yourself with flexible vector format wherever you go.
It's one of the most popular iPad apps for painting. It contains various pens, pencils, markers, and airbrushes to choose from. The app is fast and easy, enabling you to work with layers, transparency options, annotations, and advanced blend modes.
With Adobe Photoshop Touch you can apply professional effects, work with a lot of layers and blending modes, combine images. It works with iCloud Photo Stream and high-resolution images.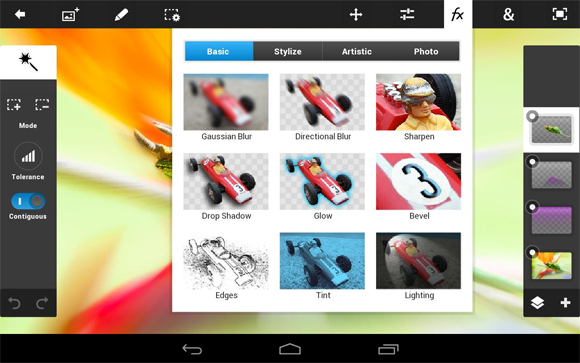 This app is perfect for anything a creative mind can just imagine. With this app you can do sketches, watercolor paintings, and illustrations.
Deliver beautiful sketching and drawing to your iPad with this cool app. The app will be useful for both amauther and pro artists. It has 60 high-quality brushes to choose from, divided into 6 sets: oil paint, airbrushes, basic shapes, graphite pencils, wax crayons and markers.
Create a simulation of watercolor painting easy and intuitively with Auryn Ink. It has limited set of features comparing to the other apps listed here.
ArtRage is packed with options. It has different paper options, plus a wide array of brushes, pencils, crayons, rollers, and pastels.
This app features a stylish and simple interface. It has sensitivity to stylus pressure and a wide number of customizable brushes.
With 64 paper templates and 3 ink shades available, you can enjoy ink painting with this app. It was made for easy and fast sketches.