It's amazing how over time, the ability to freeze and capture different moments, feelings, and emotions has become a mundane action. More and more people agree that photography is a form of art, no matter where it is used: wedding photography, travel photography, commercial shoots, food shooting and so on. But only a select few possess the eye and instinct of a true photographer because a keen sense of perspective and spatial awareness is always a necessity.
These qualities also apply to website design. Nowadays, having a website is mandatory for a photographer, as it can offer an unprecedented level of exposure. In an instant, works of art can be shared with the entire world. And this immediate, worldwide connection can only take place online.
However, just by having a few photos posted online is not enough to attract the attention of your targeted audience. The website you use for displaying them and the design of the site is also very important. Even if you are not tech savvy, there are many options out there that can help you set up a stunning portfolio website and show people your work in a tremendous way.
HTML templates offer so many customization choices, allowing you to create a page that will never underwhelm. You will be able to tweak every detail and alter any setting. Without any advanced web development expertise, users can make aesthetic and practical choices. You just have to decide which one is the best option for you.
Squarespace is an all-in-one platform that gives you everything you need to create a beautiful home online and run a successful photography business. The platform also offers more than 45 stunning templates to start with, and numerous options you can use to customize your website.
While all Squarespace templates feature built-in mobile design and contact forms, the templates below combine bold image presentation with a clear structure for a great photography website. This helps you attract clients' attention with eye-catching images and communicate the values that make you an exceptional photographer. All Squarespace templates are optimized with responsive design, allowing your site to adjust to the format of any mobile device or browser. Some templates have mobile-specific tweaks in their Style Editors for an extra layer of customization.
That being said, let's take a look at some of the best photography website templates you can find on Squarespace:
Om is a calm, cool template that elevates your content by utilizing a clean layout and a simple, open interface. It uses padding and white space to make images pop, and also makes great use of logos as a site title, making it a fantastic fit for you, if you want to establish a personal brand.
The template can aid to the needs of freelancers, digital studios, creative agencies, photographers, and artists. It offers many innovative portfolios and blog options that boost your chances of showing your work in an amazing way and getting customers. In a hyper-competitive market, Om can be your greatest asset.
Om and Squarespace's other templates allow you to connect to a wider audience by linking your site to your social media profiles, and pushing content as you publish it. Adding social features like Share and Pin It buttons help visitors share your content too, which further increases your site's reach. When it comes to website development, you can't overlook Search Engine Optimization. Your website will be SEO-ready, increasing your online exposure.
Momentum is an exceptional template that never fails to impress. It's modern, responsive, and retina-ready design promises full compatibility with any platform, device, or web browser. It also makes bold statements with big images. Featuring multiple options for gallery design, Momentum is ideal for showing past work in full-bleed galleries, with FAQ and Contact pages in the bottom navigation. With such an inclusive and versatile template, your online presence will surely impress and increase. As a Momentum user, you will be able to choose either a regular or a boxed version. If any issue arises during the installation or customization process, you can always rely on the excellent support system. In addition, a detailed documentation source is available. Also, you have a detailed explanation for every feature.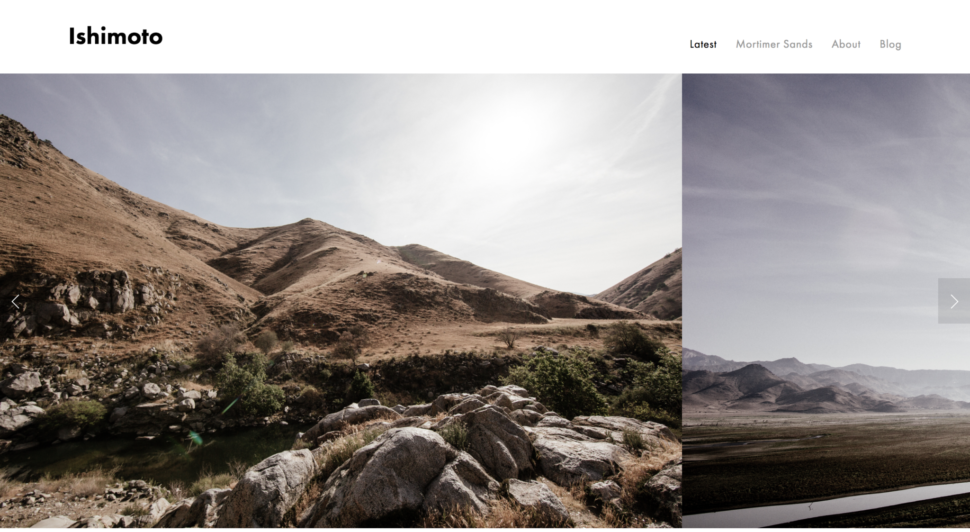 A one-of-a-kind template, with a one-of-a-kind name. Ishimoto is a portfolio template with an innovative, horizontal slide gallery, that makes it preferred among photographers, artists, and restaurants. For sure, Ishimoto is the best option for those who love bold and vibrant pictures, displayed in a carousel format. Although you may be tempted to include as many features as possible, it is best to maximize performance while featuring a clean, intuitive interface. Ishimoto is a photography website template that understands the needs of ambitious, online business people. It offers a retina-ready design that is compatible with high-resolution retina displays, and it is capable of accommodating any customer.
Taking into consideration that Ishimoto is fully-responsive, you will be able to administer the site while you are on the move if you prefer hand-held devices. You can display content on the screens on desktop computers, laptops, smartphones and tablets. The code is well-written, streamlined and optimized. This enhances your site's performance and allows for easy modifications.
Just as well, Ishimoto is very user-friendly. Even with a basic understanding of web development, you will be able to navigate its options and features. The website also includes awesome font icons, along with a Contact form. If you have any issues, Squarespace's top-notch support system is there to help you. Besides, if you want to view this product or any other templates before buying it, a live preview has been made available.
Flatiron is an unconventional template that is high quality and pays such close attention to detail, that other templates could only hope to match. With a portfolio experience that supports multiple portfolio projects side by side, Flatiron is popular with art directors, illustrators, and photographers. This template empowers you to share your work with the world. With a flexible grid Index Page, Flatiron presents an overview of your projects, enticing visitors to explore individual pieces in greater depth.
By using Flatiron as a template for your website design, you will be sure that your projects become a reality, as it promotes and displays your content. The Index Page creates a grid of thumbnail images, each one linking to a separate page, giving people a snapshot of your work while encouraging them to dig deeper. Taking into consideration the multiple options you have for personalizing it, Flatiron is a modern template that never fails to impress. It also features a streamlined and well-written code that can maximize your page's capabilities with any web browser. In addition, you will have an aesthetically pleasing portfolio website.  Because this template aims to maximize client convenience, page customization is accessible for all users. And best of all, you don't need to be tech savvy.
If you want to learn more about Flatiron, be sure to access the detailed documentation source. It contains information regarding every feature. The template is also fully responsive, and has cross-browser compatibility.
"Less is more" definitely applies to this website template and, Forte is for sure the best option for those who love simplicity and minimalism. Forte is a bold, yet minimal template that features full-screen images and precise typography. Its landing page pulls visitors into your portfolio, displaying the range of projects in beautiful, high-resolution images. Forte can be also used for general, corporate, spa, hotel, restaurants, and event agency websites.
The layout is entirely responsive, and it can display your content on any platform, web browser, or device. As a special feature for this template, each page in the Index displays as a full-bleed background image with a content overlay, and you open it by clicking the page title. Forte has a color auto-detect feature that determines how light or dark your background is and sets the color of the site title, tagline, navigation, and social icons to black or white. Every relevant tool will be at your disposal, and you will not have to rely on 3rd party add-ons. From start to finish, you can design a fully-functional website in a matter of minutes.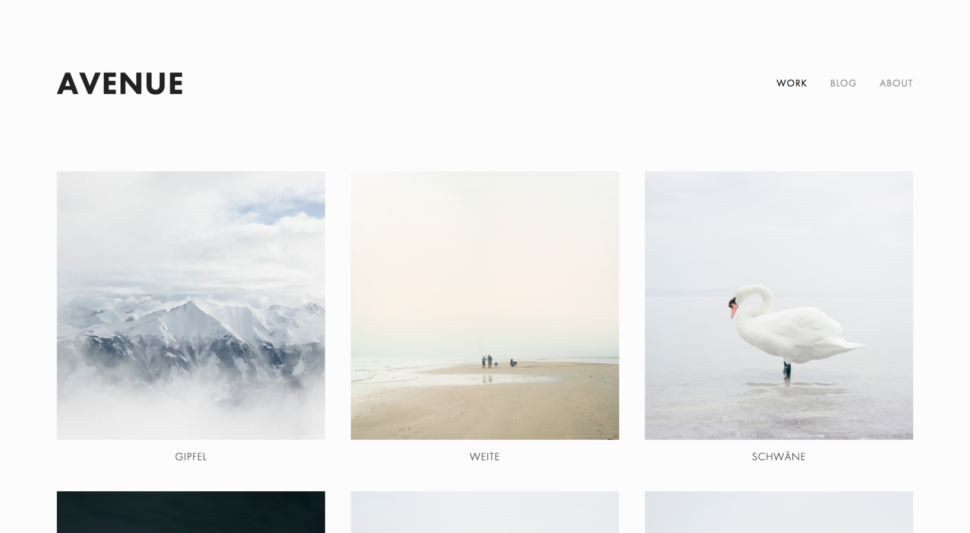 A classic template with a timeless look, Avenue's clean, straight lines and adaptive grid-based layout are especially popular with photographers, illustrators, and designers. The template comes with an intuitively designed interface, carefully crafted to ease the display of your unforgettable photos. As a special feature, the Index Page organizes multiple pages or galleries into a single grid collection by using thumbnail images.
Whether you shoot landscapes, people, food, weddings, or you want to keep a journal with your vision and thoughts, Avenue works just for you! For a captivating visual experience, Avenue boasts lively and spirited page transitions in many unexpected, yet perfectly natural ways embodied in a minimal and beautiful design language that allows the photos to take center stage.
In order to make it easy for your mobile users to discover your site, Avenue is mobile ready and fully responsive and can be integrated with social networks.
Conclusion
We personally love every template. No matter which one you use, you can't go wrong! Let us know in the comments below which one is your favorite, or what other ones we should cover in the future.
Try Squarespace free today for 14-days! No credit card required. When you're ready to subscribe be sure to use coupon 'WDL' for 10% off your first purchase.
Thanks for reading, and happy web-designing!