Wireframing and prototyping are the most essential stages of your web design and web development projects, whether they're about creating web apps, websites, or mobile apps for your clients. Do you have any favorite tools that you turn to, for this purpose? Whatever they are, I hope you know how to choose them. I have compiled a list of leading tools for prototyping apps, which champion the markets at the present time. Check them out and make sure you will use them.
Strictly speaking, 'Apper' is the term associated with a professional who is unencumbered by technical tasks while working on creative projects, and so manages to accomplish them faster, easier, and also have more fun in the process. In our context, Apper is a fantastic mobile app designed by IGenApps Inc. It provides web designers with an expedite, yet proficient DIY means to create, share, and publish high profile apps.
Apper presents us with a rare opportunity of coming up with mobile apps that are very similar to native apps. Furthermore, this tool enables a clever URL feature that sensibly changes the interface of your app, and transforms its user experience according to the device it's displayed on: Android, iOS, Windows Phone, or even Amazon Fire. Users pay Apper a modest $4.99/month to ensure this adaptability, along with the continued hosting of their apps. Any other expenses are entirely optional.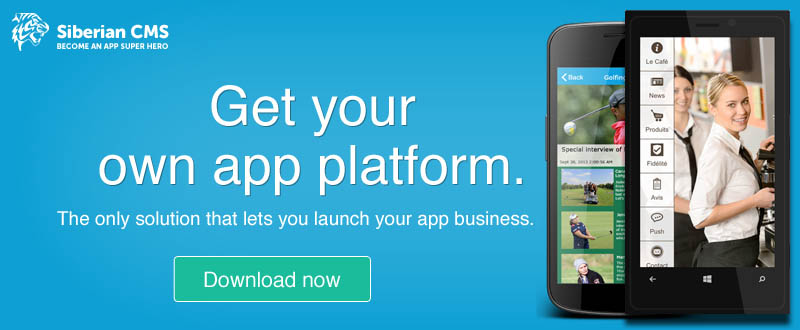 There are open-source tools to consider, too. The most notable of these is Siberian CMS. If you're familiar with WordPress, and odds are that you know that platform inside out, then I promise you won't have any trouble in making ends meet with this app builder. You can forget about painstakingly handwritten code, and simply move modules around to customize your app.
Unlike online app building solutions, Siberian CMS can be installed on your own server. It gives you all the source code, so you can be certain that your ownership is complete, if you're particularly sensitive about that sort of thing. Siberian CMS is also releasing two awesome commercial versions that will allow you to launch your own online app platform. Decide on either of these two available versions, and you're only charged once, with a sum that ranges around $250.
How about a free prototyping platform? InVision is empowering and one-of-a-kind, because it goes beyond the pervasive condition of passive prototyping tools, as it comes with an additional freedom to design. In other words, this tool supports integration with programs like Sketch and Photoshop, which means that your prototype won't just be easy to build, but it will also bear the closest possible resemblance with the end result that you imagine, each and every step of the way. You can test the UX in order to perfect it, and share the view of your unfinished project with whomever you need.
Should you decide to work with InVision, you'd be joining a cohort of over 400K users. As an afterthought, it may please you to learn that ringing brands like Evernote, LinkedIn, and Adobe have placed their trust in InVision.
It makes no difference if you're building native or web apps. AppMachine is going to provide you with the perfect means to meet your goal. You will love that 35 pre-coded blocks are placed at your service, and the sky's the limit: AppMachine lets you import data, connect to web services, and use CustomJS to add other features and code. Finally, this resource is very convenient, as you only have to pay upon publishing your app to shops.
HotGloo has been widely recognized as a valuable 'wireframe UX prototyping' tool, and I concur. Why? To begin with, it's incredibly user friendly, which is such a convincing argument when you're used to racing against a hectic schedule, as all designers know. HotGloo also has a fantastic library of wireframe widgets, for you and your team workers to use when forging a prototype for any type of device. Save your prototype in many versions, and share links of it with your clients, for preview.
Proto.io helps you devise fully interactive prototypes, using a set of superb animations. It allows you to replicate the exact user experience of a real app without coding, and communicate the visual and interaction design to other people, via short URLs, or on the native player apps of iOS and Android. The drag-and-drop interface works like a charm: use it to import your own design assets, or choose from iOS, Android, or Windows phone UI elements, plus thousands of preset icons.
I would like to introduce you to Hybrica, a wonderful platform specifically engineered for building mobile apps. It has 25 components in the vaults so far. If you work with this tool, your app will be based on the jQuery Mobile Framework. You would be permitted to import external resources, and even tackle the built-in code editor, if that is your wish.
Are you worried about your presentation? Fret not, PowerMockup has got you covered. This is not a standalone wireframing tool, but a powerful add-on for PowerPoint (compatible with versions 2007, 2010, and 2013 of Microsoft Office). Through it, you can access a priceless library with wireframe stencils and icons, and easily single out those you want to include in your slideshow. If you're feeling inspired, you can also use regular PowerPoint shapes to create new wrireframe stencils, and add them to the pile.
No self-respecting creative has much time to spare when working on a project. MockFlow allows you to create the blueprint for your app or website in a jiffy. I am particularly impressed by the fact that MockFlow users don't even need to stay online all the time, as they can also do their job without an internet connection.
Yet another illustrious platform is Como. Enlist it to build mobile apps for existing businesses that have an online venue. This tool boasts of a unique auto-discovery technology, which grabs existing web content, thereby cutting your efforts short. Besides, you may also appreciate Como's rich ROI-generating features, such as coupons, e-commerce, loyalty cards, etc.
It couldn't hurt to tap into the 30-day trial from Solidify, and see what it's all about. This solution is great for making clickable prototypes, test them in various conditions, and on all devices. The tests you can submit it to are basically limitless, and monthly subscriptions start from $19.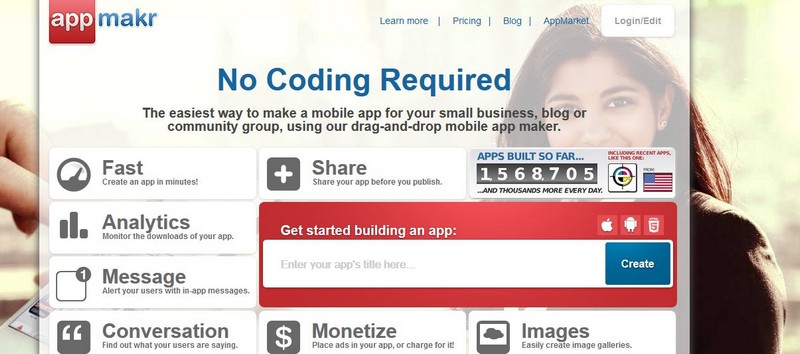 AppMakr redefines simplicity. Turn your attention to this platform if you need to get a mobile app done at lightning speed. The whole process doesn't take more than 20 minutes. On top of that, you're never asked for additional fees when it comes to publishing your app in stores.
While we're on the subject of lightning-fast prototyping solutions, I would like to mention Marvel. It's a free service that has already amassed more than 51K users. Marvel essentially takes your PSDs and design sketches, and takes very little time to turn them into solid web and mobile prototypes.
What about AppsBuilder? According to all sources, it's a worthwhile option for making fine-looking mobile apps. You can put that statement to the test by engaging in a no-strings-attached, 14-day trial with this mobile apps builder. As a side note, you may be interested to learn that AppsBuilder already numbers almost 1000K members.
Lastly, you might really enjoy making the acquaintance of UXPin. This a design platform is fixed on perfecting the user experience of your wireframe. Currently, anyone can sign up for a 30-day-long trial. Even further, subscriptions start from $14.99/user on a monthly basis, and can be canceled at any point.
Did you have any experience working with either of these resources? If so, then we'd all appreciate it if you share some words of wisdom with the rest of us.