Your design is signed off, and there's just one step remaining. Afterward, you will be ready to introduce your website to the world.
You could finish the project yourself if you had the expertise to do so. Even if that was the case, it promises to be a tedious, drawn-out task you'd rather avoid.
It makes sense to hand your design over to a reliable design to WordPress service. Let the professionals do the work!
You still have to choose a service that will do your design justice. How to find a good one? Look for those, who provide the error-free, responsive, and SEO optimized HTML/CSS code. They should do so at a reasonable price and in a reasonable time frame.
These top design to WordPress services will work their magic to build a product you can take pride in:
Design to WordPress – PSDgator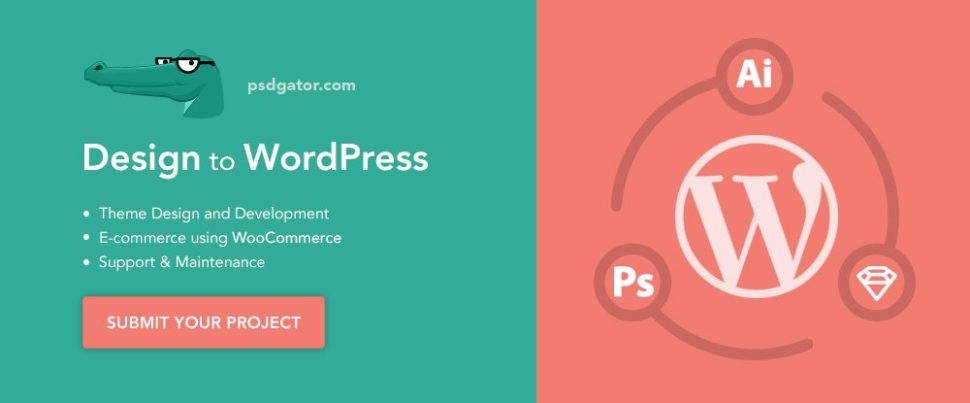 The multi-talented PSDgator team does many things well, including taking your PSD, Sketch, and AI design files, and delivering fully-functional, easy to navigate WordPress themes. The green gator team even accepts PDF files, and should you present them with a file format that could best be described as somewhat obscure, they do their very best to unlock the code and proceed with development.
You can expect to receive semantic, hand-coded HTML/CSS that's cross-browser compatible, responsive, and optimized for performance. You can also expect the work to be done quickly.
If you have an existing WordPress theme that could use an upgrade, they'll do that as well, whether it involves some tweaking, or a complete re-slicing or redesign. PSDgator can also enhance WordPress plugins, or design new ones based on your specifications.
Whatever your needs, just send them your design files and specifications. They'll look them over, get back to you if they have questions, comments, or suggestions, and give you a free quote.
PSD to Manything's team of talented and experienced professionals can provide the front-end solutions you're looking for to meet your design to WordPress needs. They'll collaborate with you to make sure they fully understand your requirements before proceeding, and they'll get the job done at a reasonable price.
It's always a good feeling to work with developers that are totally transparent about the way they go about their business, and PSD to Manythings is such a team. You'll always be able to track your project's status, ask questions, or make changes should the need arise.
Providing design to WordPress solutions are only a part of what this team can do. Whether you are a freelance designer, or you represent a design team or agency, feel free to consult with the PSD to Manythings team. They live up to their name.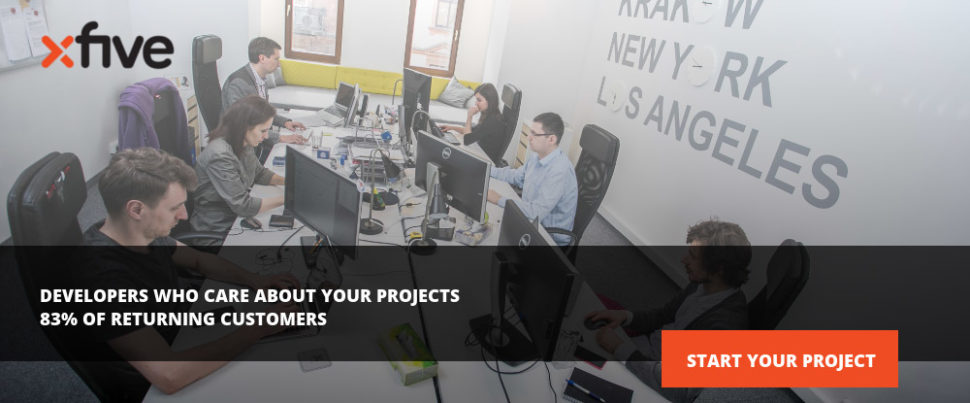 Xfive first made a name for itself under the XHTMLized brand a little more than 10 years ago; switching to the present brand name relatively recently. Headquartered in Australia, with main offices in Europe and the USA, this development agency has established a reputation as a business that cares for its customers, and their projects.
Xfive will be only too happy to show you how they go about their business of converting your design files to error-free, responsive, and SEO-friendly HTML/CSS code. They'll show you step-by-step, including insights into the coding standards they work, too.
Whether you have a single project or multiple projects, or whether you are an individual designer, a design team, or represent multiple teams, Xfive has the solutions you're looking for. They can give you a fixed-price quote, a quote for hours required, or one for a term rental.
Goodie is not your typical development agency. Having your new website launched the Goodie way involves choosing the member of their development team you want to work with. They specialize in launching websites, including one-page websites, for small businesses. Since they've been at it for more than 10 years, you can rest assured your design to WordPress project will be in good hands.
The Advantages of Using Design to WordPress Services
Your new website will have a modern, distinctive look.
Professional development agencies, like those described here, prefer hand-coding to automated coding. Thus, you won't have to accept look-alike websites that machine-coding tends to produce. Your new website's layouts will definitely have a one-of-a-kind look to them.
Your new website will have faster load time.
When professionals do their job, it results in a website that exhibits faster load times. The reason for this is that these developers do not insert unnecessary or redundant code.
You can expect superior workmanship
Professional developers take pride in pleasing their clients by doing things right.
The code you receive will be easy to read and maintain.
Hand-coding, using semantic HTML code, is easy to read. Consequently, errors are easier to detect and resolve, as they tend to stand out. When you have a need to make changes to your website, it will be easier, and less expensive, to do them.
You'll be pleased with the UX your new website offers.
There is one key reason to choose a professional Design to WordPress developer. They take pride in creating websites that provide visitors with a pleasurable experience.
A website that provides an impressive UX is a website that will experience more traffic. Consequently, conversion rates will rise.
Conclusion
Investing in a tool that will perform development tasks for you may seem to be a less expensive approach. However, the results you get cannot be compared to what a professional developer can deliver.
Is your goal to launch a website that stands out among the rest? If the answer is yes, then allowing a design to WordPress development service to do it for you is by far the best option.