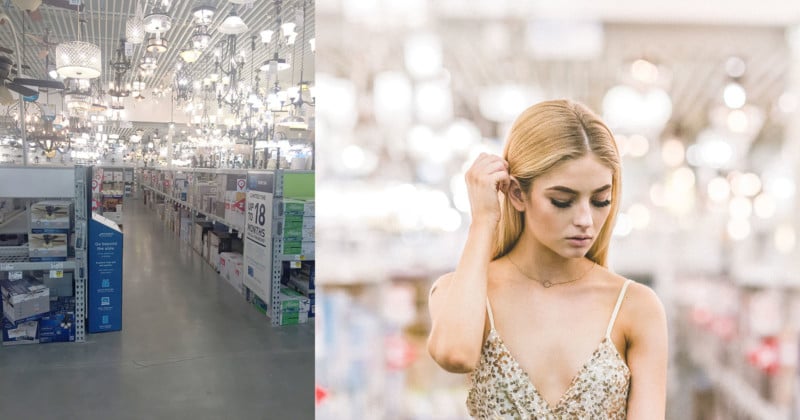 A few weeks ago, a model friend of mine, Rachelle Kathleen, and I were planning to meet for a fun little photo shoot. Instead of searching out the usual beautiful locations around where we live, I had the idea to do just the opposite. I wanted to go somewhere "ugly" by all conventional photography standards and then see what we could do with it. Lowe's seemed like the perfect option.
The point was to challenge ourselves. I wanted somewhere with horrible lighting and limited backdrops. Somewhere that made absolutely no sense for a photo shoot. Our local Lowe's home improvement retail store hits all those points. Before we went in we decided on a few rules:
1. We had to work with whatever was already there. I brought in just my camera without any artificial lighting or props. She simply brought a small bag with a couple outfit options.
2. We couldn't rearrange the displays or make any big changes. In one instance (as you'll see later) we moved a cart from the side of the aisle to the center, but then put it right back. We've both spent years in the service industry, we weren't about to leave the workers with a trashed store an hour before closing time on a Sunday night.
3. We'd stop shooting if anyone was in the background. We didn't want to give anyone any reason to complain, so we went to a place that was completely empty of customers, and if someone did show up, we lowered the camera until they were done browsing and left the area.
Of course, if none of this was allowed we would've left, but as soon as we walked in an employee asked if they could help us and I asked, "We were just going to take a few photos, is that okay?"
He replied, "Of course! I was just wondering why she was so overdressed for a trip to the hardware store!"
Since they were about an hour from closing the store was almost completely empty. Anyone we didcome in contact with was super friendly, if not slightly curious. We had a few people stop and watch, but that's to be expected anytime Rachelle models anywhere. The girl just can't help but stop traffic.
And this is what we got! I've included the cell-phone pic of the actual location along with each photoset, so you can see what we were working with.
Lowe's Location 1: The Paint Samples
I have to admit, I have always wanted to shoot in front of these paint samples, so as soon as we walked in the door I made a bee-line right to them. I'm excited I finally got to shoot in front of them – these shots turned out to be some of my favorites ever!
Location Shot:
Straight Out Of Camera (SOOC):
Edited: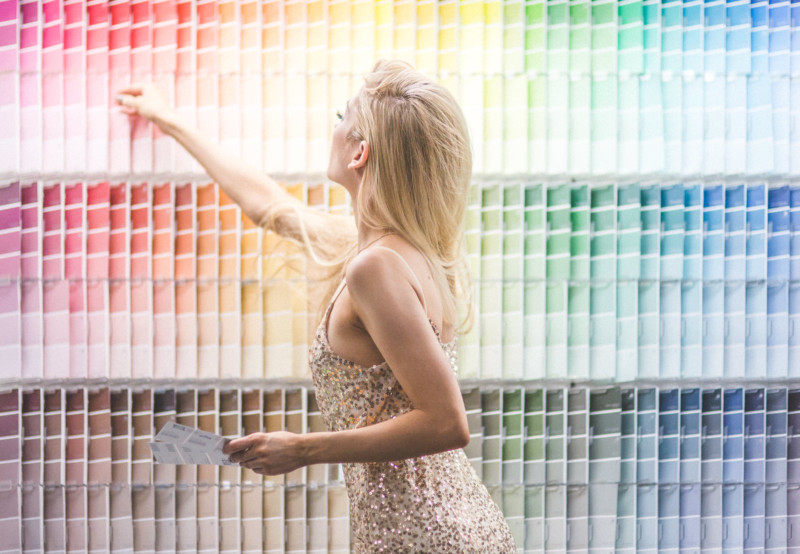 Lowe's Location 2: The Lighting Section
I was also excited about the lighting section. I've always been a fan of shooting straight into the light (though I've heard it's a bit of a no-no). The main problem was the lights were so much higher than we thought…or maybe we're just a lot shorter than we realized (we're both barely 5'4″).
I knew the light itself was going to be pretty horrendous, with all the different colors, brightness levels, and shadows, but I was excited to give it a shot. You can see in the second photo what it looked like straight out of camera.
Location Shot:
SOOC:
Edited: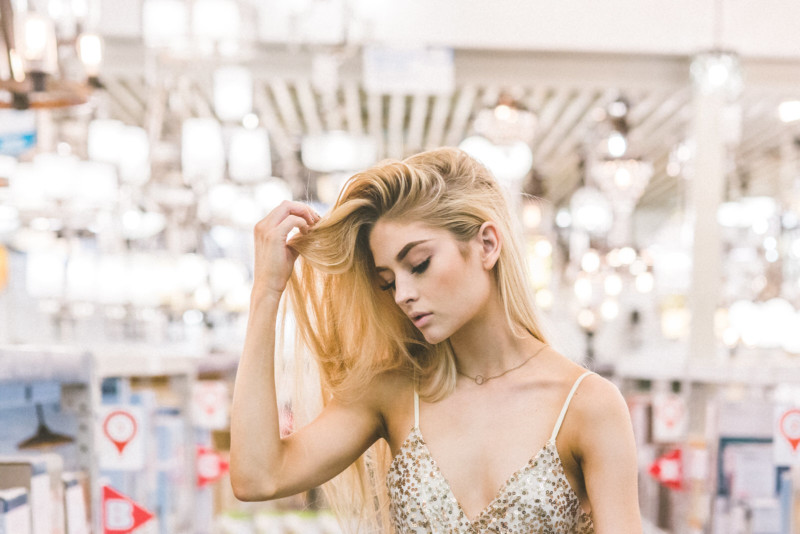 Lowe's Location 3: The Aisles
We knew we couldn't avoid the aisles. Photographically speaking, they were awful. Horrible lighting, lots of plastic surfaces, really nothing that would be considered aesthetically pleasing, but that was the point. This was the essence of Lowe's, and we wouldn't have been doing the challenge justice to steer away from it.
Also, yes, we know you aren't allowed to sit on the carts. An employee was there and gave us permission to keep shooting. Like I mentioned earlier, we were in a pretty big hurry, so she was sitting on that cart for a total of maybe 6 minutes, so calm the hell down, it's not like we were dancing on them.
And yes, we know there has probably been something pretty disgusting spilled on them at some point, but we really couldn't care less. Rachelle and I have shot nude in abandoned buildings full of spiders, bats and bird shit, a dry cart really isn't much of an issue.
We shot in both the larger aisles and the skinnier ones. Here's the larger aisle:
Location Shot: Aisle 1
SOOC:
Edited:
Location Shot: Aisle 2
Lowe's Location 4: The Garden Section
I would've loved to spend more time in the garden section, but the store was closing and we were running out of time. We spotted a cluster of fake shrubs and I had her kneel down in front of them so I could fill the frame. It's too bad we had to move on so quickly – this was actually the best lighting we got out of the entire store! If we had been there in the daytime, it probably would've been even better!
I knew I wanted to edit the finished photo with a kind of moody, wintery look. So even though the raw image really wasn't too bad, it still needed some adjustments to get to what I wanted it to be.
Location Shot:
SOOC:
Edited:
Overall, this was a really fun challenge! Not that I'd invite an actual client to ever do a Lowe's photo shoot (I mean, never say never), but I was pretty happy with the result! Horrible location for the win! Next time you see an awful spot, maybe give it a chance, you never know what you might end up with.
About the author: Jenna Martin is the founder of PhotoFern.com and a fine art and underwater photographer based out of Billings, Montana. After acquiring her Master's in Psychiatric Rehabilitation, she made a drastic career change into the field of photography where she has been producing surreal images ever since. You can find more of her work and writing on her website and blog, or follow her via Instagram or Facebook. This article was also published here.