Supplying information below as a result of the tragic attacks that occurred in Paris on Friday night to share resources and ways to help. Even though you may be distant from the country's borders you can still provide aid, or get information on the status of your friends and family in Paris through social media. With a death toll of at least 127 people, 99 critically wounded and hundreds injured, the city of Paris is offered support by the international community.
Local support organization offering direct relief in Paris. About 300 volunteers have been providing aid to those affected in Paris. Donate on their website.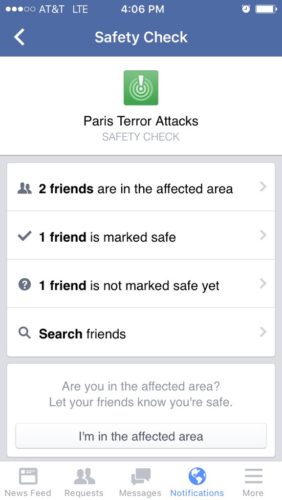 Originally  created to help reassure friends and family of safety in case of natural disaster. Facebook has extended Safety Check for "human disasters" for Paris and potentially other areas affected in the future.
Airbnb Urgent Paris Accommodations
Offers a free place to stay or help find other affected by the attacks. They have also waived their service fees for those affected by the disaster and checking in between Nov 13, 2015, and Nov 17, 2015.

Please feel free to share any other available options you are aware of in the comments below.