We all know really good that there are many projects on the martket, projects that can be easily made with the right tools. Today, we want to present you 12 awesome tools that can really bring value to your team and projects.
Using any of these tools, you will find that you can work on multiple projects and that your clients are happy with the results.
Have you ever thought at managing your event tickets just by yourself, having full control over your profits with no requirement to send a cut to a third party? With the help of Tickera WordPress plugin, you can now sell tickets directly on your website and personalize them the way you need and the way you like. How? The fusion between WooCommerce, the most popular e-commerce system for the WordPress platform, and Tickera makes it all possible!
The integration is called Bridge for WooCommerce and it lets you do amazing things with the management of your tickets. You can easily create tickets inside WooCommerce as you can create any other product, by setting their own details such as price or stock, you can set the ticket templates and make different looks for each ticket type with the Tickera drag & drop template builder. On top of that, you can easily check-in attendees with mobile apps or barcode reader and after that you can export the attendee list (as a PDF document or in the CSV format), so that you will have a good evidence on your customers.
Other features given to you by Tickera are shopping cart (so that you do not limit at just one item), discount codes, multiple events managing, translation ready, and, at least but not last, good support service, as their team is very fast and helpful with any problem you encounter.
If you have ever lost a file (which I'm 99% sure happened to you) or had a computer die, losing all your data, I strongly recommend you Backblaze, probably the best online backup solution for all your files. It has such an easy-to-use interface and it is low-cost, with only $5/month for the option of Personal Backup, which focuses on your own computer and files. This option has automatic or scheduled backups that keep your data safe in secure datacenters with 24-hour staff, biometric security and redundant power. Moreover, all your files are encrypted before being transmitted over SSL and stored encrypted. In addition, you are constantly notified of your backup status and you can choose the auto throttling option or set your own upload limit. At last but not least, another great feature of Backblaze is their restore option: you can have a USB Flash Drive (128GB for $99) or a USB Hard Drive (up to 4TB for $189) sent to you via FedEx, which you can send back within 30 days for refund. Sounds pretty cool, doesn't it?
An image is worth a thousand words. We all know it, we have to be honest. Especially website administrators, web project managers and even the marketing department of your company. So what do you need for your website? An automated screenshot service: Shrink The Web does exactly that. A single line of code in any of the plugins that support STW, from WordPress to Django, or in any other server-side language like PHP or Ruby on Rails (And even Perl!!!) can help you take automated screenshots of your website or any other website. Anybody can work with this platform, for free, but there are limitations for the default sizes, the largest being 320 by 240 pixels. Speed is not a problem, as it is a capable service with low waiting time. Undoubtedly, a paid account is a great deal due to the amazing features it comes with: URL to PDF conversion, custom sizes and even whole-length page screenshots, above-the-fold content not being your limit anymore. You should definitely give it a try.
Why do people love Ultimatum Theme? Graphic designers appreciate that they don't have to code too much to achieve great results, with imagination as their only limit. Project managers talk about how they can turn their clients ideas into real working websites. And at last, web designers say they now have the certainty they can create any design. The truth is that website builder comes with a drag-and-drop editor and more themes you will ever need that can help you ship an unusual blog, a successful store or even a great portfolio. Although the prices are not that low, the lifetime license worths every cent of the 65$ basic accounts. You should check it out an tell us your opinion!
5. Simbla.com
Would you like to build attractive sites for your business, but have no coding experience? Simbla Website Builder is one of the online platforms that helps you do this, thanks to its clean and easy-to-navigate interface. In order to start using it, you don't even have to install it, but just complete a few fields including email, password and location. How easy, why not give it a try?
6. Themify.me
Themify.me offers a website builder service, with lots of original themes. Some of them are free, to offer you the experience of using a drag and drop layout editor, but a paid account comes with more designs to choose from. Having some extremely interesting themes to begin with, with functions like parallax backgrounds, you can get anything done. For more, you can visit their website.
7. TeamDesk.net
Would you like to empower your business management? TeamDesk gives you the chance to do this by allowing you to create online databases for you and your team, that you can share, discuss and edit together. This will highly facilitate your work and the best part is that it requires zero technical knowledge. However, if you need help, you are provided with expert support from their team.
8. Hotjar.com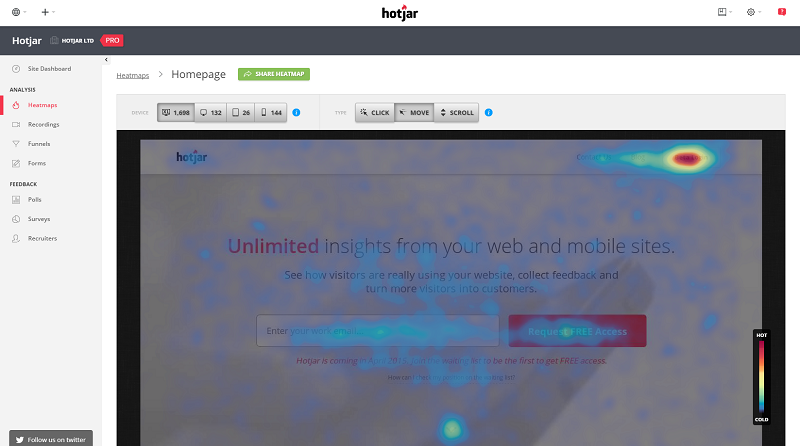 If you want to have an insight of what your visitors do on your site, Hotjar gives you the perfect tools to do that, by revealing your visitors' pattern of reading the page and navigating on it. It has many features, but one of the best is heatmaps: it allows you to see what grabs your visitors attention by visually representing their clicks, taps and scrolling behaviour.
9. Mobirise.com
Unlike the majority of site builders that work in your browser, Mobirise is an offline program that you need to download and install on your computer. Once installed, building a mobile-friendly website is fast and easy: by dragging and dropping, you will considerably reduce the development time and you will have a new site within minutes! Needs no coding experience and it is free for commercial and non-profit use, go on an try it!
10. uKit.com
If you have just started your own business and you are looking for a place to promote it in a really simple and efficient way, uKit is indeed the best choice for you. It is a website builder for business which you can initially use with a free trial period, and we are sure it won't disappoint you. Coming with a lot of features, it is a must on the online rankings such as the ones on http://superbwebsitebuilders.com/, by Howard Steele.
11. Xfive.co
Xfive is here to ease your web development challenges, by helping you with many things that will make your website grow faster and better. Whether you would like to have your designs converted to a WordPress theme or you want to do anything complex with JavaScript, you can rely on them, as many other big companies have already made, including ebay, Twitter or Microsoft. You can be the next one!
12. IMCreator.com
You'll be surprised how well IM Creator makes your websites look once you're done, without any effort and in a matter of minutes. Creating a website with XPRS or IM Creator is easy, fast and intuitive. Thanks to the new Polydoms technology implemented in the XPRS website builders, IM Creator is far above any other website builder on the internet. If not convinced, go give it a try or ask its users!