Information about design, creativity, web and everything else that we can think of is available to everyone, you just need a fair amount of interest to look for it. Here at WDL we like to keep you inspired and updated with nice and interesting information. And that is why today we gathered 11 free online books to add to your library. From classics that you know to new presentations transformed in pdf files, we have 11 files for you. Choose the ones you like and read on.
Meet Your Type: A Field Guide to Typography
Why settle for casual flirtation when looking for a long-lasting relationship? Finding the perfect match is easy if you know the rules. Meet Your Type will help you overcome common obstacles, and keep your heart thumping for your one true love: typography.
20 Things I Learned About Browsers and the Web
For things you've always wanted to know about the web but were afraid to ask, read on.
Book Of Speed
No one likes to wait and we all hate slow pages. These are obvious, easily observable facts that don't need any proof. This book gives you practical industry examples and studies which expose the effects of performance on the bottom line. If you're not convinced that speed means money, read on.
jQuery Succinctly
jQuery Succinctly is a 101 page free ebook from Syncfusion Inc. It was written by Cody Lindley who is the author of "jQuery Cookbook". It expresses, in short-order, the concepts essential to intermediate and advanced jQuery development.
Best of Smashing Magazine
The eBook contains the best articles that have been published on Smashing Magazine in the last five years — and by "best," we mean the most useful, most interesting or most inspiring.
Design Your Imagination
A complete and comprehensive guide on website design suitable for freshers and expert web designers.
A Dialect of Our Own Design
Note & Point alumni Simon Collison has created a simple and striking slide deck that aided his talk at the 2011 Interlink Conference held in Vancouver. Elegant black slides, simple illustrations and clean type are used to teach designers at the conference about making informed design decisions while being creative.
CMS's For Designers
A short deck by Andy Field that caught my attention with the way he chose to include his screen shots. It ends up being a pitch for a certain CMS (though I don't think he's affiliated) but the humor in slide 8 should not go unnoticed. Simple, to the point, and not wordy; plus the circles that aren't circles are visually interesting as well.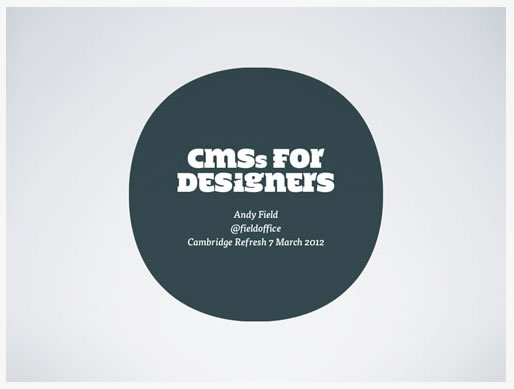 In Defense of Mobile Diversity
Presented by Hervé Mischler at the Future of Wedesign London 2012, here are some quick tips for porting your iOS designs to Android.
A Designer's Guide to Webfonts
You already know @font-face and available JS/Flash options available. You're a pro. We understand that. But what about terms like EOT Lite, WOFF and Comp Fonts? Yeah, we needed a little primer as well. Luckily FontShop is making it easy on us all.
33 Things I Know About Art Direction
It's been a while since we've seen the handwritten style done right but David Bell has really pulled it together on his presentation covering his ideas on art direction. It's long but the content is engaging enough to keep you interested in every slide.