If you've never looked at some fascinating avant garde work then here's a way to get your feet wet. Artists have been known for creating great ideas that seem to balance right on the fringe of mainstream concepts. This post is no different which introduces an obscure method of hanging conceptual patent diagrams in the lustrous environment of your living room.
Patent diagrams you say? Well actually I typed it, but yes! These are pictorial representations of patented invention ideas ranging from new-age technology to many decades of historical breakthroughs. Most are detailed drawings which seem like the work of a master draftsman.
Ideas like this tend to get a green paper injection of cash by means of crowdfunding sources like Kickstarter. But the shop PatentPrints has gone a different route by offering printed patent artwork for sale directly through Etsy.
If you want to check out some work they have a small Etsy store with a list of recent prints. These are organized by categories like music, tools, technology, games, etc. Definitely a new idea in the realm of poster design which caters to an audience like Etsy.
And in typical Etsy fashion each poster has a list of options to choose from. Poster sizes can be custom-ordered along with the type of paper being printed. Fancy, yes? It's very fancy and quite intriguing how anyone would come up with such an idea.
If you check Google you'll notice many of these patent drawings have been released online. Most of them are within the public domain which means there are no copyright laws subjected to their use.
I'd like to imagine these prints could be adapted to fit clothes, lunchboxes, or even book covers. Remember covering your old textbooks with brown paper bags? Well think about the increased cool factor of covering them instead with hieroglyphic pictures of patents from yesteryears. Fonzie would approve.
After browsing through some photos you'll notice that most of the samples use white ink printed on a black background, reminiscent of a chalkboard. But this is far from the only color choice with many alternatives spanning the full gamut of visible light. Well maybe not the full gamut, but quite a large swath of the gamut including green, gold, silver, and beige(among others).
If you have any interest in the design of these posters check out the shop reviews to see what other customers have said. The store opened in Spring of 2013 and over that time it has amassed a plentiful list of product evaluations from customers. The catalog has also grown extensively to include, at the time of this posting, over 350 different print diagrams.
There are some wonderful lessons to learn from a creative endeavor like this. One such lesson is that patent artwork looks so gnarly, like seriously who would have guessed?
But in a more abstract line of thought I'd say if you believe in your creative idea then it's worth pursuing. If you have a great idea don't let it sit on the shelf any longer than needed. Gestation is fine, but sometimes you just have to create something and see if anyone reacts. The PatentPrints shop most certainly caught my attention and has captivated my curiosity of what makes creative work so interesting.
To get a better look at some examples I've organized a showcase of interesting patent poster designs. Most diagrams have been made from tools but there are some other riveting patents like video game consoles or camera accessories. There's a lot of stuff you never would've thought required a patent diagram… but then again do any of us really understand how toilets work?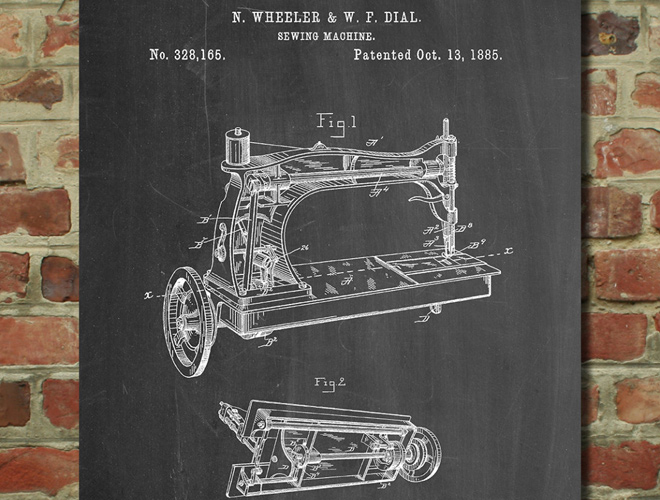 Further reading:
---