The web and graphic design industry is expanding in leaps and bounds. However, each year brings its own unique surprises. We foresee many trends emerging in the web design realm with more focus being given on creating less complicated and more sophisticated designs.
Although, we have observed many latest trends disappear and re-appear in the past few years, we can make some predictions of modern web design trends that will eventually capture the design industry in future.
Image via Onbile
Here's what we predict for the future:
1. Evolution of Flat Design
Image via Microsoft
Long gone are the days when businesses wanted logos and icons popping up or down their websites to attract user attention. As more and more hand held devices are being adapted, designers are keen on constructing design elements that appear smoothly on flat screens. Thus, flat designs are currently the most sought-after element in web designing but the design industry rarely stays stagnant. With each passing year, users will begin to expect more out of the flat design. Steady progression in flat designing means layered designs to be more prevalent in future. However, the flat design in its most basic form is here to stay for a while.
2. Responsive will take over Mobile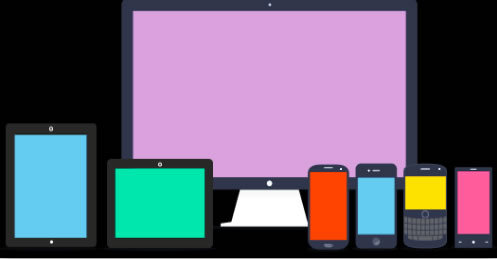 Image via Social Cubix
The year 2015 is predicted to witness mobile internet usage overtaking the conventional laptops and desktops. So far, this challenge is being countered by a specific mobile website. However, a mobile site along with a regular web front means catering to two separate online campaigns. The future Google updates do not seem to have any room for two separate websites. Time is money and the future is all about how to save your time to create meaningful designs which are not only impressive but also make sure your purpose of creating an online presence is fulfilled.
3. More Scrolling and Less Clicking
A website which comprises of dozens of pages offering services and products are no longer popular. Not only are they irksome, sometimes they are the reason why your users abandon your website never to return again. In future, scrolling will be more popular than clicking, as users may want to view all what you offer in a single pager rather than by viewing every single page of your site. Although, a multi-page website seems to have more SEO power but the design evolution will probably craft designs focusing more on providing content in the form of a single page website as smart phones have made people fall in love with scrolling.
Speaking of Scrolling: How can we forget Parallax Scrolling?
Image via Activate Drinks
When we mention the importance of scrolling, we cannot undermine the popularity of parallax scrolling. A good web design is the one which is remembered and talked about. One of the freshest trends to emerge in the web design industry is parallax scrolling. Many successful brands have already switched to parallax scrolling owing to the 'wow' factor it adds to their web front. Perfect for incorporating storytelling into your website, it is used to show objects or backgrounds moving in different speeds so as to create an impressive visual effect on the users. Many successful brands like KitKat and eyewear retailer Oakley have made spellbinding web designs with the help of parallax scrolling making it a favorite modern web design element.
4. Incorporation of HTML5 Videos
Image via Hongkiat
By videos we do not mean promotional video ads but HTML5 videos, which can be run in the background of your web-pages. As our brain processes visuals more rapidly than other forms of information, this design technique can highlight your core strengths and services to make an impact in a matter of seconds. There are many methods by which videos can be embedded in HTML pages and a number of brands have already included this element in their web design.
5. Less is and will be More
Image via Archercom
Surprisingly, with the evolution of a lot of design elements and development technologies, the need for devising a design which is minimal and to the point is always the main motive of a designer. The Keep it Simple, Stupid philosophy may come across as rude but does wonders for a long lasting web design. With so many websites coming up with innovative and trendy design methods, the users will eventually prefer a web design that has nicely sized images with chunks of content not to overload users with a lot of information and visuals. A website should not be a hotchpotch of design elements arranged in a bizarre manner.
The future cannot be foreseen. However, the current trends and developments can make us predict the outcomes. The rate at which web development and designing is expanding, keeps us anticipating more inventive and exceptional design ideas coming into existence in future.