Back in February we published a list of 50 Inspiring iPhone Application Websites showing some really inspiring app websites. Since great iPhone apps are always being launched and their websites are usualy beautiful and have a unique style, we decided to gather a new list for you. This time we followed your tips and included a small 'about' on each one of the apps. Once again, I have to say that I really like iPhone (and everything related to it) apps websites, their visuals are usualy simply awesome. They get your attention and before you notice, you're already at the Apple Store.
Step up, sit down, and get ready to cram as many of your friends together as possible. The photo booth has returned, and it's incredible.

Decrescendo is a small music player designed to let you fall asleep with the earphones still plugged in!

Whether you're a seasoned photographer or someone who's barely touched a camera, Camera+ will make you love taking photos.

Meet Interface, the ultimate mockup & prototyping tool that runs right on your iPhone. With Interface you can create & preview mockup screens for your iPhone project using native iOS controls.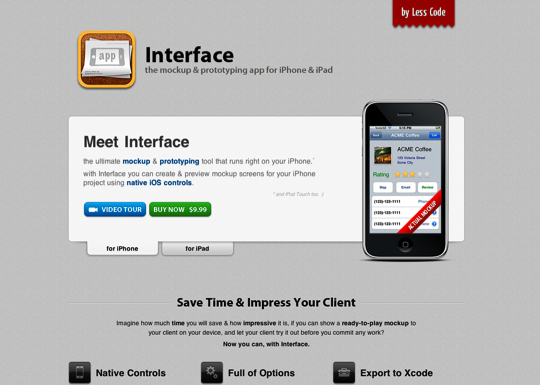 The largest and constantly growing collection of diet plans for every taste and preference.

Routes is an iPhone, iPod touch & iPad app which allows you to plan routes of all kinds in a fast, beautiful & simple way. You can even share routes with everyone who uses a web-enabled computer or phone.

Manage your tasks in a simple way, Task This propose to organize with projects and categories, but also to create shopping lists to manage your items.

Grades shows students what they need to score on their upcoming assignments, tests, and finals in order to get the grade they want.

The Basecamp app for people who get things done.

Bowtie for iPhone is the opposite of Apple's Remote app: Imagine you're sitting in your living room, listening to your iPhone on shuffle on your terrific new speakers, when a song you don't like comes on.

Ever need a file while you're out and about? Here, File File is an iPhone app that allows you to access all of the files on your home Mac, wherever you go.

The world's most elegant and hands-on ToDo app was designed to work around your fingers.

Knowing what you weigh is not enough. Lite Weight is your weight-loss intuition assistant. Enter your weight daily and get simple and easy to follow recommendations based on powerful, personalized calculations.

With "My Desk", you can manage a to-do list, calendar, and daily appointment, listen to favorite music and photos and check your battery status and read twitter at once.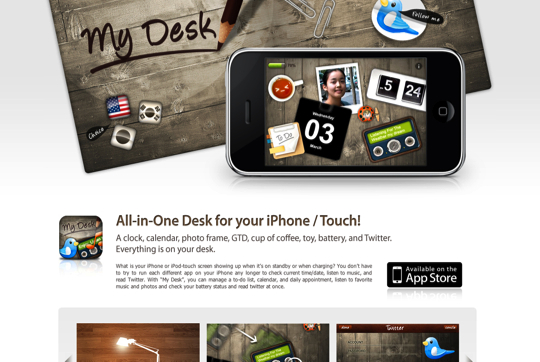 Borange is an iPhone app for sharing location and availability. Use Borange when you want friends to call you or meet you. See who wants to get in touch with you and make yourself available to any person or group in your address book.

Never miss your morning meeting, or favorite radio station, no matter where you travel. TimeTuner® lets you set your alarm to one of more than 30,000 international radio stations, your favorite song, or an iPod playlist.

Weightbot is a simple weight tracking app that makes weight management fun! Just enter your weight daily and see your trends get plotted on a beautiful graph.

Simple income and expense tracking for iPhone.

Ego gives you one central—and lovely—location to check web statistics that matter to you. You can quickly view the number of visits to your website (including daily, hourly and monthly numbers), feed subscription totals and changes, how many people are following you on Twitter and more.

iShots is a random shot generator for the indecisive but adventurous drinker. Impress and amuse your friends while showing off your Irish side.

PayShield is the most powerful way to have access to your PayPal account. It is based on the PayPal API Credentials and it is available worldwide.

Enjoy the morning with a cup of green tea and the Ecoki iPhone Reader!

Google Reader, pocket sized.

Keypoint is the perfect tool to create presentations on the go. You can use one of the 10 high quality themes and 7 animations to create a new presentation in no time.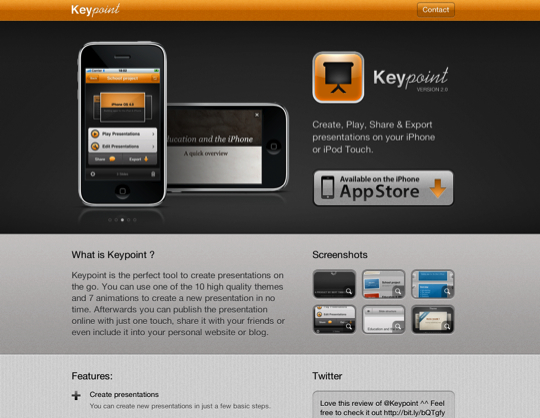 Finally, combine notes with to-dos in one app! Organize your life today with Awesome Note, and start making every second count.

Finally, a color app that feels like it's working with you rather than against! If you're working with colors daily, or even if you just enjoy looking at and creating colors, this app's for you.

Music discovery based on your mood, available anywhere in the world.

iStudiez Pro comes UNIVERSAL for iPhone/iPod and iPad. This means that you only pay for iPhone version and the license automatically spreads to iPad, and vice versa! Within one license you get two versions of iStudiez Pro, each uniquely designed and running native on both devices.

With Night Stand HD for iPad, we've taken our bestselling hit for iPhone and rebuilt everything from the ground up: a complete overhaul of the graphics, iPad-optimized controls, exclusive new World Clock mode and deliciously crafted timefaces you simply won't find elsewhere.

Instantly transform your iPhone or iPod touch into an air mouse, trackpad, and wireless remote for your computer! Sit back and surf the web, browse your photo library or control your music player from the comfort of your couch.