"The world is full of beautiful fonts—choosing the right one for your next project can be a daunting task."

– Gary Hustwit
Regardless if it's about print, logo, packaging or web design, minimalistic fonts are an integral part of the process for every designer who wants to create eye-catching, effective and memorable graphic design projects. In modern design trends, the typography has gained more and more importance, as each project requires a different font in order to match with the general visual design and convey the right message to the audience.
Every designer loves freebies and there are so many free fonts released out there, that is hard to keep track all of them Therefore, we have rounded up 9 of our favorite free fonts to help you.
1. Entra
Entra is an original and unusual looking font that was designed for usage in logos and eye-catching headlines. With a quite unique combination, the secret of this font lies in between sharp corners and rounded shapes, Entra is a modern looking cap-only font. Designed by Gatis Vilaks and Wild Ones Design, this font is free for personal and commercial use.
Free for personal and commercial usage.
Download this minimalistic font here 
2. Ubuntu
The Ubuntu typeface has been specially created to complement the Ubuntu tone of voice. It has a contemporary style and contains characteristics unique to the Ubuntu brand that convey a precise, reliable and free attitude.
The Ubuntu Font Family is a set of matching new libre/open fonts. The typeface is sans-serif, uses OpenType features and is manually hinted for clarity on desktop and mobile computing screens. The technical font design work and implementation is being undertaken by Dalton Maag. Both the final font Truetype/OpenType files and the design files used to produce the font family are distributed under an open license. 
Free minimalistic font for personal and commercial usage.
Download the font here 
3. Crimson Text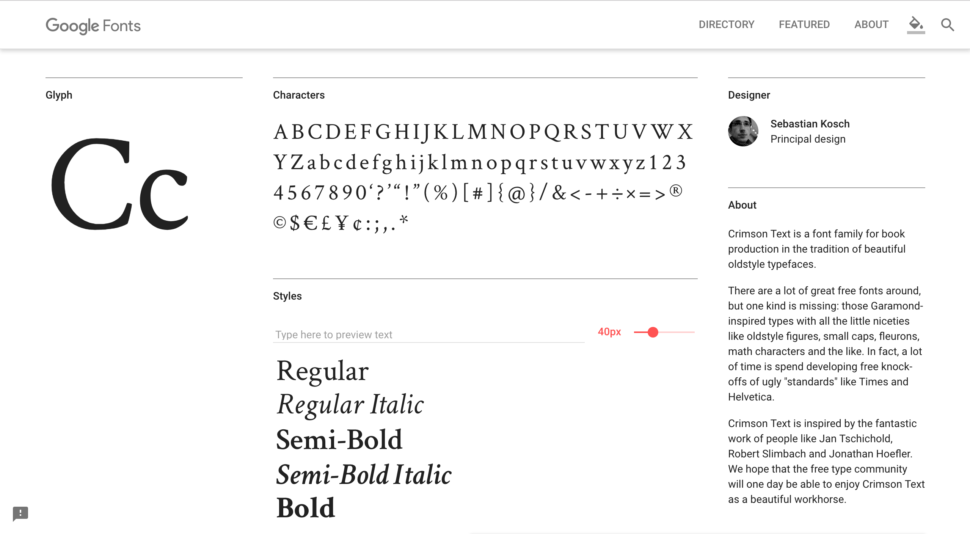 This free font family has been created specifically for book production and it is inspired by old-time, Garamond-esque book typefaces. Crimson Text is the work of German-born, Toronto-based designer Sebastian Kosch, who says he was inspired by the work of Jan Tschichold, Robert Slimbach and Jonathan Hoefler. 
It's also the favorite free aesthetic font of Taylor Palmer, a senior UX designer based out of Utah, USA. "Crimson is a sophisticated serif that makes a nice alternative to traditional Garamond-esque typefaces," he says. "It also has a very expressive italic, which pairs nicely with strong, geometric sans-serifs like Futura or Avenir."
Free for personal and commercial usage.
Download the font here
4. Comfortaa
Comfortaa is a rounded geometric sans-serif type design intended for large sizes. Created by Johan Aakerlund, it's a simple, minimalistic font, which includes a large number of different characters and symbols. Part of the Google Font Improvements Project, the latest updates to the family include the addition of a Cyrillic character set and support for Vietnamese. David Airey, a graphic designer and occasional writer in Northern Ireland, is among its admirers. "For a recent identity project, I used Comfortaa as the base for a bespoke wordmark. The before and after are really quite different, but Johan's work gave me a great foundation, and the client loves the result."
Free for personal and commercial usage.
Download the font here
5. Butler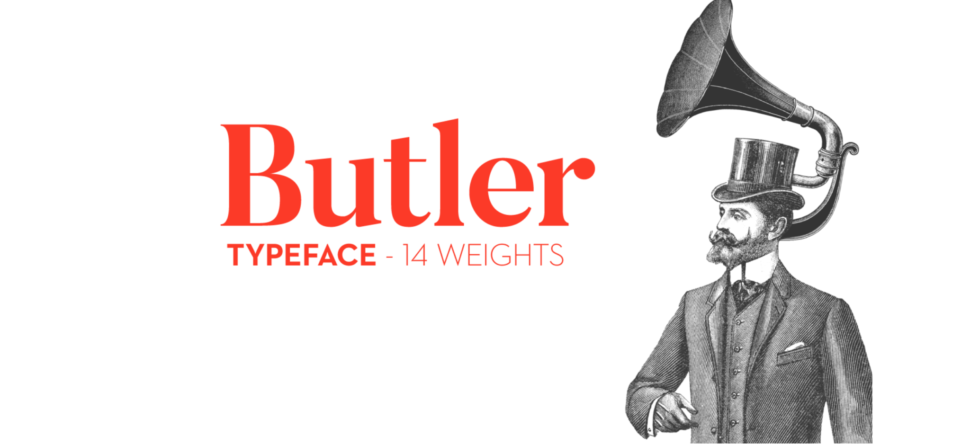 Inspired by a mix between both Dala Floda & the amazing Bodoni family, Butler is a free serif typeface. The main goal was to bring a bit of modernism to serif fonts by working on the curves of classical serif aesthetic fonts and adding an extra stencil family. Because of its highly contrasted typeface, this minimalist font is "great for posters, very big title, books and fancy stuff". The Butler family contains a total of 334 characters, 7 regular weights and 7 stencil weights, text figures, ligatures, fractions and a lot more. massage.dating – sensual massage – erotic massage. It also suits many different languages with its added Free for personal and commercial usage.
Download the font here
6. Jaapokki
Jaapokki has been created by Finnish designer Mikko Nuuttilaa. This beautiful sans-serif font features clean lines, two alternatives and large set of glyphs and it's great for headlines, posters, logos and more. And Rob Hampson, head of design at The Bot Platform, is particularly attracted to the more unusual elements of this free aesthetic font family. Hampson explains: "I found Jaapokki around a year ago and instantly fell in love with it. In fact, it's the font I chose to use on my personal website. It has a range of choices, with some being more experimental than others. For example, 'alternative subtract' [shown above] experiments with removing elements of the font. This is definitely one to use at larger sizes."
Free for personal and commercial usage.
Download the font here
7. Clear Sans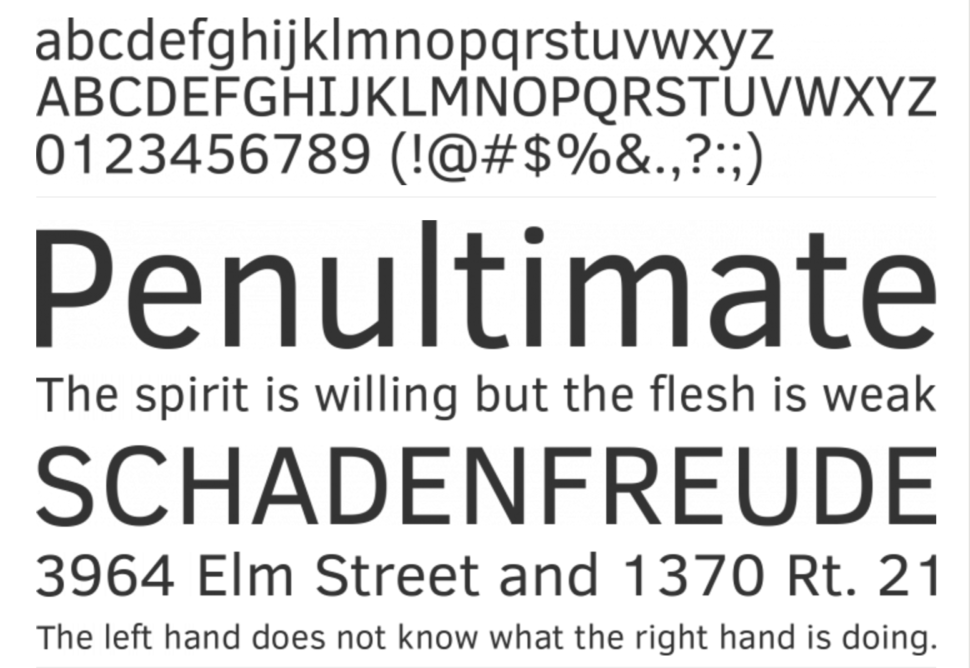 Designed with on-screen legibility in mind, Clear Sans is a versatile OpenType font suitable for screen, print, and Web. It strikes a balance between contemporary, professional, and stylish expression and thoroughly functional purpose. It has a sophisticated and elegant personality at all sizes, though its thoughtful design becomes even more evident at the thin weight.
Clear Sans is notable for its minimized characters and slightly narrow proportions, making it a great choice for UI design, from short labels to long passages (it has, for instance, been adopted by Mozilla for the 'Firefox for Android' browser). Also, Michael Surtee (Typographica) gives credit to this minimalist font: "I was drawn to Clear Sans for its practical nature. The different weights …offer great options for both readability and contrast, making all sorts of type and numbers easy for users to digest."
Created by Daniel Ratighan at Monotype under the direction of Intel, Clear Sans supports a wide range of languages using Latin, Cyrillic and Greek, and includes medium, regular, thin, and light weights with upright, italic, and bold styles.
Free for personal and commercial usage.
Download the font here
8. Source Sans Pro
Released in 2012, Source Sans Pro was the first open source type family for Adobe, and has proved to be wildly popular among the designers. It was envisioned as a classic grotesque typeface with a simple, unassuming design, intended to work well in user interfaces. Designed by Paul D. Hunt, who continues to work as a type designer at Adobe, Source Sans Pro has Source Serif Pro as complementary free aestetic font .
Source Sans Pro is one of the favorite free minimalist fonts of James Hollingworth, a senior-level digital designer and illustrator based near Bath, UK. "It's such a solid, reliable font to use in design work," he enthuses. "Being dyslexic myself, I find it a very easy font to read, and it works brilliantly in user interfaces." 
Free for personal and commercial usage.
Download the free minimalist font here
9. Cormorant
Cormorant is a display serif typeface inspired by the Garamond heritage. It was hand-drawn and produced by Christian Thalmann, (Catharsis Fonts), who describes it as containing "scandalously small counters, razor-sharp series, dangerously smooth curves, and flamboyantly tall accents". The font is best used for headlines and poster text at large sizes, both on screen and in print, but is also highly legible at smaller text sizes.
The design goal of Cormorant was to distil the aesthetic font essence of Garamond, unfetter it from the limitations of metal printing, and allow it to bloom into its natural refined form at high definition.
Cormorant fonts come in three distinct master styles: The classic Cormorant Roman, the matching true italics, Cormorant Italic, and Cormorant Upright. Furthermore, in order to make it more accessible for users without OType savvyavvy applications, Cormorant Roman offers four variant styles:
Cormorant Garamond

– offers larger counters and subtly more traditional Garamond shapes for a few key characters to achieve more reading comfort

Cormorant Infant

 – the letters

«a g y»

and their derivatives are replaced by gentle schoolbook-style single-storey shapes; 

Cormorant SC –

 the lowercase glyphs are replaced by small-caps

Cormorant Unicase  –

a small-caps variant having some lowercase letterforms for an eye-catching futuristic look. 
Each style is available in a range of five weights: Light, Regular, Medium, Semibold, and Bold.
Free for personal and commercial usage.

Download the font here
Which one is your favorite minimalist font? Have we missed anything? Let us know in the comments bellow.
Here are more awesome headline fonts.