Building a high-converting landing page isn't easy.
Unfortunately, it's not any easier when you're designing a landing page for a multi-channel marketing campaign, with multiple devices, platforms, and points of origin to take into account.
But despite all of this complexity, many of the same simple values still apply.
Here are a few tips to help you optimize your multi-channel landing pages, following four of the most essential tenets of landing page optimization – a singular purpose, a clear offer, minimal resistance, and a structured journey.
Stick to just one goal
You're trying to optimise a landing page for prospects from multiple marketing channels. So you need some kind of all-in-one wonder-page, right?
Wrong.
If you're looking for a page that can cater to every type of casual visitor, then what you're really thinking of is a home page.
An effective landing page is one that's designed with a singular purpose.
It doesn't matter if your prospects are arriving on different devices or have been led there from different platforms. They should all be there for the same reason, and your landing page should be focused on encouraging your visitors to take the one action you need them to take.
So to get your landing page as focused as possible, make sure you:
Remove all unnecessary links. Ideally, the only thing left that can be clicked should be the call to action (CTA) that takes them where you want them to go next.
Craft a concise and clear headline. Your visitors should immediately know what you're about, what they'll get and how they can get it.
Keep your landing page simple and uncluttered. Your prospects' eyes should automatically be drawn to the relevant information and the CTA without any mental effort on their part.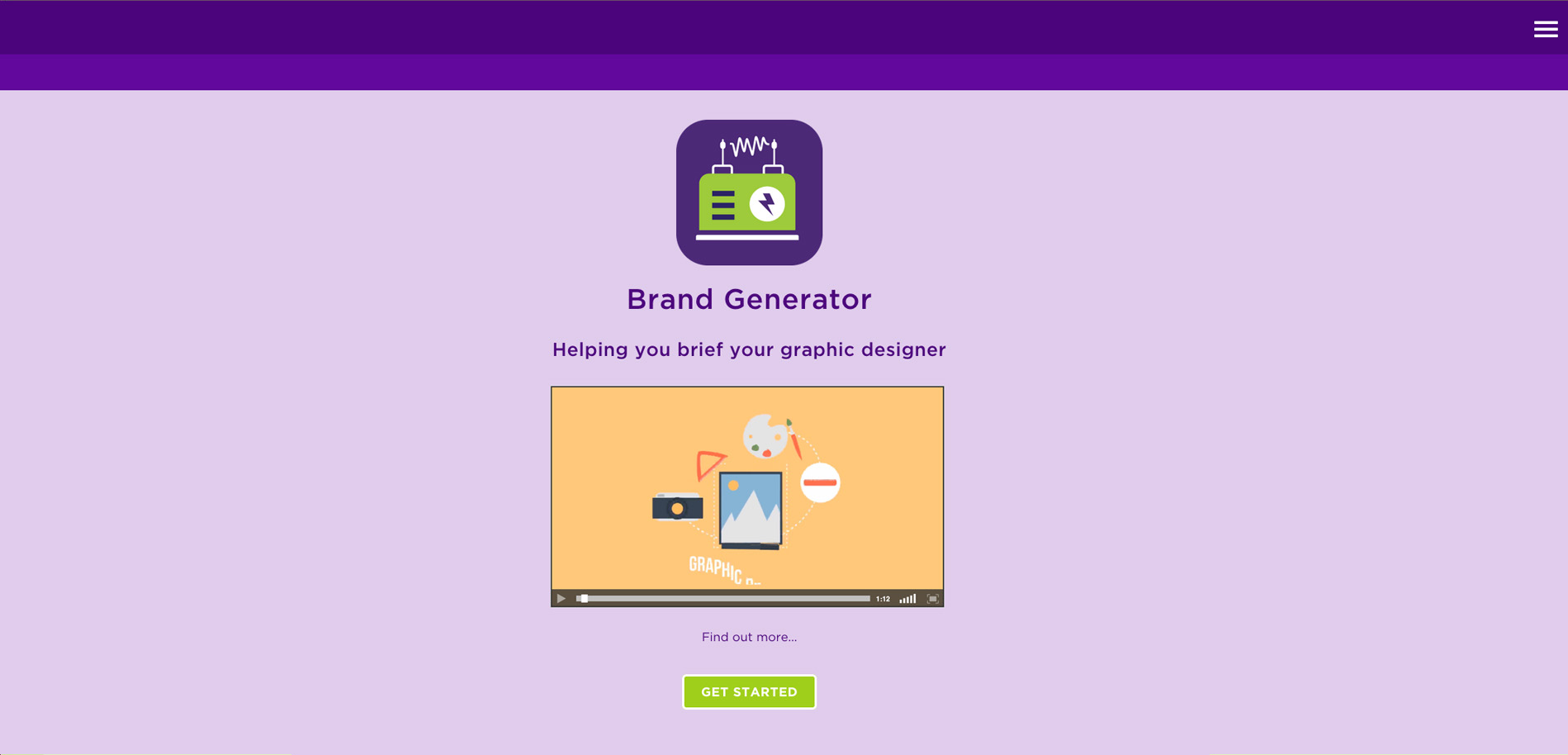 The graphic design tool Brand-Generator is a great example of a landing page that's been distilled down to the bare minimum. There's nowhere to scroll, and minimal text and a small explainer video other than the headline, sub-header and the CTA.
There's just one extra place to click that doesn't continue the sales pitch – the Log In button – but it's clear that they've worked hard to make that link as close to invisible as they can.
In other words, they've designed their landing page around a singular goal, with an absolute minimum of options or distractions. Whether their visitors are arriving from an email campaign, a Google search or a TV advert, there's only one thing for them to do: test out a heat-map of their own website.
Match your messages
When it comes to multi-channel marketing, you should always follow the three Cs – choice, consistency and continuity.
Your prospects should be free to choose which channel they use to engage with you, and they should be able to continue their journey with your brand by switching channels without being inconvenienced.
But what's perhaps most important is that your multi-channel marketing efforts are consistent.
If your adverts and email campaigns are promising "flexible project management software", but your landing page headline is talking only about "collaboration tools", your visitors are going to think they've arrived at the wrong place. They'll go straight back to Google to find one of your competitors, instead.
Similarly, if you're running a pay-per-click (PPC) advert to capture browsers who are searching for "cloud accounting app", you'd better make sure that both your advert and your landing page include those keywords in their headlines and copy. If not, they'll bounce – and you'll have just paid for a wasted click.
Here are a couple of examples to show how much of a difference a simple thing like message matching can make to a prospect's journey.
A quick search for "landing page builder" brings up a handful of adverts.
First up is Leadpages. Their advert in the search engine has the headline "Build Landing Pages". A little dry, but so far, so good – the advert nearly matches the exact keyword phrase we were searching for.
Following the link, we find a landing page with the headline "The #1 Landing Page Builder". It's a perfect match, and we instantly know that we've arrived at a place that can give us what we want.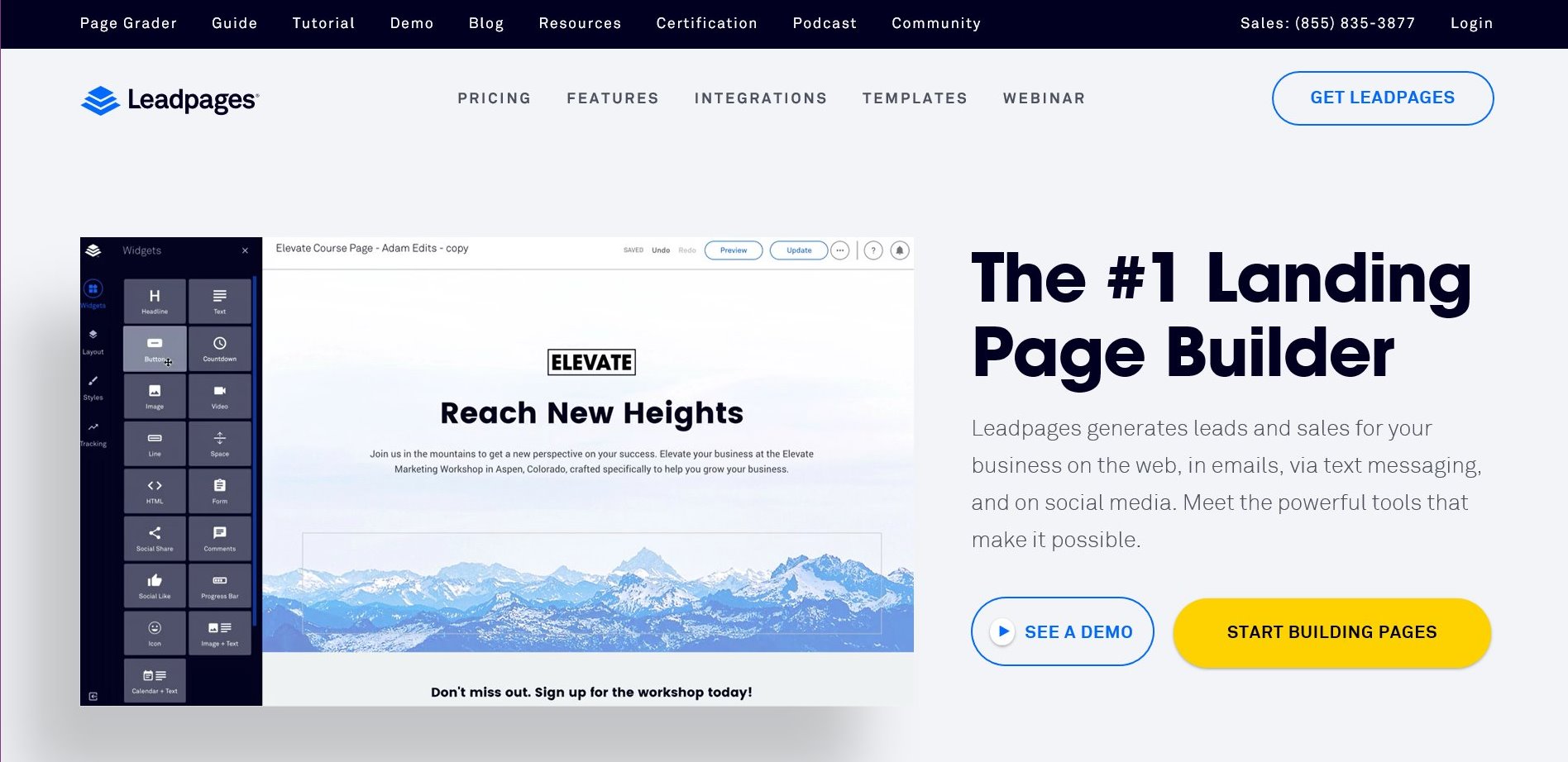 They've even added a little internal consistency within their own landing page, with a CTA button that matches the page's headline: "Start Building Pages". At that final critical moment of decision, we've been reassured of what we're about to do, and what this landing page is offering us.
At every step of our journey with Leadpages – PPC advert, landing page headline, and CTA – we've had a consistent set of messages, confirming what's been previously promised, using almost the same wording that we used to search for it.
It's not just a case of avoiding confusion. This consistency makes us feel more confident in the landing page that we're dealing with – Leadpages has managed to gain our trust.
On the other hand, the same search also offers us an advert for Easymarketer, with the advert headline "Master Email Marketing in 2017". That might have something to do with what we're looking for, but it can hardly be called a match.
Following that link, we arrive at a landing page with the headline "Builderall Email/Funnel Builder".
Aside from the word "Builder", this headline bears no resemblance to our search terms, and isn't even close to the headline on their own Google advert.
It's not immediately clear that we've arrived at a place that can give us what we want. We're confused, possibly annoyed, and we're ready to go back to Google.
Make it mobile-friendly
With more than 50% of all online sales coming from mobile devices, you need a landing page that can keep those mobile users happy.
Unfortunately, there's a whole lot more to designing a mobile-friendly site than just getting the font size right.
Perfecting a mobile-friendly version of a landing page is a complex discipline, but there are a few critical points that any designer should keep in mind.
First, a mobile-friendly landing page needs to be fast.
According to Google, 53% of mobile visits are abandoned if the page takes longer than 3 seconds to load – which means that a slow landing page is a crippling disadvantage to your conversions.
So keep your page lightweight.
Remove unnecessary images or scripts, and reduce the size or resolution of your images as much as you can – anything you can do to reduce the number of megabytes standing between your prospect and your desired outcome.
If you're not sure where to begin, you can use Google's handy site-tester to get a mobile-friendly score and a few suggestions for improvement.
Second, a mobile-friendly landing page needs to be thumb-friendly.
We all know what it's like to struggle with a fiddly link on a mobile device – and if your visitors have to zoom in on every button or link, they'll quickly back out to find a competitor who's more accommodating to fat-fingered customers.
According to Google's recommendations, the average pad size of an adult finger is around 10mm wide – and that means your tap targets need to be at least 7mm in size, with no other targets within 5mm.
Finally, a mobile-friendly landing page needs to be concise.
No matter how much you're in love with it, that killer twelve-word headline you spent hours crafting might simply be too long for a mobile device.
Similarly, the average mobile user isn't always browsing in the comfort of their own home. They're on the move, with little free time and a myriad of distractions around them. So your online sales pitch needs to be brief: cut down the copy and the headline to the absolute minimum.
Control the journey with the fold
You've got a fast-loading site that's been tailored to work well on different devices. Your graphics and links have all been adjusted, and your copy has been trimmed down to cater to the typical short attention span.
But there's still one essential element of your visitors' experiences that you haven't addressed yet – the precise journey they'll go through as they arrive on your site.
When everything you include in your landing page has been chosen to aid the conversion process, it can be hard to decide what should be relegated to the area below the fold. It's not an exact science, and there's still plenty of debate about the importance of the fold. But in general, it's usually a safe bet if you:
Keep everything above the fold simple and inviting. Get your offer across to a new visitor immediately, without any other distractions.
Push dense text or complicated information below the fold. The last thing you want to do is overwhelm a prospect within the first few seconds.
Put your call-to-action (CTA) at the place where your visitors are most ready to commit. That might be above the fold, below the fold, or both. Don't let the fold dictate where you put it – let the overall journey of your sales pitch decide the best place.
Use directional cues to encourage scrolling. It could be an animated arrow pointing down, or even a simple "find out more".
WorkflowMax's landing page, for example, hasn't followed the stereotypical approach to the fold.
They know that project management software isn't something you just sign up for within the first few seconds.
Their prospects need to learn a little more about how the software works, or even to see it in action to get a feel for it. So to the right of the headline and imagery – where you might normally expect a sign-up form or a CTA – they've included a huge and highly clickable link to watch a short video.
The sign-up form and CTA are actually found immediately below the fold, represented by the horizontal red line below.
The natural progression is to arrive on the landing page and watch an introductory video showcasing the software's features, and then be presented with a sign-up form after you've already been warmed up to the product.
And just in case there was any confusion about what to do after the video, the border of the main background image above the fold has been shaped into a downward-pointing arrow – an inoffensive and unobtrusive cue to move further down the page.
Of course, in a multi-channel marketing effort, you can't rely on presenting the same above-the-fold experience to every user without a little extra configuration.
Your prospects will be arriving from all sorts of devices, and all sorts of screen resolutions. So make sure you test out how your landing page looks on different screens with tools like the Responsive Design Checker and the Fold Tester.
Putting it all into practice
Sadly, there's no guaranteed formula for improving conversions on any landing page. The variables are too numerous, and human behaviour is far too erratic – and things only get more complicated when you're dealing with prospects from multiple marketing channels.
With that said, you'd do well to keep the following rules of thumb in mind:
Pick a single goal and stick to it. It could be gathering email addresses, getting visitors on board with a free trial, or closing a sale. Stay focused and keep it simple – don't let too many options distract your visitors away from the purpose of your landing page.
Always be clear and consistent. Make sure your headlines, offers, and CTAs all match up to the messages you use in your other platforms and channels. Confirm and reassure your prospects, and you'll build trust and confidence in your business.
Make it easy for every user and every device. No matter where your potential customers are or how they're engaging with you, you need to make it quick and painless to move from interest to action.
Plan out every step of their journey. Your job is to make your visitors feel comfortable and informed enough to commit to your business – not to overwhelm them at the start or blast them with a demanding CTA as soon as they arrive.
It'll be a long journey to fully optimise a landing page, and you'll need plenty of testing along the way before you arrive at the best combination of tweaks.
But with enough time and diligence, you'll start to see the results of a multi-channel marketing campaign that really converts – and a landing page that's doing most of the work for you.
About the Author:
Danny Molt has been involved in design for almost 25 years working with some of the top uk design and marketing agencies. Having launched several companies online and offline, he is currently head of digital marketing strategies for Print-Print Limited
You can contact him at on Twitter @DanMolt