Internet commerce is emerging very quickly and helps people to save more money. According to eMarketer eCommerce sales will grow from $225.5 billion in 2012 to $434.billion in 2017. As most of the products being sold online are digital it's very easy to get decent discounts and save up some cash. In this article I'll share some of the hacks for getting best design deals on the Web.
Cheap domain names
Every website, would it be a blog, shop, app page or social network needs a domain name. The so called "dot com boom" is bigger than ever but the problem is that most of the best .com names are taken and if you want to re-buy them from owners for you or your startup it can cost from $100 to $1 million (fb.com domain name was sold for $8.5 million).
Use Domai.nr to hack domain name and see which ones are available.
Get a cheap .co domain name which is getting more and more accepted by the world as .com domains are taken.
Check for discount codes for GoDaddy and you'll get a domain for as little as $0.99/year.
You'll surely need a hosting to host your website so check for hosting that offers free domain name. To name a few: Bluehost, WPWebhost, Squarespace.
Join an affiliate program of GoDaddy or alternative company to get special discounts and use them for yourself or your clients.
Join programs for startups
As startups are getting more popular globally there are many websites providing special discounts or even free products and services for startups. To apply for these programs you might have to buy a domain or prove that you are working in a startup area.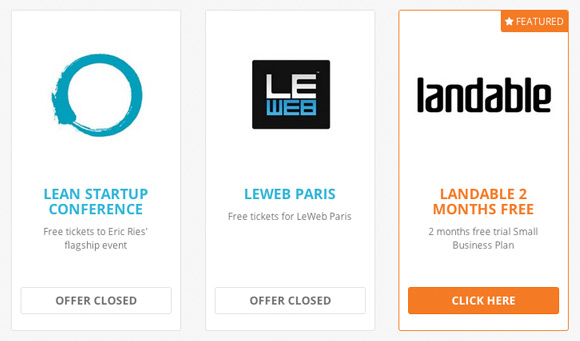 Special design deals for designers & developers
There are numerous of deal websites specifically created for designers and developers. Get new software, design templates, learning resources and tons of design resources like brushes, fonts, mockups, textures, stock photos and more. Prices vary from as little as $1 to $97 but the value you get is amazing time and money saver in the long run.
Software, tools and design resources.
Get discounted software, learning materials and design resources with a chance to win everything for free.
Generally design resources including fonts, textures, stock photos and ready to use templates.
Courses, ebooks, design resources, software and templates.
Design resources including vector graphics, templates, Photoshop brushes and tutorials.
Templates, ebooks and design resources like mockups, vector graphics and icons.
Design resources, WordPress theme, software and learning materials.
Design resources including textures, fonts, templates, mockups, icons and more.
Summary
As you can see now, it is possible to save a lot of money up to 95% of the price if you spend some time for research. Hopefully these resources listed here will help you save time and money working on your projects whether for yourself or your clients. Happy shopping.