As a small business owner, at one point you have choose if you want an agency to create your online representation of your business or if you want to do it yourself using a website builder like Simbla. Sometimes, having an agency create your website can get pretty pricey and miscommunication is usually the number one reason why projects remain unfinished or fail. With Simbla however, the entire process is effortless even for a non-technical person while the results are impressive, considering that you get to create a complete website with an online database and all the other features of a professional website.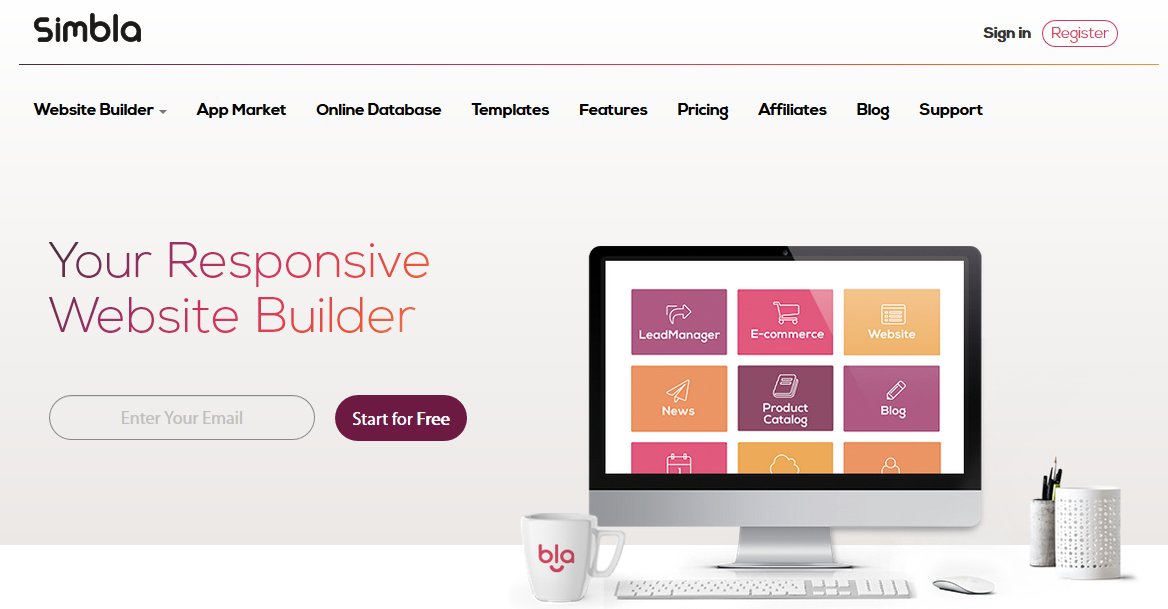 I remember working with several website builders over the past ten years or so. Most of the times, they were basic tools with just a few features, intended mostly for amateurs. Simbla, however, is more than a website builder. At least, it is more than what I would have expected considering my past experiences. While the drag and drop interface makes the whole creation process quite effortless, the database integration feature adds to your website the element that makes it a real website, a professional online representation of your business.
With Simbla, making your own website seems a good alternative to working with an expensive agency. Here's one way to do it and our favorite website builder to do it with.
What is Simbla?
An HTML5 SEO ready website
Simbla is a website builder that uses Bootstrap 3 to create HTML5 websites that look great and are also great for SEO. You will find several similar tools that will not allow you to create SEO ready websites. This is a particularly important thing because you want your content to be easily readable and visible by the search engine crawlers and thus, properly indexed.
Simbla websites are capable to generate valid standard XML sitemaps that you can integrate into your Google webmaster account and thus facilitate Google crawler's access to your local files. The metadata generated is also in standard format, with typical titles and keywords and the URLs are search engine friendly as well.
The websites are easy to create unlike with other website builders. Also, the HTML5 feature is a good thing, considering that this version of the Hypertext Markup Language supports multimedia and is natively supported by al web browsers, desktop, and mobile alike.
How does Simbla work?
Everything you need is right there, on your own canvas. Simbla allows you to create a professional looking website with a working online database in just a few minutes, without much of an effort. Moreover, users are allowed to create alerts and send emails as a response to database actions as well. What else do you need to know about all its features?
Two modes for the website builder
Simbla features two different modes for their website builder, an easy mode for the beginners and an advanced "pro" mode for those who already know a thing or two about website design and coding.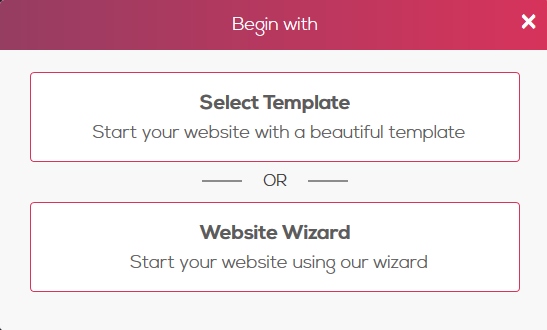 (select a template or start with a wizard)
(Choose a plan)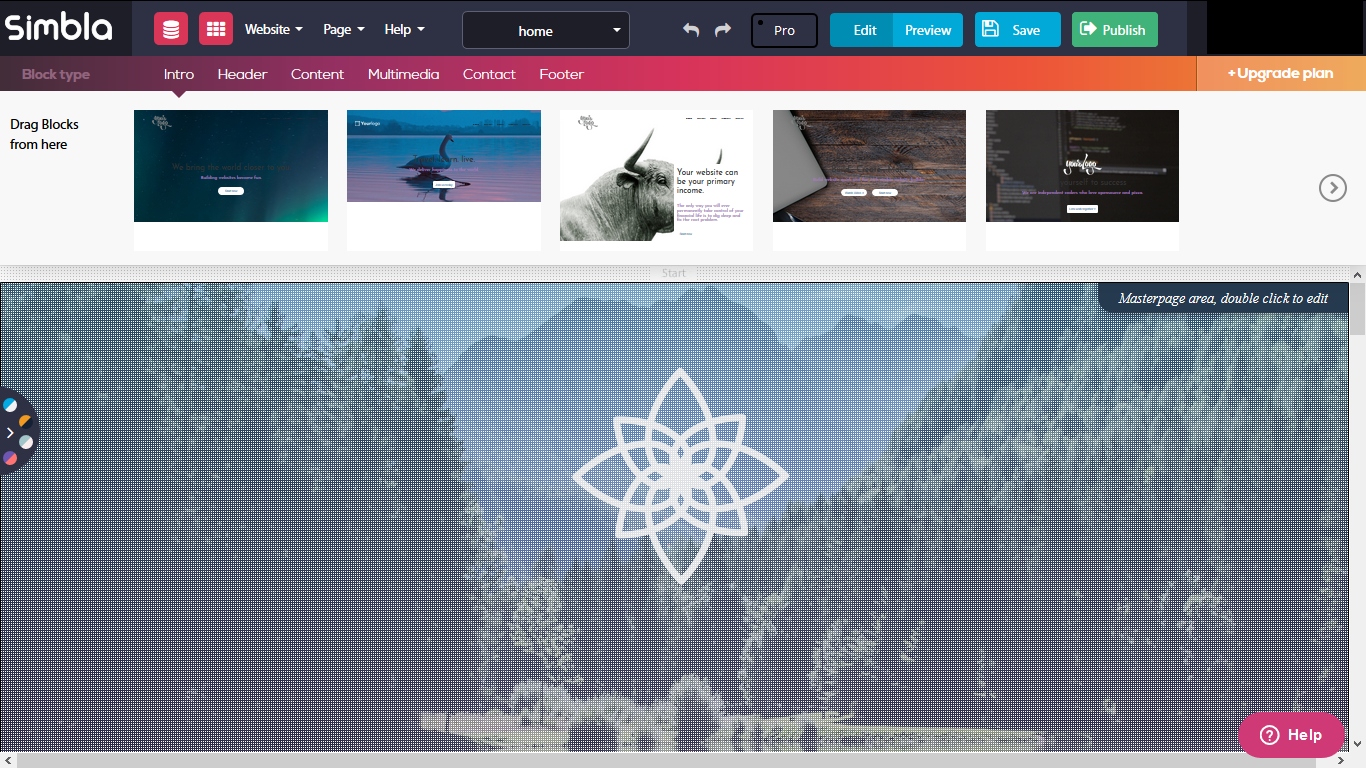 (Your canvas)
The Easy Mode
This is exactly how it sounds: an easy mode that allows the user to create a new website in just a few minutes without the need to know how to code or design a website. What's great about the app is that everything you create with it looks professional and out of the box. There's no way to tell that in fact the website was designed and developed through an app and not by a team of coders.
There are already made modules and prebuilt sections you can choose from and if you want to preview your work in real time you can do it without the need to write content. Everything you implement on your website will be instantly populated with dummy content. Therefore, there's no way you can do something wrong. In order to insert your own text and images, you just have to click on a specific part of the module and insert your own content. I cannot remember another website builder that is easier and faster to work with.
The Pro Mode
This mode is dedicated to those who know what they are doing when it comes to Html code and web design. In other words, if you've been around the block and think about yourself as an experienced web developer, you can access this feature and control every single detail of your website, starting from the first page and up to the last dot posted after the last phrase.
Upon entering the Pro Mode, you will receive a notification. At this point, if you are unsure about your skills, you can return to the previous mode. If not, you will see that the working canvas is a little bit changed and that you have more freedom on how to build your website. The drag and drop features are still present but at the same time, you get to start with a blank canvas and bring your website to life, step by step, by adding the elements you envisioned it should be there.
What kind of knowledge do you need in order to properly work in the Pro Mode? Well, you need to know a few things about how a website is structured, how menus, headers, and dynamic content are implemented and displayed. You will also need to know how to add different structures to your page and what each of them means and how does it work.
Simbla's App Market
No website builder would be complete without some extra modules and apps to be installed on the newly designed and set up web pages. There's an app market available on Simbla that includes modules for blogging, news, e-Commerce, product catalogs and a Knowledge base. Let's take a quick look at four of these apps:
The Blogging App
One of the most important marketing strategies you can develop for a website is to create valuable content for your audience. The best channel for doing it is, of course, the blog. You can create and update your own blog right from the Simbla interface and add it to your website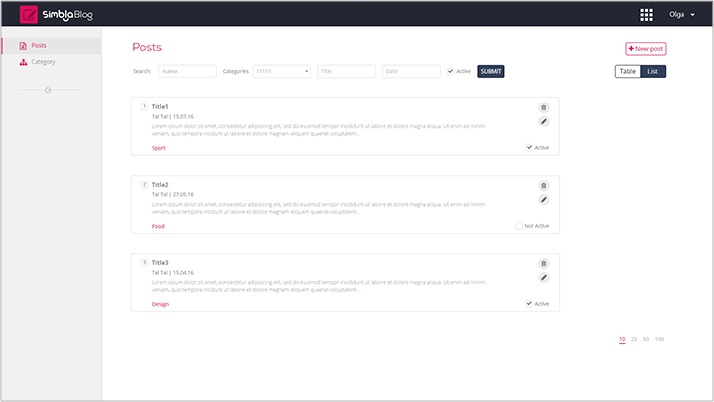 The News App
Do you have some important news to share with your audience? Or, do you think that a newscast feature will be useful in the future? There's no problem, Simbla allows you to add scrolling news headlines to your website. The interface of the module is similar to that of the blogging feature or other modules implemented by Simbla and therefore, you will find it easy to use and set up.
A Product Catalog
Whether you already run an e-Commerce website or you are using the web only to showcase your products, a good and professional looking catalog may help you market your business better to your customers. Fortunately, Simbla features an easy to set up the app for product cataloging and presentation that you may use as a part of your website.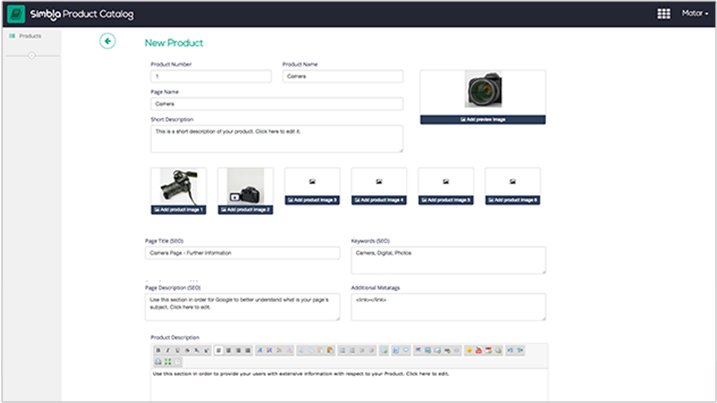 The e-Commerce App
A website builder with an e-Commerce app? Can this be for real? Yes, it can. Thanks to Simbla, we can now design and launch a website with just a few clicks and set up a professional and working e-Commerce store. You can now organize your products, display them in your own store and let your customers easily checkout once they choose to buy one or more of them.
The CRM system
One of the most important and dynamic features of SIMBLA is the integration of a CRM system within the app itself. This means that the database, the website you have designed and all its related apps are integrated and available in one place. Thus, the CRM system will allow you to manage your online business, your customers, sales, meetings and the website itself better and easier.
Also, with the CRM system you have access to a smart sales dashboard and some new cool features like the sale pipeline and a new way of editing and creating data. While still in a beta version, the system is in continuous development and we can expect a final version quite soon.
Conclusion
If you are looking for a cool and professional tool to build your own website in less than an hour and without needing any of coding or designing skills, Simbla may be your best options. It has everything you need to start building from scratch, it allows you to build an online database along with the website and it includes several other apps that may be of help in the beginning or as your website grows. Moreover, a new beta CRM system which will include some cool new features will be released soon.
Did you try Simbla or a similar app? What do you think about it? Do you see yourself building a website with Simbla?