Flash-based web gaming has left behind a few year ago, yet we're lucky to have progressive technology HTML5. It allows to play games on the web without any plugins.
Here we have put together simple yet clever game sites which you can play within your web browser. A decision to play for a minute can turn into an hour, so please, be careful, they are extremely addictive!
Hipsters take world by storm! They are everywhere. Your mission in this game is pretty simple – kill all these cuddling hipsters before they hug you and turn you into a hipster!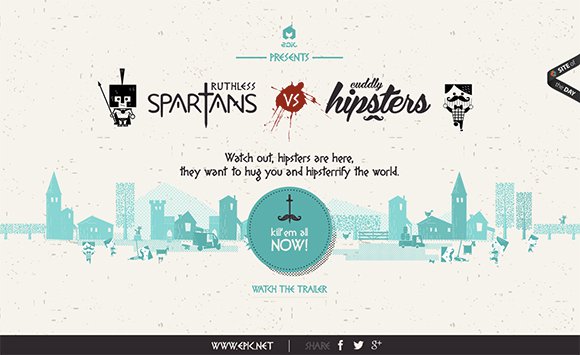 All you need to do here is to click on dot 1 and pull it to dot 2 and then to dot 3, and so on while your time is running out! So, hurry up not to lose the game.
Angry Birds is one of the most popular games at the App Store. Now you can play it online on this site. Just hold a bird and pull it down to get rid of the pigs. Despite the fact, it's optimized for Chrome, you can play it using any other browser.
This game is going to teach you how to cook taco! You need to make guacamole, fry the meat and do everything just like in real life. Don't play if you're hungry, as the game will make your mouth water.
For fans of mazes! To play this game click up and down buttons on your keyboard to control yourself not to hit the walls.The game provides awesome audio and visual experience.
Contre Jour is a great puzzle game for web browsers. The game is based on a blob you need to play around by moving the ground about it. You have to collect all the blue orbs and get to the portal to win the game.
The game uses real-time photos from Instagram and encourages you to guess which destination these pictures were taken.
Who does remember the Super Mario? I guess everybody is familiar with this game. On the site you'll find the endless game in HTML5 format. So, enjoy the game and save the princess!
Pappu Pakia is an easy game in which you need do not let the cute bird die. I tried it a lot of times, and I should say it's quite frustrating experience for those of you with nerves of steel.
The mystery cosmic theme attracts every of us. You should fire the gravity beam toward the objects by clicking the left mouse button and holding it. Move the spaceman to the green block before his Health is used up.
***
Please, share your feedback on these games in the comments below. What are your favourite game sites? Join the conversation.