Elegant Themes' new magazine WordPress theme Extra is one of its most highly anticipated and promising themes to date. The reason for this is Extra's stunning selection of layouts and templates, and the fact that it is powered by Divi Builder. This Extra/Divi Builder combination guarantees that users will be able to create online magazines that stand head and shoulders above the competition.
Extra's focus on building magazine-style websites takes Divi Builder in exciting new directions in the world of online publications. Extra's websites offer ideal settings for bloggers as well, as this premium theme takes full advantage of Divi's post building capabilities. Many special effects can be created to capture viewers' attention.
If you've been looking for just the right WordPress theme to use for an eye-catching online magazine, or if you are curious about how to go about building a magazine-style website – read on!
 Extra Magazine WordPress Theme's Core Features
It couldn't be much easier to build a magazine-style website. For one thing, the number of different layout possibilities are endless.
As you can see, you it is possible to create virtually any format you want. Create your own custom headings, set up a grid system, use a masonry format, and include a right or left sidebar, or none at all.
Once you've settled on a format – which you can easily modify should you come up with a better idea, it's simply a matter of drag and drop – whether you are selecting or moving major blocks of elements or the smallest of details.
Divi Builder makes creating page after page easy, and you are able to save your work as you go along. You will always have full control over what you are doing, and it's never a problem should you need to go back and do something differently.
There's no need to follow the crowd by focusing on creating an interesting home page and following up with a series of look-alike additional pages. There's no law that says pages like the Contact Us, a Testimonials page, and the ubiquitous About Us page, have to be boring.
With Extra, you can create an About Us page that will encourage viewers to discover that "Us" consists of real people who have a story to tell. Why not build a Contact Us page that serves its real purpose – encouraging your customers to get in touch?
It's an easy task with Extra.
With Extra's new set of Divi Modules, you can allow your artistic talents to run wild. You may even discover your website building talents are greater than you imagined once you begin creating customized category page layouts.
Select one of more of Divi Builder's 40 Content Models, and start building amazing Posts and Pages. These will not be run-of-the-mill posts and pages either – they will be story-driven pages.
Incorporate pricing tables, countdown timers, video, testimonials, or portfolio sections wherever appropriate or where they will make the greatest impact on the readers, and encourage them to get involved.
You can do the same with posts as you can with pages…
You can Customize Anything and Everything. Easily modify things like padding, margin or button text size, background color or border width thanks to Extra's advanced design settings. If you are looking to add custom CSS, you can do that rapidly too.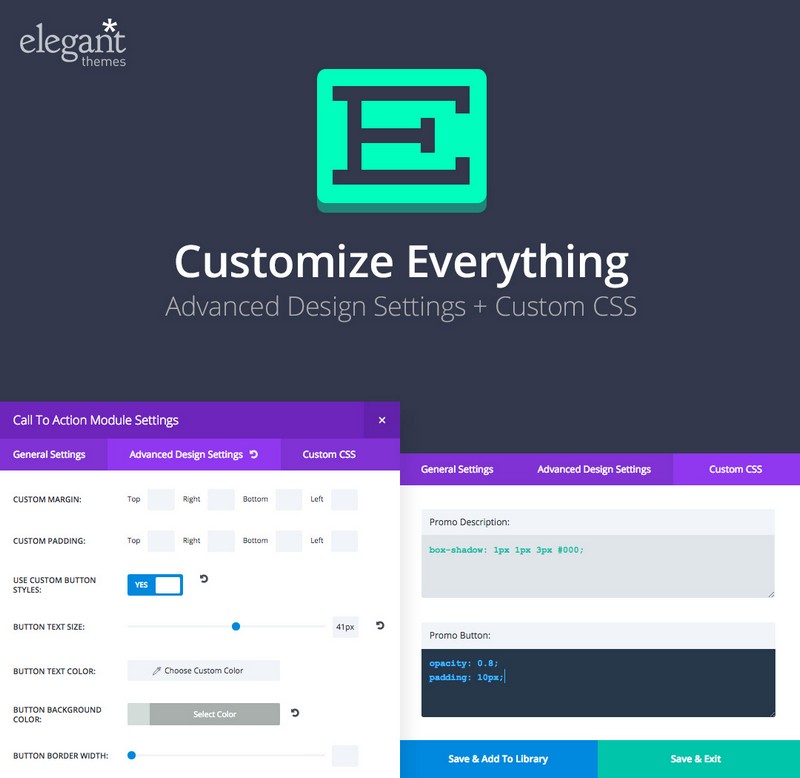 Extra offers dozens of different ways to establish your unique brand and build on it. Not only will you have complete control when creating page or post layouts, you also have full control over the customizing process, down to the smallest design element detail. Experiment with text fonts, letter spacing, block padding, image margins, or the color, size, or style of a button until your page has precisely the look you want it to have.
Extra's Template Collection Makes Building a Website Twice as Easy
You don't have to start building your website with a home page, but most web designers do. Here is one idea of how your home page might look.
This is just one of many different formats to consider. As shown earlier, you can create just about any home page layout you want. You can then turn your attention to your other website pages, including key landing pages, and the templates you can use to build them.
Some website pages need to focus on whatever actions your visitors might want to take, whether it's checking out your product offerings or articles, contacting you, or placing an order. You'll want pages that address these to be attractive as well as being information-packed. Extra enables you to do just that.
Extra makes it a simple task to incorporate anything and everything that is important into your website. You can put into play Custom Widgets to create a truly amazing customer experience
The ability to tie into the various Social Media platforms is all-important for today's eCommerce sites. Extra enables you to connect with your social media accounts and profiles and track customers visits. Everything necessary to add social media links is ready to implement.
Extra is WooCommerce Ready as well!
Now you see why Extra in combination with Divi Builder is a sure winner. Divi is a powerful website-building tool, and Extra provides exactly what is needed to create amazing online magazines in any format their authors desire.
Visit Extra's website and browse the templates and layouts.
You're sure to come up with some great ideas for your own magazine website, and how easily you can turn your ideas into realities. See for yourself why this WordPress theme is one of the best magazine themes on the market, and why it is so highly recommended.