If you are working on e-commerce projects, you are familiar with the online shopper's needs. The most important? The need to touch a product, or see it properly. To resolve this issue, modern e-commerce design techniques have evolved. One of the best ways to solve this problem is to use product image variation.
Product variation can involve showing a product from different angles, colors, or textures. Or all the above. Smart animations can also be brought into play. They allow a user to interact with a product.
Images can be easily used to communicate a specific brand atmosphere
If you have a client in need of an e-commerce website, your first choice for a WP theme should be one that has a clear focus on product variation. It can use animations or show variations in separate images.
The good news is that such a theme is available.
It's a king-size one. It has 30+ good to go shops, and another extremely important feature – live support.
Why are Product Images So Important in Ecommerce?
Of all the factors that you must take into account in designing an e-commerce website, the way you show products is one of the most important. The goal of the designer must be to provide the best experience available.  This has a strong impact on conversions.
Images can do so much. You can use them to inspire, to persuade, and even tell a story.
An elegant, simple way of showing the products, in a ready-to-go shop for smartwatches.
Images are so powerful in fact, that attempting to run an online store without images of the produchttp://8theme.com/demo/xstore/landing-watch/t isn't even an option. Depending on its use and its quality, an image can make or break a sale. Here's why:
Surroundings can be important. A white background may be a best choice in many instances. Yet whatever the background is, it must make the product look good.
Showing the product at work is often an effective approach. Especially when showing the product in this light it may make it look simple, elegant, and innovative.
Details matter. Details can take the user up close to a product to a point where they can almost touch and feel it. This is especially true for clothing, other cloth items, and mechanical tools. When an image shows a person wearing a piece of clothing, or using a particular type of a tool, it's easier for the visitor to put himself or herself in that person's shoes.
Background, surroundings, details, and examples of use are all important factors in making a sale.
Tips for Creating Image Engagement on Your Website Using Product Variation Images
While the use of product variation images in websites is not new, it is growing trend in the ecommerce world. Here, we will look at four examples of ways in which you can use product variation images to great effect.
1) Showing Several Ways of a Product Being Used
This product page taken from the XStore e-commerce theme is a good example. Different instances of product variation are used in concert with the details of that product. One of these instances, a close-up, gives the user a greater feel for the product's texture. Using a smart hover effect, the product is modeled in two different positions.
2) Using Quick View on the Category Page
Notice the button that is active because of the hover effect
The hover effect is put to good use on the category page and the experience transforms. It becomes more natural. It is on this page where you give the user a first look at a product. Hovering above a product image produces a Quick View button. This encourages the user to examine the product in greater detail.
When the button is actuated, detailed information about the product appears. This also shows the Add to Cart button, and an opportunity to examine the product in even greater detail. Related products are also displayed, and the user can trigger a quick view of these as well.
3) Using an Environment-like Background on Each Image
A concept image from the Drink good to go shop.
This creates a wealth of possibilities for a designer. The surroundings principles of good images are put in play in this e-commerce example. Each bottle of alcohol has a nature-related background image. This provides information about the production techniques or ingredients of the drink. Yet in a subtle, ingenious matter. Agree?
4) Using Several Close-up Details of the Product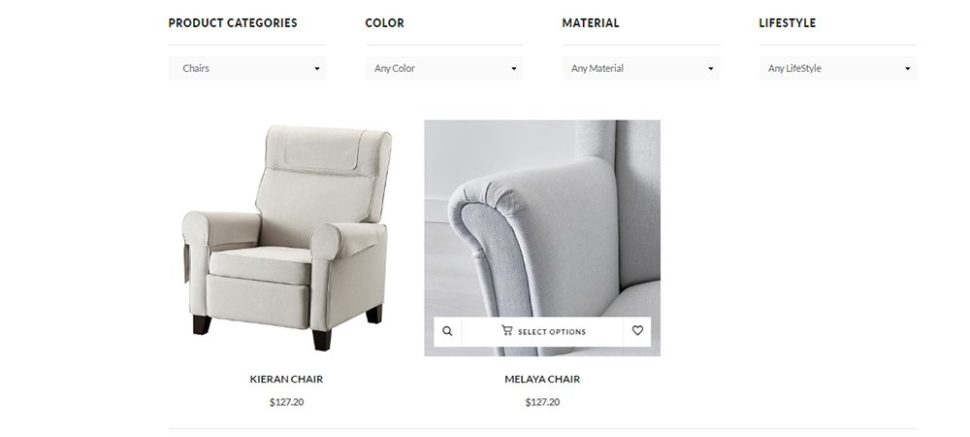 An example of this way of showing the product, from the Furniture ready to go shop.
You can also use a hover effect to allow a user to view a series of close-up frames of a given product. You can see how this can be done by clicking on the sofa in this XStore furniture shop.
In doing so, you will see a series of frames that give an up-close look at the sofa. Its construction, upholstery details, and texture. Exactly what a user would analyze in an offline shopping experience.
30+ Ready-to-Go Cool Shops Await Your Magic Design Skills
You've seen some examples of how images with product variation can be effectively put to use in an e-commerce website. XStore will help a lot in achieving that.
It's not only a king size theme – you have 30+ good to go shops, 1 click install.
You also get 6 free plugins, worth 117$.
These are: WPBakery Visual Composer, Revolution Slider WordPress Plugin, Smart Product Viewer 360, Infinite Scroll & Ajax Pagination, Subscriptio WooCommerce and GMAPS for Visual Composer.
The XStore team has also gone to great lengths to address and provide solutions to many of the problems web designers face. For example, a live chat is available if you have an urgent need for support. XStore is also the perfect choice for ensuring the mobile shopping crowd will be able to view your site's pages properly.
Launched earlier this year, XStore is an aesthetically minimal theme, one that is easy to use. It that can produce SEO-optimized websites that search engines favor.
Discover the beautiful good to go shops here and take this king-size theme for a spin. It's time for awesome e-commerce websites.